Cortez: If You Believe in Parent Power, What Are Your Values?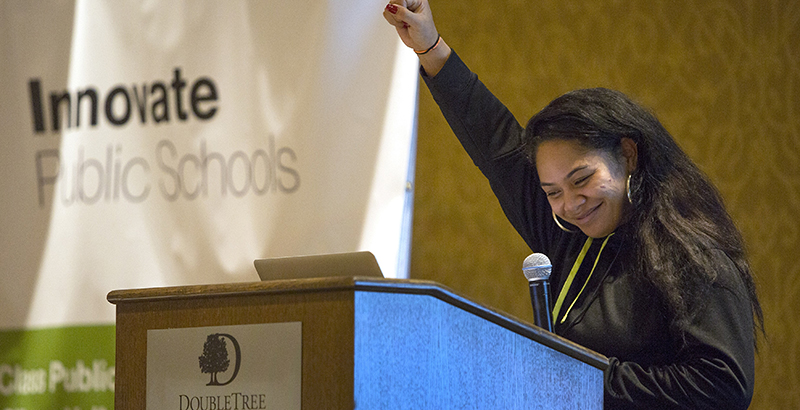 This is the second in a series of pieces on parent empowerment in partnership with New Profit. Read the rest of the series here.
Education systems can be fundamentally transformed when informed and organized parents exercise their innate power — individually and collectively — to create and sustain change.
The work of helping parents access their power (we don't empower them) is incredibly hard — and made harder by the unfortunate reality that education reform is not immune to the problem of bias. This bias frequently manifests in beliefs about the ability of parents to drive change in their communities.
Too often, well-intentioned education efforts discount parents out of a misguided belief that if parents were part of the solution, they would have already addressed the problem.
These efforts usually diagnose the imbalance of power faced by many communities with failing education systems but then inadvertently perpetuate that power imbalance by continuing to exclude parents.
Education reform will never achieve the systems-level change we desire if these are the values by which we operate.
"We have this uncompromising belief in the infinite capacity of every child to learn, grow, create, be brilliant and lead. We must have the same belief in their parents," counsels Matt Hammer, founder and CEO of Innovate Public Schools.
All education endeavors, and certainly any parent empowerment efforts, should lay out a set of explicit values that articulate:
●  How parents lead the work of changing education in their communities, and
● The role of nonprofit leaders and funders as allies of parent-led efforts.
The following six values guiding parent empowerment in education were developed through deep dialogue and self-reflection with leaders from 18 parent empowerment organizations.
The "we" in these values are nonprofit leaders and funders in reflecting on our role as allies to parent-led efforts.
Six values guiding parent empowerment in education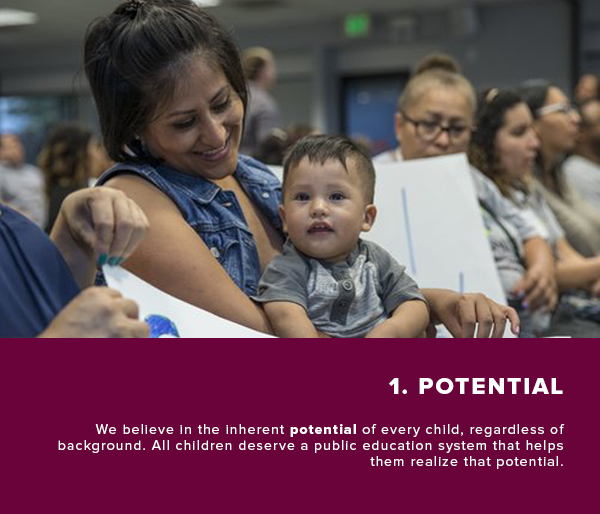 "High expectations for all is foundational. This should go without saying. But as long as we have school systems that only work — and only even try to work — for some children, we have to say it early and say it often," advocates Seth Litt, executive director of Parent Revolution.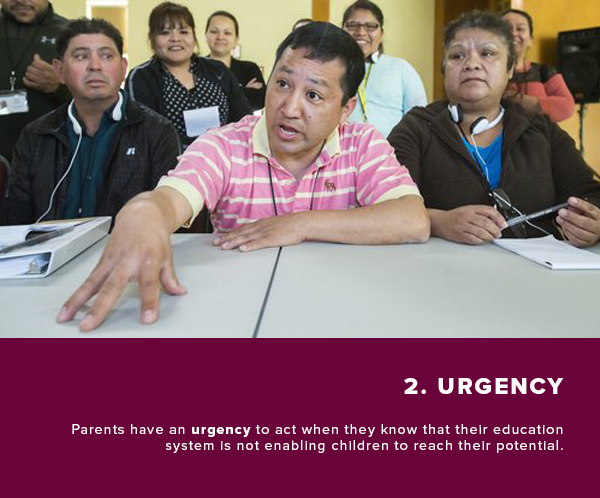 "Nobody believes in the potential of their children more than parents. Nobody worries more about the future and success of their children than parents. And they will act when they know that their children are not succeeding — if they have that information and if they know how to activate their power. Our members have learned, through years of experience leading schools and systems, that we must partner with parents from the start if our aim is to create sustainable change," notes Sharhonda Bossier, deputy director of Education Leaders of Color.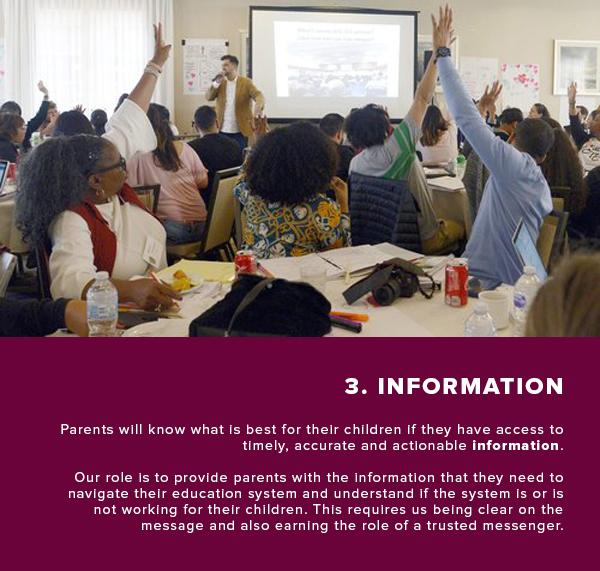 Parents don't try to solve problems they don't know they have, and too often parents and children in failing school systems don't know the system is failing them until it is too late.
Education reformers can be key allies to parents by providing that information and insight. But too often we accidentally hoard information. That information asymmetry then drives us to make decisions without parents. Knowledge is power for students, and knowledge is power for parents.
"Understanding how a school serves each and every child in a community is a fundamental starting point for a parent. Parents need easy-to-understand, trustworthy and relevant data and information presented in a way that's accessible and allows them to take action," says Jon Deane, CEO of GreatSchools.
The messenger is also as important as the message. People are more willing to listen to hard truths from people they trust — members of the community or those who have earned credibility in the community.
EdNavigator's Navigator in Chief Whitney Henderson advises, "Relationships are the currency that build trust. Our relationships with parents are grounded in listening, asking them what their needs are, and then helping meet those needs. Their trust becomes an extension of our willingness to put them first."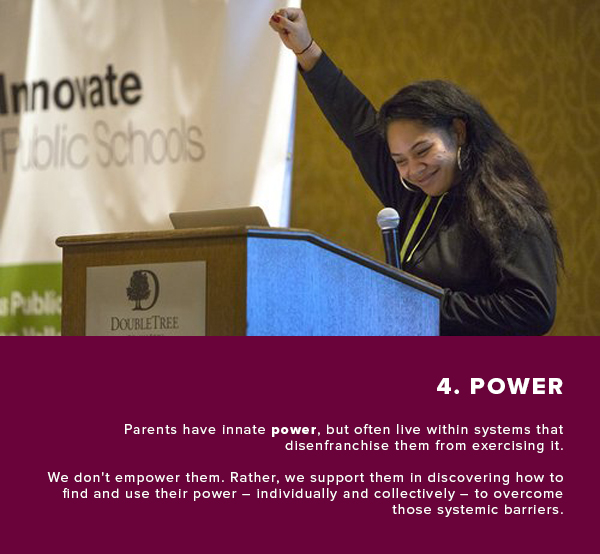 This work is about power — how allies help inform and organize parents so that they exercise their innate power.
Jamilah Prince-Stewart, executive director of FaithActs for Education, observes, "For years, education reforms have been imposed on communities of color without their input or agency. We work with members to develop their sustained power as leaders for change within their community. And we don't move without our people."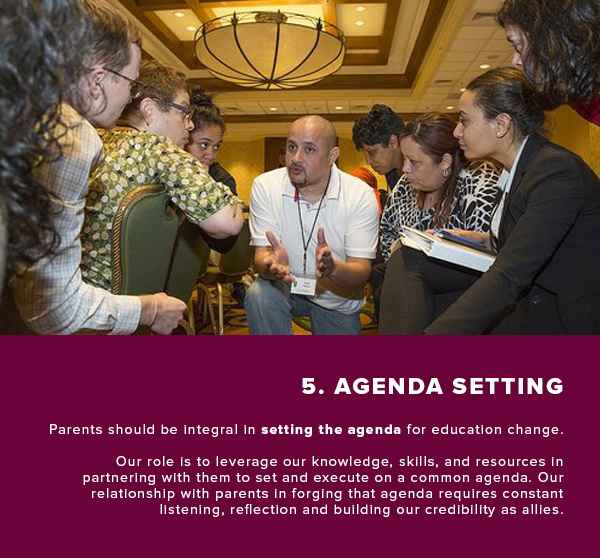 It is not uncommon in education reform to hear the refrain, "We need parents to exercise their power on education to achieve 'X'!" (X being the agenda that the speaker has set.)
As noted in a previous piece, "If we truly believe that systems change will only happen when parents exercise their power, then we need to be comfortable that they will exercise this power in service of the agenda they create. This does not mean that as education reformers we have to abdicate having an agenda. It is completely legitimate for us to also have an agenda grounded in our beliefs about what a great school system looks like. But if we are sincere about parents being powerful agents of change in their communities, then we can't just assume our agenda is their agenda."
This idea of sharing the agenda — and therefore power — can make some uncomfortable. But it's worth reflecting: How does it feel any different for the communities we are committed to serving when they feel excluded from setting the agenda?
Dennis Littky, co-founder of Big Picture Learning and College Unbound, preaches the following community organizing wisdom: "Nothing about us, without us, is for us."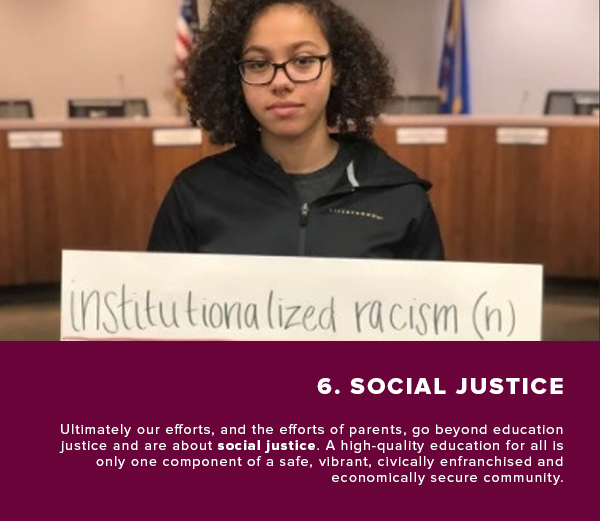 "Education is of critical importance to parents, children and communities, but it doesn't exist in a silo," observes Mary Moran, executive director of New Orleans-based Our Voice Nuestra Voz. "The issues that families face in education are often deeply entwined with the issues they face in other areas such as criminal justice, housing, living wages, health care and immigration. As we organize families to fight for a better education system, we must also work to tear down the institutionalized systems of oppression that Black and Brown families face and develop their leadership to build new systems that prioritize equity and justice."
Of course, values by themselves do not repudiate or dispel bias.
Many communities have been disenfranchised from their education system (and more broadly their social system) for generations. It should not then be surprising that they tend not to trust those who have authority in that system, nor outsiders coming in. These communities have heard a lot of words, and ours will mean nothing without intentional, credible actions.
Nonetheless, words can be an important starting point — including those that clearly define an organization's values. Values put a stake in the ground about what an organization will hold itself accountable for and what it will hold others accountable for.
As your organization — be it a nonprofit, a school or a philanthropy — explores its role in driving education change, I encourage you to take the journey as a team to develop internal clarity on your organization's values around parent power and your role as allies to parents (or feel free to adopt or adapt the values shared here).
For more information on parent empowerment in education, including how to use measurement to maximize impact in this work, please visit Parent Empowerment in Education.
Alex Cortez is a managing partner with New Profit.
Support The 74's year-end campaign. Make a tax-exempt donation now.