Commentary: Short Tutoring Sessions on Demand, Chatbots to Help With Homework Problems — Innovations That Could Get Students Back on Track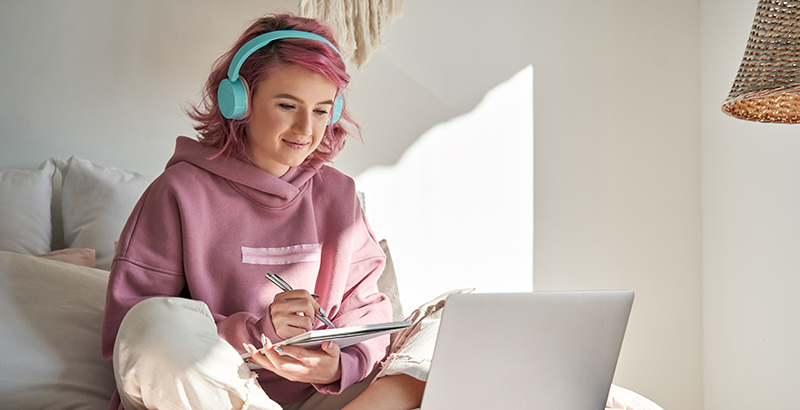 As schools around the country adopted remote learning last spring and this fall, demand for tutoring shot up. Some states like Tennessee have launched statewide tutoring efforts, and Congress might soon invest in tutoring as well.
The intuition that tutoring provides students with a leg up is borne out by the research. Academics have called the approach one of the most versatile and potentially transformative educational tools in use today.
Both of us have spent years tutoring students in math, as well as standing in front of classrooms helping students understand fractions and cosines. As we watch education leaders become increasingly focused on tutoring, we believe the field has become overly fixed on scheduled one-on-one or one-on-two sessions, with a single tutor supporting one or two students. This is the standard approach, where the student has the same tutor multiple times a week.
This type of tutoring is expensive and hard to scale, though remote options can potentially solve these problems. The nonprofit UPchieve, for example, offers free online tutoring and college counseling. Meanwhile, the National Student Support Accelerator at Brown University is working to develop "high-impact" scheduled online tutoring programs, which involve a substantial time commitment each week, and making them available to all students. These programs hold enormous promise and can help bring costs down.
But we think more can be done to provide lighter-touch online tutoring that offers one-on-one support while a student is working on an assignment. These sessions would be quick and targeted, and take place in the moment, as soon as a student gets stuck. We call this approach tutoring on demand. As opposed to scheduled sessions, which involve setting up multiple meetings per week, on-demand tutoring would take place only when a student is struggling with an assigned problem, align directly to what is happening in the classroom and last around five minutes. These sessions would be cheaper both in terms of cost and students' time. Also, since they would be conducted online and connected to a particular problem in a textbook, data from these interactions could be studied to help produce automated tutoring tools to help students on those problems.
For example, if a class is working on determining the surface area of a prism and a student is struggling on the very first problem in the homework set, the student might put in a request for a live, online tutor. An available tutor would help the student via text and voice. Once the session is over, the student will be able to finish the homework and go to class the next day better prepared to move on to the next lesson.
Tutors could be drawn from a number of sources: volunteers with relevant expertise: college students, graduate education students, retired teachers, etc. Nonprofits could partner with school districts and other organizations to make this possible.
A number of different arrangements could also be experimented with here. Tutors could be matched to individual classrooms that fit their schedule, so they could develop relationships with students. Or, for more targeted help, individual tutors might virtually "roam" among multiple classrooms. This kind of online tutoring is also flexible with respect to time and place.
Perhaps most exciting is the ability to study these interactions, to provide a basis for automated chatbots that eventually could fulfill some of these functions without the need for a human tutor. Machine learning and natural language processing technology have now advanced to the level that they can be used to determine what feedback works and to develop automated tools that can mimic human tutoring at scale.
While a tutoring chatbot might seem crude at first, this technology has made a lot of strides and taken off in a number of sectors, including sales and health care, due to the degree to which it can offer individualized help. In education, chatbots could respond to questions with useful feedback, information and hints that could help drive student learning.
There are limitations, of course. Chatbots, at least to begin with, won't be able to offer the kind of fine-grained help that a human tutor can, nor will they be able to build the same kinds of connections with students. But considering the much lower cost and much wider availability, they could be a huge boon for students, especially those who might not have access to human tutoring or other individualized help.
There is another benefit of this type of online tutoring: If they are set up in the right way, these programs will drive education research. Researchers can study these short tutoring sessions, given both by human tutors and chatbots, to figure out what works when it comes to online support. This would lead to a virtuous feedback loop that could help improve these chatbot tutors over time. Research would identify what works, and developers would integrate those techniques into subsequent versions of the chatbot.
To begin creating such digital chatbots, our team aims to collect 100,000 one-to-one human tutoring sessions (each approximately five minutes long), in which a human tutor helps a student struggling on a homework problem. This information, we believe, can create a dataset from which effective chatbots can be created.
In the end, tutoring works for a number of reasons, from the immediacy of the feedback to the tailored nature of the instruction. On-demand tutoring will leverage all these aspects to give students the best chance at success. Put differently, many students won't succeed without personalized, immediate feedback with skilled support and targeted instruction. There is more than one way to provide that sort of support, and tutoring on demand is one such way.
Neil T. Heffernan is a professor of computer science and director of the Learning Sciences and Technologies Program at Worcester Polytechnic Institute. He is the developer of ASSISTments, a free web-hosted digital platform that provides teachers with specific insight into their students' progress on math homework. Cristina Heffernan is executive director and co-founder of the @assistments Foundation.
Support The 74's year-end campaign. Make a tax-exempt donation now.