Analysis: High-Quality, High-Dosage Tutoring Can Reduce Learning Loss. A Blueprint for How Washington, States & Districts Can Make It Happen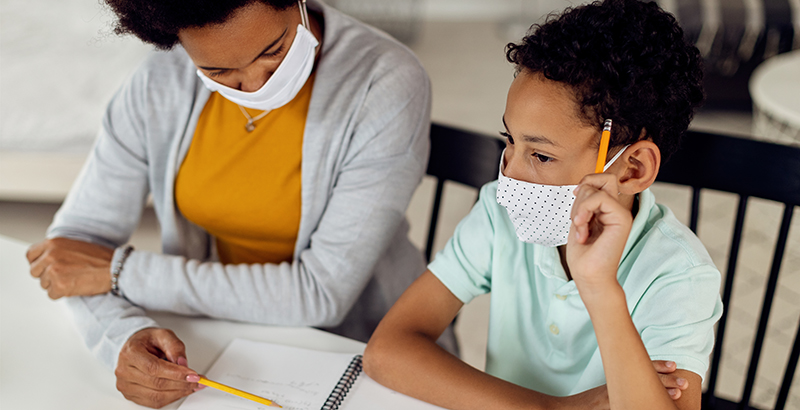 There is near unanimous, bipartisan agreement that tutoring is among the most promising, evidence-based strategies to help students struggling with learning loss. Decades of rigorous evaluations have consistently found that tutoring programs yield large, positive effects on math and reading achievement, and can even lead to greater social and motivational outcomes.
It isn't just the research community buzzing about tutoring — it is gaining momentum in policy circles, too. Bob Slavin and colleagues at Johns Hopkins University have put forth a "Tutoring Marshall Plan," based on a similar idea championed by Sen. Chris Coons that would provide funding for as many as 300,000 college students to be recruited, trained and coached as tutors. Susanna Loeb and colleagues at the Annenberg Institute at Brown University recently launched the National Student Support Accelerator, an ambitious initiative aimed at implementing research-aligned tutoring programs at scale. And Institute of Education Sciences Director Mark Schneider recently co-authored a piece highlighting the growing consensus that tutoring is "the most promising candidate for successful COVID catch-up."
President Joe Biden has also turned to tutoring as a possible salve for the massive (and unequally distributed) learning loss stemming from COVID-driven school closures. In his recent executive order on reopening schools, the president tasked the U.S. Department of Education, in consultation with the Department of Health and Human Services, with developing evidence-based guidance to states, districts and schools on how to support high-quality distance and blended learning. Given the education world's growing support for tutoring, it should become a major focus of this effort.
With all this momentum, there is a real opportunity — and responsibility — to design and deliver tutoring programs in a way that aligns with the research evidence, which is fortunately beginning to tell us more than just "tutoring works."
From decades of rigorous studies, we know that tutoring offered in high doses of three or more sessions per week is more likely to be effective than less frequent sessions. We know that tutoring offered during the school day tends to result in greater learning gains than sessions held after school or during the summer. We know that having a consistent tutor over time helps foster positive student-tutor relationships and a stronger understanding of students' learning needs. And we know that using aligned, high-quality instructional materials helps tutors reinforce classroom instruction.
A new brief details the key characteristics of effective, high-dosage tutoring programs — which taken together, can serve as a checklist for education leaders considering where to invest resources and how to design programming. These characteristics are consistent with those put forth by other researchers and think tanks, and in line with international efforts like the U.K.'s National Tutoring Programme.
Since we know what works, now we need to ensure that federal, state and local leaders are aligned and investing in the most effective approaches. The federal government has made nearly $70 billion available already, in part to support learning recovery, and Congress and the administration will need to allocate even more in coming months to address opportunity and achievement gaps that could worsen inequality. These new resources are crucial and have the potential to be transformative, as long as they are well-spent and designed and delivered in a closely coordinated way.
Here's what that might look like:
For starters, the federal government should earmark funding for evidence-based tutoring programs. The recently introduced Learning Recovery Act is a good first step. It should also help states and school districts understand, in clear and concise terms, the evidence base for tutoring and which approaches have the most potential for impact. The Education Department might even consider taking up a new recommendation that calls for establishing an office of tutoring to centralize and support local efforts.
Next, state education agencies should make it as easy as possible for districts to combine federal and state funding to support evidence-based tutoring programs, identify a diverse set of these models aligned with local districts' needs and coordinate with their state service commissions, which help oversee volunteering efforts at the state level, as well as other partners to identify sources of potential tutors, like AmeriCorps volunteers.
Finally, school districts should design and implement an approach that both adheres to the research and is as practical as possible — no small feat, given budget constraints and an already overextended and exhausted educator workforce. Perhaps most importantly, districts must ensure that school leaders and teachers, along with students and their families, have the right conditions in place to implement selected models well.
For tutoring to live up to its promise, the design and implementation must be right, and that means attending to the details and coordinating across every level of government to make sure students, especially those most adversely affected by COVID-19, have the support they need and deserve.
Sara Kerr and Kate Tromble are, respectively, the vice president of education policy implementation and the vice president of federal policy at Results for America, a nonprofit that helps policymakers harness the power of evidence and data to solve the world's greatest challenges.
Get stories like these delivered straight to your inbox. Sign up for The 74 Newsletter