Commentary: Great Schools Like LeBron James's New I Promise School — District or Charter — Are What America's Kids Need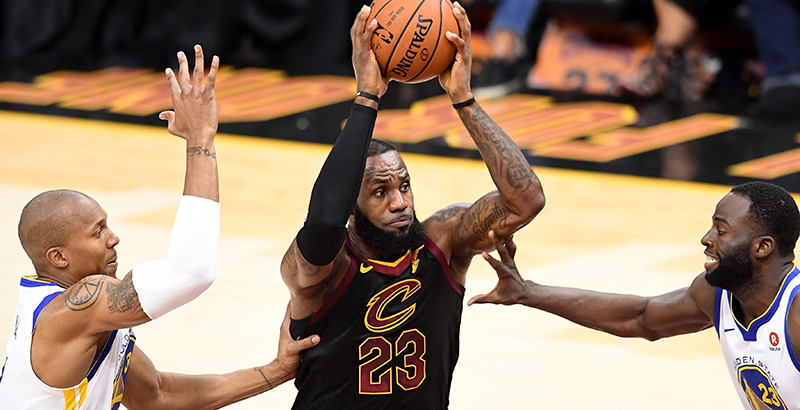 Dubbed "The Chosen One" on the cover of Sports Illustrated as a high school junior, LeBron James has carved out a career on the court that has more than lived up to the hype. With three NBA titles, four MVP awards, and 12 first-team All-NBA selections in 15 years, he has been a joy to watch ever since I was lucky enough to be in the upper deck as he was named MVP of the 2003 McDonald's High School All American Game. James's work ethic may be the only thing more impressive than his talent.
My admiration for him grew even further this week with the launch of his I Promise School in his hometown of Akron, Ohio. If you somehow missed this week's media blitz, the school will grow from 240 at-risk third- and fourth-graders this year to serve first- through eighth-graders from throughout the city. It will provide an extended school day and year, wraparound services for students and families, wellness programs for teachers, and bikes and helmets for students, and it will be topped off with a commitment by James's family foundation to fund college tuition for graduates at the University of Akron.
As an education policy wonk, however, I found it disappointing to see some of the commentary praising James's partnership with Akron's school district served up with an unneeded side of criticism of charter schools as "draining money" from districts. Opening any new school, district or charter, in Akron — which only recently halted years of enrollment declines — would have a similar financial effect on the surrounding schools from which it pulled students. Unless the I Promise School draws new children into Akron Public Schools, the same pot of funding from local, state, and federal government sources to the district will be spread across more schools. As a result, funding and staffing for other district schools will have to decline as their students depart for the new I Promise School.
But acknowledging that effect isn't meant as a criticism of opening a new school. Communities all over the country need more great schools, regardless of governance, and there are pros and cons to operating a school like this as a district rather than a charter school. Working within the district may make it likelier that teachers and principals will encourage at-risk students to apply, and it could spur more district schools to pursue similar scheduling flexibilities and innovations that will support the needs of Akron's families.
But operating as a nonprofit charter can have advantages too. A representative from James's foundation could maintain a formal governance role overseeing the school's operations, and charter schools' freedom from many regulations — when paired with meaningful accountability — can spur faster adjustments as educators learn what's working and what's not.
What's most frustrating about the tribal arguments surrounding charter schools is that the most successful nonprofit charters convey a message similar to that of the I Promise School — if only we're willing to hear it. Just as district-run community schools and I Promise build outside partnerships to augment their services, charters raise millions of philanthropic dollars and identify other public funding streams to open small and add grades year by year; offer a longer school day and year that better meets the needs of working families; provide high-dosage tutoring to help students who need extra help; create leadership development programs to train principals in all types of schools; and build tools, processes, and supports that help their graduates finish college at rates well above averages for all low-income students.
Progressives on both sides of the charter debate spend so much time arguing about governance and "privatization" that we run out of time and space to focus on shared interests. There are bad actors in the charter space, including in Ohio, that should be addressed. But it is just as important for states and school systems to be investing in students, as the most successful community schools and charter schools do, without relying on the generosity of philanthropists like LeBron James to cover ongoing costs.
A more productive policy conversation would focus on how to design and open more great schools, invest in teachers and principals, make sure charters and authorizers are living up to their accountability commitments, and provide the funding and supports we know that kids, particularly low-income kids, need to be ready for success in college, career, and life.
Here's hoping that James's fame, influence, and commitment break through the noise to persuade Ohio policymakers to comparably invest in the other 20,000-plus Akron students.
Neil Campbell is the director of innovation for K-12 education policy at the Center for American Progress.
Get stories like these delivered straight to your inbox. Sign up for The 74 Newsletter