Clinton's Wonky Side Could be a Weakness But One She Keeps Well Hidden on K-12 Education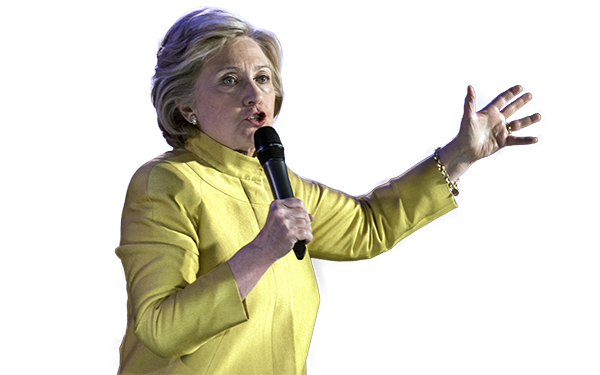 Hillary Clinton is now the presumptive Democratic nominee for president, according to the
Associated Press
, but a problem she faced in defeating Bernie Sanders through a drawnout primary process is likely to persist in a general election contest against Donald Trump.
Sanders, who was still hoping that a possible win in today's California primary could carry his candidacy through to the Democratic convention, was often able to out-flank Clinton with bold, universal policy prescriptions, like free healthcare and free college, leaving Clinton to struggle to articulate a set of more-targeted policies focusing on particular groups of affected individuals. That's likely to be even more pronounced in a head-to-head matchup against the blunt, polemic Trump.
But while this dynamic may appear in other areas, it hasn't been true in K-12 education, where Clinton and Sanders campaigned on nearly identical talking points. Both have made
strikingly false claims
about
public charter schools
, and both have expressed similar clichés about "supporting" or "respecting" teachers. Neither has been pressed to get specific on any details or plans, and that's not likely to change as we turn toward the general election.
Campaigning on platitudes fits with Sanders' call for a "political revolution" and Trump's version of soundbite politics (he's said
very little
on education), but it's a radical departure for Clinton as a potential Wonk-in-Chief. On her website, a simple search for education terms on the "
Factsheets
" section reveals her lack of specifics. The terms "
preschool
" and "
college
" produce full descriptions of the Clintons' history with, beliefs on, and plans for the policy area. There are dollar amounts and time frames and specific cutoff points for planned benefits.
None of those details appear on K-12 education.
Try
searching Clinton's website for terms like "teacher," "assessment," "elementary," "high school," and so on, and you won't find any substantive policy proposals.
Her public addresses haven't offered much more detail. In a recent
speech
before the New York State United Teachers Representative Assembly, Clinton played to the crowd by vowing to support teachers by "raising teacher pay" and "facing tough issues like over-testing." She even went on to say that she "does not believe that more testing will solve homelessness or poverty."
But this was a stump speech. Clinton did not provide any policy proposals. There were no goals, timelines, or dollar figures. There was lots of vague talk about "respecting teachers," but no real concrete plan.
Clinton had an opportunity to get more specific on K-12 policy during the reauthorization of the Elementary and Secondary Education Act last year, but she demurred. She had
voted for
the most-recent iteration, No Child Left Behind, in 2001, and has since
voiced qualms
about it, particularly on the issue of annual standardized testing. But, again, Clinton did not comment during last year's reauthorization except for a nondescript
press release
after the law passed. (Sanders was the only Democratic Senator who
didn't vote
on it.)
Clinton and Sanders could have provided context for their education platforms last fall at The 74's education debate, but all the Democratic candidates at the time
declined the invitation
to speak to Iowa voters about education. And Trump declined to participate in
The 74's education summit
for Republican candidates prior to the New Hampshire primary.
This lack of information leads to a small
frenzy
whenever any of the candidates mention education. The K-12 community was left trying to parse out what it meant a few weeks ago when Bill Clinton made the
comment
that Hillary, "thinks they [federal assessments] are just too much, that it's national overreach, and the most it could ever do is to help people at the very bottom levels of achievement." There was another flurry after Hillary told
Newsday
she wouldn't opt her granddaughter out of New York's standardized tests.
Not to pick solely on Clinton, but why is she so out of character on this issue? It's complicated. As Jonathan Chait
observed
, full-on anti-testing rhetoric would put Clinton in a tight spot, because civil rights groups see testing as an important tool to measure achievement gaps between rich and poor and white and non-white children. The Democratic Party is traditionally aligned with the interests of the less-fortunate, but it's also aligned with unions, and teachers have been less supportive of
testing
or school reform more broadly.
Clinton, in particular, is walking a fine line. She's
relying on
black and Hispanic voters to help her lock in the presidency, and black and Hispanic families are
more likely
to support testing, charter schools, and other reforms. At the same time, Clinton secured early
endorsements
from both the nation's largest teachers unions, and they oppose those same reforms. Clinton's silence on K-12 issues at least partly reflects this intra-party disagreement.
It may be too late for this election cycle, but the only path forward is for the media — and the voters — to start pressing the candidates on exactly what they would do when it comes to K-12 education. Democrats and Republicans should be asking their candidates how they would improve this country's education system. What specifically would they do? How much money would it cost? How long would it take?
Given where we are in the presidential cycle, it's becoming ever more likely that the next president could come into office with no real mandate on what he or she should do about K-12 education, a $600 billion industry affecting the lives of 50 million kids and 3.3 million teachers. It deserved more serious attention from the candidates.
Get stories like these delivered straight to your inbox. Sign up for The 74 Newsletter