Cleveland Schools Delay Opening by Three Weeks as COVID-19 Cases Surge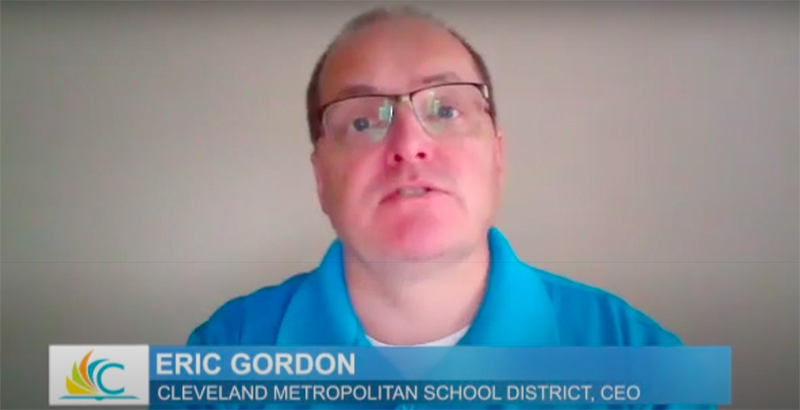 The Cleveland school district will delay reopening schools until Sept. 8 and likely offer a mix of online and in-person classes, the district announced today.
Most schools were scheduled to open Aug. 17, but the district instead joined a growing number of districts across the country balking at bringing students back to classrooms as COVID-19 cases are spiking.
When classes resume, the district cautioned, students may have to do some or all of their lessons online.
"CMSD fully recognizes the importance of getting our students and educators back to school, and having all students, teachers, and employees back is our end goal," the district website states. "But current public health guidance requires the District to focus primarily on restarting schools with a hybrid learning model to limit the number of people physically present in a building at any time and to accommodate social distancing."
Cleveland Teachers Union President Shari Obrenski, who has been involved in planning the reopening, expected the delay. Teams of district officials and staff are turning in recommendations to CMSD CEO Eric Gordon today about different portions of reopening, and Gordon will use those to set a plan.
"It's just a massive undertaking," Obrenski said. "When you're dealing with exactly how we're going to focus the curriculum to make sure we are hitting the things that are absolutely necessary, what the health and safety looks like, what our PPE [personal protective equipment] looks like, what traffic flow looks like in the hallways, it is just a massive undertaking."
A full reopening plan will be shared with families by July 24, Gordon told parents in a letter and a video this morning.
A few schools with year-round classes were scheduled to open July 27, but their reopening has been moved to Aug. 24.
Gordon had originally hoped to share a reopening plan with the community in mid-June, which would have been early enough to hear parent feedback in time to reopen as planned. But state guidelines for reopening were released later than expected, and COVID-19 cases have increased dramatically in Cleveland, in Ohio and nationally in recent weeks.
The resurgence of COVID cases led the Los Angeles Unified and San Diego Unified school districts to announce Monday that they would only have remote classes when learning resumes next month.
West Virginia has delayed school reopenings to Sept. 8, just like Cleveland, and Arizona has delayed reopening from early August to Aug. 17 because of the virus.
Safety concerns have also grown more urgent in Cleveland in recent weeks. Cleveland Mayor Frank Jackson ordered adults on July 2 to wear masks in public to curb COVID-19's spread. Gov. Mike DeWine issued a similar order July 7 for Cuyahoga County and six other counties in the state deemed at high risk under a new rating system.
Gordon said in the letter that the state's safety rating for the local area would determine what choices parents have for returning to school.
The district website elaborates:
"As buildings begin to reopen their doors, a hybrid model enables us to ease back into in-person instruction as public health guidelines permit. In-person teaching will be used for topics best taught in the classroom, while virtual teaching will focus on topics that can be best learned on-line.
"It can be assumed that changing health and safety guidelines that are inevitable during a pandemic, will proceed towards In-person Learning and revert towards Digital Learning as needed based on the current data and condition of the virus spread at a given time."
The plan also lists several safety precautions, but it does not address the controversial issue of whether students will be required to wear masks at school. Gov. DeWine has ordered school staff statewide to wear masks but has left it to districts and local health officials to decide whether students should.
Cleveland's basic plan calls for students to stay six feet apart when possible, for schools to have one-way corridors and for gymnasiums, libraries and other open spaces to be used to spread students out.
Safety has been a major concern of the district's teachers. Obrenski has called for all students and staff to wear masks or face shields at school because many teachers are worried about personal safety and family members with health conditions
"It is the responsibility of everyone to keep our community safe," she said at a rally last week for more federal aid to schools.
Support The 74's year-end campaign. Make a tax-exempt donation now.