Masks, Distancing and State Health Mandates Loom as Land Mines for Ohio's School Reopening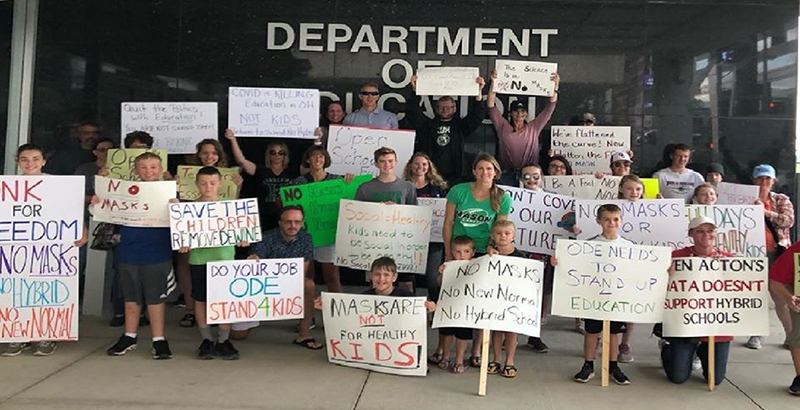 Ohio school psychologist Jason Hedges looks at the state's coronavirus case data and sees children making up just 4 percent of the state's confirmed cases, with no fatalities.
Then he looks at the state's draft reopening plan for schools, which would require students and teachers to wear masks and stay six feet apart all day, every day, whether in classes, at lunch or on school buses.
To Hedges, who works at Theodore Roosevelt High School in Kent, a city of 30,000 people about 40 miles southeast of Cleveland, those likely restrictions are unwieldy, unenforceable and unreasonable.
"How are masks for children and staff and social distancing practices a scientifically justifiable contingency for opening Ohio's schools?" Hedges asked Ohio's state school board Tuesday, as one of more than two dozen parents, teachers and administrators writing to the board or telling them by internet testimony that they oppose any major limitations to schools reopening this fall.
The national debate over whether wearing masks and keeping social distance are necessary to combat the coronavirus, or are just overkill, has flared up in Ohio in recent weeks. Just as in many other states, some residents and business owners have pushed Gov. Mike DeWine and the state to reopen more quickly and ease restrictions.
That tension, often between rural and urban communities or Republicans and Democrats, is also rising in Ohio over how to reopen schools in the fall. While some school districts like Cleveland with high rates of infection and deaths are cautious about risks, families in less-affected areas are pushing back against state health restrictions.
Even as the Centers for Disease Control says students and staff should wear masks at school and sit six feet apart, some parents and state officials say such mandates are too much for families, particularly in areas with few infections.
Coronavirus infection is uneven across the state, with nearly 5,000 cases in Cleveland's county, Cuyahoga, but with five other counties having fewer than 10 cases each.
Ohio's school reopening plans are likely two weeks away, State Superintendent Paolo DeMaria told the state school board Tuesday,
Though DeWine has said he wants to leave many decisions to local school districts, he said last week that the plan will still "give schools a broad outline of what the health guidance should be."
Because a draft reopening plan DeMaria released last month required students and staff to wear masks and to maintain six-foot distance, parents have been mounting resistance to state health restrictions in a few ways. These include:
Reluctance of parents to accept masks, as shown in a poll last month by the Ohio Parent Teacher Association. That survey found that 32 percent of parents would send their children back to school if they were required to wear a mask, but 40 percent said no, and 28 percent were unsure.
About 7,000 parents have joined a Facebook discussion group opposing "hybrid" school reopenings that would have students attending classes in person a few days a week and online other days so that schools would be less crowded.
An online petition — Ohio Parents Against Mixed School Days — against hybrid plans and mandates to wear masks has gained more than 60,000 signatures.
"We want our students back in school this fall," the petition states. "No staggered school year, no masks, no new normal."
Alice Marrs of Picqua, Ohio, a town of about 21,000 residents in the western part of the state, said she started the petition because students need to be back in school. She said schools can offer online classes for those families who are worried about coronavirus.
"I absolutely think it should be a parental choice," said Marrs. "That's my right to decide, not the department of health, not the department of education."
Some state school board members also want to leave reopening decisions to districts, not the state.
Some, like board member Kirsten Hill of Amherst, a rural community about 35 miles west of Cleveland, called health restrictions in the draft reopening plan "onerous" and said adults and families need to make their own decisions.
"To make everything sterile for everyone is impossible," she said. "The sick need to quarantine, versus controlling the healthy."
But board members like Meryl Johnson, a former Cleveland teacher, said she appreciated orders to control a virus that is killing many more black people than white. She also noted that many teachers are over age 50 and at high risk.
"Everybody's not as comfortable sending their children to school as you are," Johnson said.
The biggest opposition move came late last week when influential state senator Matt Huffman, a Republican in line to become Senate president next year, introduced a bill that would let each district or charter school board decide when and how to reopen, as well as how to handle COVID-19 risks. While not naming any health restrictions the state might impose, the bill would block DeWine or Ohio Department of Health Director Amy Acton from adding any.
"No other public official shall prohibit a district or school from opening its school buildings for instruction with students in attendance, cause a district or school to close its school buildings, or require the district or school to adopt health safety measures and guidelines to address COVID-19," the bill states.
Huffman said Wednesday he would be willing to amend the bill to have schools consult local health departments.
Scott DiMauro, who heads the Ohio Education Association, said he has members who do not want to return to school without stringent health precautions. But he is continuing to talk to state officials about possible compromises, including adjusting health precautions by community as infection rates rise and fall over time.
Support The 74's year-end campaign. Make a tax-exempt donation now.