Cleveland and Ohio's Urban Districts Say DeVos's Pandemic Aid Plan Would Cost Them Millions Meant for High-Poverty Students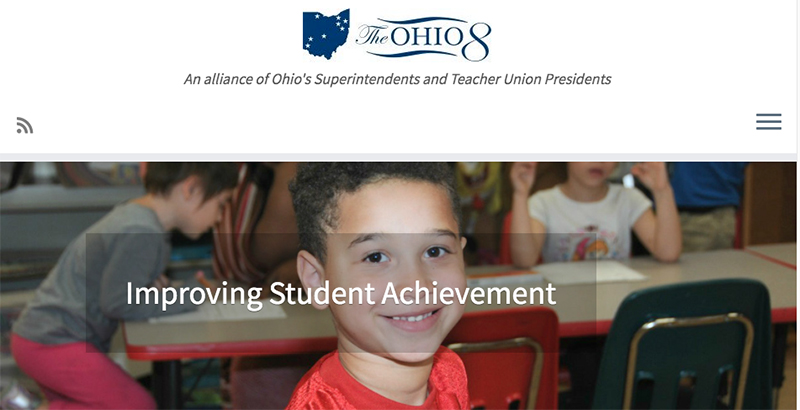 Correction appended June 9
A coalition of Ohio's largest urban school districts has joined school officials around the country in opposing U.S. Secretary of Education Betsy DeVos's plan to send federal coronavirus funds to private school students rather than high-poverty public school pupils.
The Ohio 8 Coalition urged Gov. Mike DeWine in a letter last month to award federal Coronavirus Aid, Relief, and Economic Security Act money to schools based on poverty levels, saying their schools would lose out on millions of dollars under DeVos's plan, which calls for the money to be distributed to private schools based on enrollment, without considering family income.
The coalition, for which Cleveland school district CEO Eric Gordon serves as co-chair, said in its letter that DeVos's plan "subverts the intent of Congress and weakens the ability of the funds to do the greatest good."
"The past few months have laid bare the inequities that exist across our state, which is why Ohio must distribute the CARES dollars as they were directed to by Congress," the letter states. "Following watered down guidance from the USDOE will weaken Ohio's ability to address the unique needs of low-income children, children with disabilities, students experiencing homelessness, and foster care youth."
In addition to the Ohio letter, the Council of the Great City Schools, an association of the nation's big-city school districts that Gordon also chairs, opposed DeVos's plan last month in a joint statement with other national groups such as the AASA (American Association of School Administrators), American Federation of Teachers, National Education Association, National Association of Elementary School Principals, National Association of Secondary School Principals and National School Boards Association.
"No Council district — that we are aware of — supports the Ed Department's questionable interpretation," said Tonya Harris, spokesperson for the Council of the Great City Schools.
According to published reports, eight states, including Maine, Indiana and Mississippi, are disregarding DeVos's guidance, while 10 states, such as Kentucky and Tennessee, have said they will follow DeVos's plan.
The CARES Act, passed by Congress in March, gives K-12 schools $13.5 billion to stabilize budgets through the pandemic. State school agencies across the country, including the Ohio Department of Education, believed the money would be awarded using Title I rules — which determine federal aid to schools based on poverty — and started planning to use that method.
But DeVos's April 30 guidance that private school enrollment should be used, followed by her vow to issue a rule to distribute CARES money by enrollment, has pitted private schools against high-poverty districts.
In Ohio, the Ohio School Boards Association, Buckeye Association of School Administrators and Ohio Association of School Business Officials took the same position as the Ohio 8, also writing to DeWine urging him to award money based on poverty.
In its letter, the Ohio 8 said that DeVos's approach would cost the Cleveland school district $2.3 million and the Cincinnati schools $4.9 million. The hits to the Dayton and Youngstown schools would be under $500,000 each. Totals were not provided for Akron, Canton, Columbus or Toledo, the other members of the Ohio 8.
Gordon added in a press release for the coalition that Ohio should not dilute CARES aid because the shift to remote learning and other needs "will require all available resources for students living in poverty."
Gordon also urged residents of his district and members of the Cleveland school board at the board's last meeting to lobby the Ohio Department of Education and congressional representatives to keep the money going to poor students. The district has posted a sample letter to Congress on its website for residents to use.
But with private school advocates in Ohio and nationally backing DeVos, the money sits in limbo. After first telling schools it would award money using Title I, the Ohio Department of Education has since asked schools to collect income and Title I eligibility data for private school students. Money will be awarded now based on poverty, but additional dollars for private schools will be held in reserve until the issue is resolved in Washington.
"Unfortunately, there is still significant disagreement at the national level on the process for addressing the equitable services requirements under the CARES Act," the state told schools May 29. "This process could take months before a resolution."
DeWine and his staff would not comment on the issue.
Advocates for private schools told The 74 last week that the pandemic has threatened survival of many private schools. Jessica Poiner of the Fordham Institute, which is active in Ohio, wrote last week that private schools are worried about families being unable to pay tuition next year, fundraisers being canceled and donations dwindling.
"These various funding losses could add up," she wrote. "Many of Ohio's private schools were already operating on razor-thin margins prior to the pandemic. The fallout of COVID-19 could be the final straw that forces them to close their doors."
For the Ohio Association of Independent Schools, which represents 45 private schools in the state, it's more a matter of fairness than survival. In a tweet in late May, the association said public schools in Ohio are receiving 92 percent of CARES funds set aside for schools but are acting like "they're entitled to virtually all of it."
Worth noting that Ohio's public schools are receiving over 92% of Ohio's ESSER funding from the federal government for the COVID-19 crisis, yet public school groups are lobbying the Governor and ODE for more, saying they're entitled to virtually all of it. https://t.co/Vw2mlYVtHz

— OAIS (@OHIndepSchools) May 26, 2020
Dan Dodd, the association's executive director, told The 74 that the CARES Act does not give clear direction on how to distribute the money and that if Congress wanted it allocated a certain way, it should have directly said so.
Dodd said that about 40 percent of students at his schools receive financial aid, some of whom might meet Title I poverty requirements. But many schools don't calculate Title I eligibility. If Ohio uses the Title I standard, schools would have to seek financial information from some students after the school year is over and figure out who qualifies.
Frank O'Linn, superintendent of the 108 schools in the Catholic Diocese of Cleveland, called DeVos's position "straightforward and compelling."
"The pandemic has affected everyone, regardless of what type of school they attend," he said.
Larry Keough, spokesman for the Catholic Conference of Ohio, also said that all students are affected by the pandemic and need extra help, regardless of economic status.
"It saddens me that, during a pandemic, children are being pitted against each other," he said.
Correction: An earlier version of this article stated that 40 percent of students at schools belonging to the Ohio Association of Independent Schools would meet federal Title 1 poverty criteria. Though nearly 40 percent of students are receiving financial aid from their schools, they would not all meet Title 1 standards.

Get stories like these delivered straight to your inbox. Sign up for The 74 Newsletter