Maryland School Chief to Resign Friday, Set to Be Adviser to Board of Education
Mohammed Choudhury will provide "expert-level advice, guidance and recommendations" on education policies, strategies & priorities.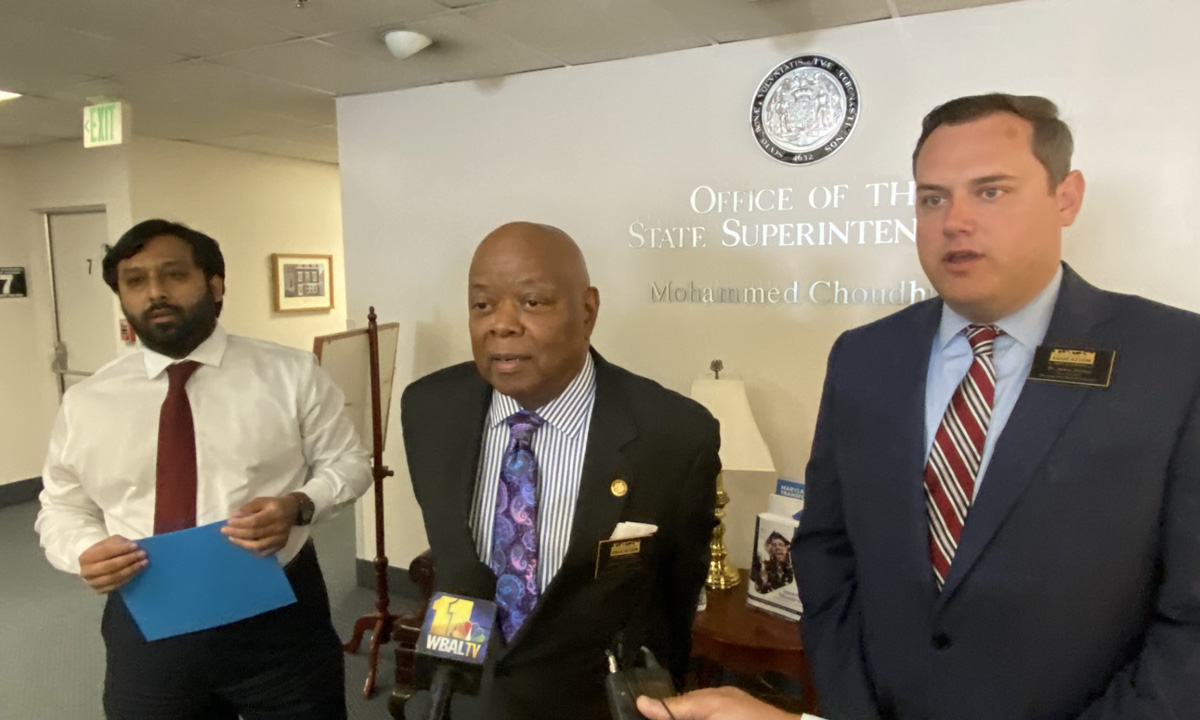 Support The 74's year-end campaign. Make a tax-exempt donation now.
Maryland State Superintendent Mohammed Choudhury will resign as the state's public schools leader Oct. 6, but the next day become a full-time senior adviser for the State Board of Education.
A joint statement released Friday from the board and Choudhury explains that he will provide "expert-level advice, guidance and recommendations" on education policies, strategies and priorities, such as the Blueprint for Maryland's Future education reform plan.
Sylvia Lawson, deputy state superintendent for organizational effectiveness, will serve as acting superintendent upon Choudhury's resignation until an interim superintendent is appointed.
According to a transition agreement between the board and Choudhury, he will "maintain current knowledge of contemporary trends and development to ensure the State Board maintains an understanding of issues in a rapidly evolving environment."
A main job requirement in the agreement: he must report "directly to the President [Clarence Crawford] and Vice President [Joshua Michael] of the State Board of Education."
If Choudhury wants to meet with legislators and other public officials, he needs to obtain approval with board leadership.
If Choudhury needs to initiate any "significant discussions" with department staff, he must seek approval from board leadership.
The agreement also specifies that Choudhury and the board won't make "disparaging or damaging" statements, public or private, to each other or their "representatives, agents, employees, officers and attorneys."
In regards to the transition of an interim superintendent, which the board plans to name next month, Choudhury will "provide assistance and advice" to the board on department leadership. The next scheduled board meeting is Oct. 24.
"We wanted to have clearly defined lanes in advance to minimize any potential confusion on the part of staff or on the part of stakeholders as to whom they should speak with," Crawford said in a brief interview.
"What we've done is we've clearly identified where the interim [superintendent] will be on board, and he or she will have the full authority as the superintendent of schools for the state of Maryland," Crawford said. "[Mr. Choudhury is] going to help us with policy matters. He's going to help us do some research [and] help us figure out how to move forward."
Choudhury will keep his current base salary of $310,000, which is part of his three-year contract through June 30. His senior adviser position will last until then.
Crawford said local superintendents typically have a buy-out provision that allows an individual to be bought out of a contract.
"At the state level, we don't have that option," he said. "One of the benefits at the state level is Maryland taxpayers, the Maryland citizens will still get the benefit of Mr. Choudhury's knowledge and experience. If this were a straight buy out, we would lose all that. In the final analysis, it works out well for the state."
Michael said in a brief interview the agreement provides flexibility to begin the transition process of leadership.
"It allows us to continue to benefit from his education policy knowledge and expertise," he said. "We think it is quite beneficial for the state and focus on the future and keep children at the center…"
In the meantime, Crawford will lead a transition joint committee comprised of some board members and department leadership.
Michael will lead a search committee joined by other board members. That group will work to search for a firm to help recruit a permanent superintendent to begin a new term starting July 1.
Choudhury has garnered praised for his some of his work in Maryland, including a push for reading proficiency and to develop the department's strategic plan, as well as support from the teacher's union.
But he also received criticism for his leadership style from some legislators and former employees. Gov. Wes Moore (D), who has said the governor should have more influence on the direction of state schools, also cast doubt on Choudhury's performance as superintendent.
This story was originally published on Maryland Matters.
Support The 74's year-end campaign. Make a tax-exempt donation now.