Chan Zuckerberg Initiative Will Give $1.6 Million to Study Educators' Experiences With Ed Tech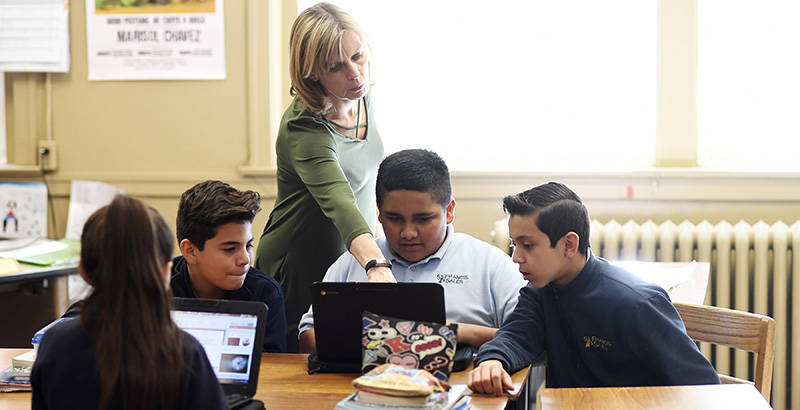 The Chan Zuckerberg Initiative announced Monday it is providing more than $1.6 million over two years to the Jefferson Education Exchange, a nonprofit that helps educators nationwide make informed decisions about education technology.
The grant will enable the Jefferson Education Exchange to create a system for measuring how various ed tech tools work in different school contexts.
Based at the University of Virginia's Curry School of Education and Human Development, the Jefferson Education Exchange studies how teachers use education technology to help districts and other educators figure out which ones will be best for their classrooms.
To do that, the researchers pay educators a cash stipend to answer questions about their schools and record how they use the ed tech that is available to them. The goal is to figure out how factors like school culture and teacher involvement in school decision-making affect the ways teachers and students use certain technology products. Eventually, that information will be widely available to help teachers and school leaders decide what to buy for their schools.
About 6,000 teachers nationwide are expected to participate in the research through the grant, said Jefferson Education Exchange president Bart Epstein, earning roughly $25 to $50 per hour. To find the most effective way of gathering information, the research team will experiment with different ways of staying in touch with teachers, various stipend amounts and the amount of time required of the teachers.
The research is an attempt to solve what Epstein argues is a collective action problem — everyone in education wants more information about ed tech, but no one has an incentive to do the research and gather data about the 7,000 products on the market. About 85 percent of education technology is poorly chosen or used, Epstein said.
"When it comes to education technology, the environments inside schools and inside classrooms are mind-bogglingly complex and different from each other, such that an algebra support program in your school might thrive, but the same program in my school might be a complete flop for any number of dozens of reasons," Epstein told The 74.
It's also an expensive problem. More than $13 billion a year is spent on ed tech in the United States, Epstein said.
"While educators are often the individuals using ed tech tools to serve students in the classroom, their voices are often missing from decisions on how to select and implement those tools," Sandra Liu Huang, head of education at CZI, said in a statement about the grant. "We're pleased to invest in an evidence-based approach to help teachers, schools, and districts better understand how technology can best support students in the context of their specific needs and learning environment."
The grant is part of a push by the Chan Zuckerberg Initiative to include educator input in the development, implementation and evaluation of classroom tools and to make sure teachers can learn from one another, said Katrina Stevens, director of learning science at the Chan Zuckerberg Initiative.
"We're trying to create these cycles where educator voice is at every stage of developing, using and being able to share out what's working in order to get better tools in the hands of educators," Stevens told The 74.
Disclosure: The Chan Zuckerberg Initiative provides financial support to The 74.
Support The 74's year-end campaign. Make a tax-exempt donation now.