Case Study: Delivering K-16 Outcomes with K-12 Dollars
Educator's View: How one charter network in Indiana & Louisiana is integrating college classes into high school to give students a leg up on higher ed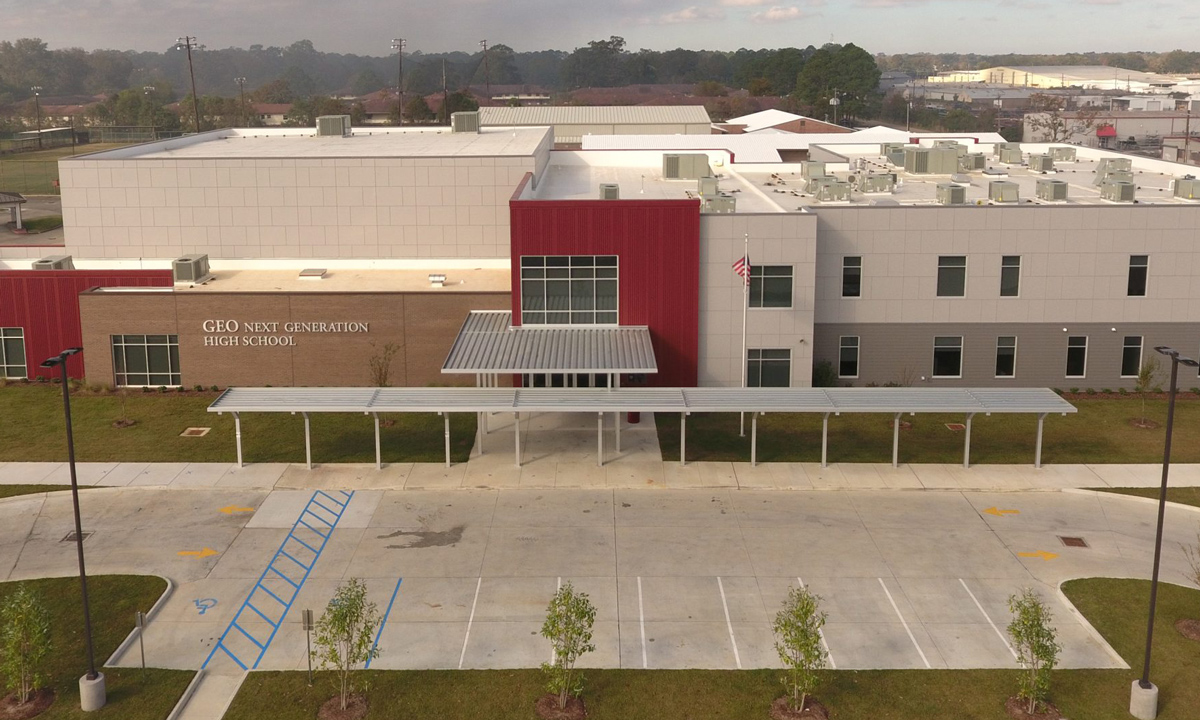 Get stories like these delivered straight to your inbox. Sign up for The 74 Newsletter
As the nation exits a once-in-a-century pandemic, policymakers everywhere are working toward accelerating learning. High-dosage tutoring. Extra instructional time. New summer programming. Reforms abound — all with the straightforward goal of catching students up and preparing them for college.
Yet, despite states' best efforts, data about postsecondary success is alarming. One recent poll found that 56% of Americans think earning a four-year degree is not worth the cost. Skepticism about higher education is rising, while enrollment is declining. So how do policymakers and education leaders prepare students for the future in a time of exceptional academic challenges across all grade levels?
By integrating college classes into high school. This reduces cost and improves outcomes.
This is a moment when America needs to reimagine the K-12 experience, remove barriers to higher ed and achieve K-16 results with K-12 dollars.
It starts with the college readiness exam. At GEO Academies, the network of public charter schools that I run in Indiana and Louisiana, every high school student — all of whom live in high-poverty areas — takes a college entrance exam for free, starting in ninth grade. If they pass, they're enrolled in classes immediately at a local college or university, starting in their first year in high school, alongside their traditional 9-12 curriculum. If they don't pass, we prepare them until they do.
Having all students take college readiness exams, such as the College Board's Accuplacer, provides each one with an academic roadmap, telling educators the kind of support they need for college preparedness. Then, our K-16 model provides transportation to our partner community and four-year colleges. This exposes students who otherwise might never have even considered getting a higher degree to college classes on real college campuses, with other college-level students.
All this — the cost of exams, registration, tuition, textbooks and transportation — is covered by our network through existing funding, without any added expense to taxpayers.
We deliver K-16 outcomes on K-12 dollars.
Experiencing college provides unquestionable social benefits for high school students, particularly those who come from low-income backgrounds. As college enrollment declines, learning how to navigate higher education while in high school makes it likelier that students will attain a degree, because college classes and campus life aren't foreign to them. It's a seamless transition.
There's a financial benefit to our students as well. Working toward a high school diploma and a degree simultaneously means students will take on no debt while earning college credit, making them more likely to gain a degree while saving them precious dollars in the process.
What are the academic outcomes? This May, GEO Academies will graduate 22 students who will have earned a college degree before they receive their high school diploma. Last year, one of our students, who began taking college classes at age 11, completed his associate degree by age 13 — the youngest in Indiana to do that. He will complete a full bachelor's degree while in high school, our third student to achieve this goal, by the time he turns 15.
The numbers speak for themselves. The graduation rate at our Gary school, 21st Century Charter School, is 22 points higher than the district average (94.5% versus 72.8%) and even surpasses the state's overall average of 86.5%. Our college and career readiness rating, as calculated by the Indiana Department of Education, is 50 points higher than the district's (88.9%, compared with 37.6%) and again beats the state average (68.1%).
Louisiana does not track college and career readiness like Indiana does, but it did report that just 159 of 42,650 graduates in 2019 received associate degrees while in high school. This year, we will have our first graduating class, with 10% of our 60 seniors earning an associate degree.
Integrating college classes into the high school experience for all students is truly a scalable model that is yielding game-changing results for high-poverty children. But the barriers to doing so are clear: It requires policymakers to rethink what it means to go to high school and reimagine higher education as part of an educational continuum for students.
Reinventing the high school experience requires bold thinking.
Fortunately, America has the funding to be innovative. Tens of billions of ESSER dollars have gone unspent, and many states and districts — so often risk-averse — can capitalize on this moment as an opportunity to reimagine the high school experience. 
As policymakers search for answers to accelerate learning, they should look to students in schools in Gary, Indianapolis, and Baton Rouge, Louisiana. Our schools are showing why college has never been more important and are providing the blueprint for integrating college credits into the high school experience.
Get stories like these delivered straight to your inbox. Sign up for The 74 Newsletter