Campanella: For National School Choice Week, Celebrating a Decade of Education Options for Students and Families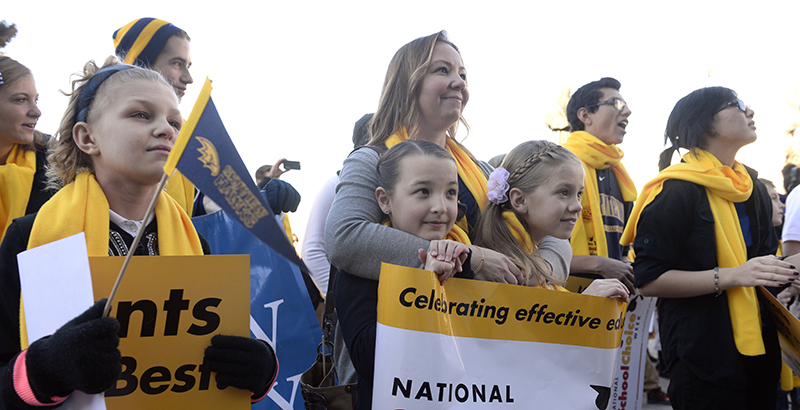 Ten years ago, in 2010, could you have imagined the ever-increasing educational options families have today? Maybe, just maybe, if you had a crystal ball, you could have imagined how:
● One-third of U.S. parents now actively choose the schools their child attends.
● At least 20 states would enact open enrollment bills allowing students to attend the traditional public schools of their choice rather than the ones they were assigned to.
● The number of states with private school choice programs would more than double.
● The number of students enrolled in public charter schools would double.
That's incredible growth. And that growth in educational options is thanks to the countless dedicated parents, teachers and community members who have spoken up, and continue to speak up, for children and families needing a wider diversity of learning environments.
That growth is something celebrated by and reflected in National School Choice Week, which takes place Jan. 26 through Feb. 1 this year. Since the first National School Choice Week's 150 events in 2011, participation has increased to 51,300 independently planned events and activities for this 10th year. In every state, parents and school leaders have chosen to use their time to share information with families, celebrate students and foster school spirit.
What inspires me most is that so many families now use the occasion to search for schools that meet their children's needs, more people google "school choice" during National School Choice Week than at any other time of the year.
With the benefit of a decade's hindsight, none of us should be too surprised by the growth of the school choice movement. That's because school choice taps into one of the clearest, deepest desires parents have: that their children can get an education that inspires them to be the best they can be.
Back in 2011, John E. Coons spoke to this when he said, "Whatever family may mean, if you value it, you'd better see to it that the not-so-rich American parent has real authority over who has access to the child's mind for the prime hours of 13 years of his or her life."
Five years later, Martin Luther King III said this: "What choice does is essentially create options, particularly for poor and working families, that they would not necessarily normally have."
Both statements help explain the sway of the school choice movement. School choice is about families of all racial and socioeconomic backgrounds wanting and needing meaningful choice, because they know their children best. Sometimes, as a society, we need a reminder of that.
And we are being reminded. These principles have fueled an amazing 10 years of growth in the quantity and variety of education options available to many American families — and in the number of parents who are accessing those choices.
But there's still quite a bit left to do. Most states have listened to families and broadened the available education options, though some lag behind. In states that have expanded options, the next challenge is ensuring that every family knows what those options are and has a clear path in pursuing whichever of them they choose. That's where National School Choice Week comes in. Our mission is to raise awareness about these education options and to celebrate tens of thousands of great schools around the corner from prospective students and their families.
Fueled by parents' deep desire for their children to succeed, a great deal has changed in education over the past 10 years. There's much to celebrate this National School Choice Week, and there's more to do. What, I wonder, will education look like in 2030?
Andrew Campanella is president of National School Choice Week.
Support The 74's year-end campaign. Make a tax-exempt donation now.