Even as Caltech Drops Calculus Requirement, Other Competitive Colleges Continue to Expect Hard-to-Find Course
Queries sent to 20 top schools, many known for engineering programs, found that 11 do not require calculus while 6 strongly recommend or encourage it.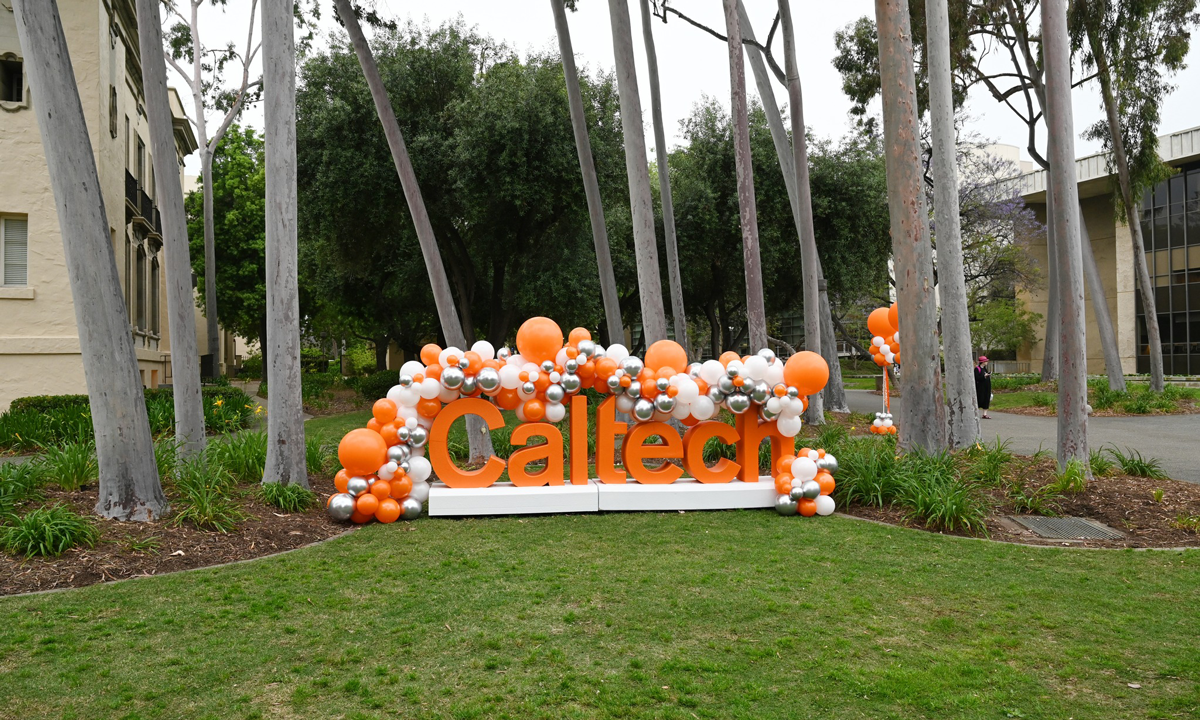 Support The 74's year-end campaign. Make a tax-exempt donation now.
When the prestigious California Institute of Technology announced in August it would drop calculus as an admissions requirement — students must prove mastery of the subject but don't have to take it in high school — observers of an ongoing education equity debate might have thought it was the last holdout.
But a survey by The 74 reveals the answer is more complex, that while some schools have revised their acceptance criteria based on the availability of rigorous courses, including calculus, others have not.
Queries sent to 20 top-tier colleges and universities, many of which are recognized for their strong engineering programs, found that 11 do not require it while six strongly recommend or encourage it.
Calculus may not be a must, but it is still expected at many institutions.
Princeton looks for some applicants to complete the class if they have access to it. Likewise, MIT, Carnegie Mellon and Purdue strongly recommend or encourage at least some applicants to take the course in high school.
Cornell was alone among the 20 in still mandating calculus. In fact, the Ivy League school tells incoming freshmen that at least one of their two letters of recommendation must be from a math teacher and they are "strongly encouraged" to make that person their precalculus or calculus teacher.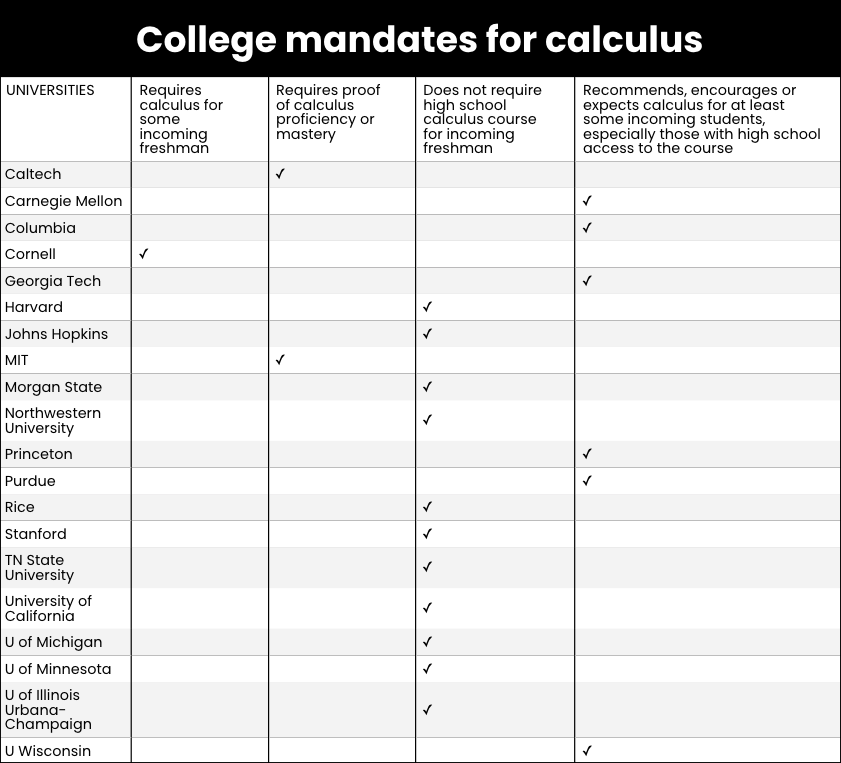 Caltech dropped calculus, physics and chemistry from a list of required courses while widening students' opportunity to showcase their abilities through other means, including the completion of online courses through the free Khan Academy.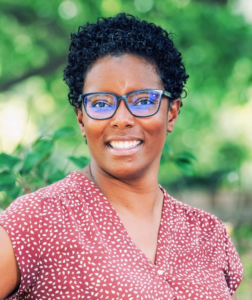 Ashley Pallie, Caltech's executive director of undergraduate admissions, noted it was a significant shift for the STEM-intensive titan. The school had required a calculus course for decades, she said, despite pushback from applicants.
"Every year, we would get lots of students who would write in and say, 'I was on track to take it, but the teacher isn't able to teach us here,' or, 'Not enough students signed up for the class,' or, 'The class isn't offered at my high school,'" she said. "And the answer was always, 'No. We need to have the course requirement.' "
But that changed when Pallie and two faculty members, who set admissions criteria, learned at a February conference on equity and college acceptance the extent to which the course is not available, particularly to low-income applicants, students of color and those living in rural areas.
Pallie credited Melodie Baker, national policy director at Just Equations, an organization that promotes math policies that support equity in college readiness and success, for sharing the information at that gathering. Calculus still has merit, Caltech faculty concluded, but should no longer be mandated.
"So now it's less about having taken the course and more about, 'Can you showcase to us that you have proficiency and mastery?'" Pallie said.
MIT follows a similar model; it wants incoming freshmen to have two semesters of calculus but allows them to place out of the requirement either through outside credits or by taking an Advanced Standing Examination.
Calculus is not required for admission to any University of Michigan school or college, including the College of Engineering and the Ross School of Business.
And the same holds true at Harvard, Columbia, Northwestern, Rice and Johns Hopkins.
The explanation is simple, according to one school's spokesperson.
"We recognize not all high schools have a calculus course available to students, so it is not required for admission to Johns Hopkins University," said Jill Rosen.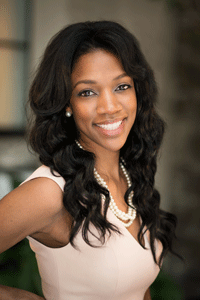 Baker, of Just Equations, said colleges and universities should always seek to widen the opportunities for bright applicants so they can one day help solve the world's most complex and enduring problems.
"When math is used as it was intended, to cultivate and develop talent rather than rank and sort students, the future of STEM looks like a microcosm of the larger society," she said. "It looks very different from what it looks like today: It looks well-represented."
The University of Minnesota doesn't demand calculus for entry to any of its undergraduate programs. However, the school does prefer that students study the topic at some stage: It's mandatory for some majors, though it can be taken at the college level.
Still, a spokesperson for the five-college system said, "Anyone can get in without it."
For other colleges, the answer is nuanced. Neither calculus nor precalculus is a requirement for first-year admissions at the University of California, a spokesperson said.
The vast U.C. system, which encompasses 10 campuses and some 280,000 students, does, however, note that those interested in STEM, data science and the social sciences are "strongly encouraged" to consider a math course sequence that prepares them for calculus — either during high school or in their first year at the university.
Sharon Veatch, school counseling department chair at the rural Housatonic Valley Regional High School in northwest Connecticut, follows college admissions criteria closely. Two of her former graduates are now at Harvard and a couple of others have recently graduated from Cornell.
She said universities have become less focused on calculus in recent years: Their decision to largely drop SAT and ACT admissions tests from consideration means they are looking at students more holistically, placing less emphasis on any one class.
But, Veatch said, many top-ranked universities urge students to take the most rigorous course available. For those at her high school, that means Advanced Placement calculus. The campus hasn't offered AP Statistics for years.
"In general, when I advise students, I say, 'You need to max out on the curriculum,'" she said. "Because that's what I'm being told."
Maxing out, of course, means something different from one state to another as several are reassessing their mathematics offerings.
California has tried to broaden high school students' opportunities by providing other academic pathways, not just those that lead to calculus.
But there's been a push and pull between equity and rigor, with the state recently backtracking on a key issue for college applicants: The faculty committee that sets admissions requirements for the U.C. system decided in July that data science could no longer be a substitute for Algebra II. The state Board of Education, which oversees K-12 and is looking at reframing math statewide, soon after removed its endorsement of data science as a substitute for that subject.
Stanford, a crown jewel in higher education in that state, recommends four years of rigorous mathematics — including algebra, geometry and trigonometry.
"We also welcome additional mathematical preparation, including calculus and statistics," its website advises.
Calculus is not necessary for entry to the University of Wisconsin. But spokesman John Lucas said direct admittance to the engineering program is highly selective, "so, it's rare for a student to not have taken calculus."
Georgia Tech is a bit more explicit. Laura Simmons, an admissions counselor there, said in an online video, that students should take the most challenging courses available to them. If that means seeking out a dual enrollment math class at the local college, they should choose wisely.
"We're never going to pretend that college algebra is the same as a calculus class," she said.
Support The 74's year-end campaign. Make a tax-exempt donation now.