By the Numbers — How 100 School Systems Are (and Aren't) Adapting to COVID: Vaccine Requirements, Testing Options & Incentives for Getting the Shot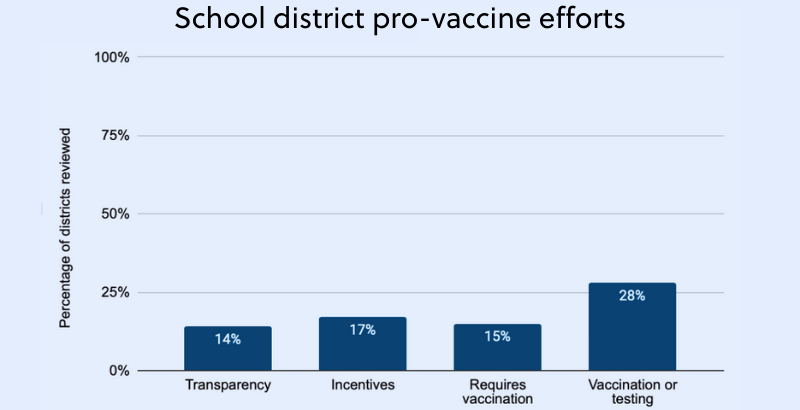 Support The 74's year-end campaign. Make a tax-exempt donation now.
As vaccine requirements collide with legal roadblocks, staffing shortages and state restrictions, school districts are confronting a difficult reality: In many parts of the country, there may be no perfect way to ensure everyone who works in schools gets vaccinated against COVID-19.
The majority of districts in our nationwide review of pandemic responses in 100 large and urban school systems are not requiring vaccinations for their employees.
Those that do require vaccinations must overcome court challenges and fears that letting go of even a small number of employees could have an impact on students.
Both factors have stalled efforts to require teacher vaccinations in the nation's largest school district. New York City teachers and principals pushed for a delay, arguing that a mandate would exacerbate staff shortages in some schools. They got their wish when a court put the mandate on hold.
In the nation's second-largest district, however, efforts to mandate vaccines went more smoothly. The L.A. Unified School District initially delayed enforcement of its vaccine mandate amid fears of staffing shortages.
But just a few weeks later, headlines from Southern California suggest fears about the impact of a mandate may be overblown. Just 500 of the 30,000 educators represented by United Teachers of Los Angeles faced job losses when the mandate took effect last week, and 97 percent of district employees complied.
Despite political barriers, mandates remain more common than other measures to encourage vaccines, like transparent reporting of inoculation rates or incentive programs.
A total of 43 districts in our review require vaccinations in some form: in 28, employees must choose between getting vaccinated and taking regular COVID tests, and 15 require the vaccine outright, with no testing option.
Cash, perks, exotic prizes — are they worth it?
The legal, political and practical barriers to enforcing vaccination requirements have prompted some districts to design creative ways to get employees inoculated — often through incentive programs that combine cash bonuses with other perks.
Among the most recent was Duval County, Florida, where the school board voted unanimously to give each vaccinated employee an extra week of sick leave and a $200 check.
Seventeen districts in our review have some sort of incentive for employees to get vaccinated. Of those, 15 of those offer cash, and Duval's bonus is on the low end. On the high end, DeKalb and Henry counties in Georgia and Oklahoma City give vaccinated employees $1,000 rewards.
One major drawback is the price tag. Duval's plan would cost an estimated $2.4 million, which will be taken out of COVID relief funds that could otherwise be used to help students recover from a range of pandemic effects. In districts offering more generous perks, the tradeoffs grow steeper: DeKalb County could wind up shelling out $15 million to incentivize a 100 percent completion rate among its 15,500 employees.
But for districts where a vaccine mandate is legally or politically untenable, incentive programs could bring benefits if they help offset the costs. For example, a high employee vaccination rate could decrease the risk of infections spreading in schools and therefore reduce the need to pay for substitutes when teachers fall sick.
Some districts are offering more out-of-the-box incentives. Atlanta Public Schools is raffling resort stays in locations like Antigua and Panama. In Alaska, the Anchorage School District will provide fully vaccinated employees with up to 10 extra days of paid time off if they test positive for COVID-19, a benefit not extended to unvaccinated staff.
Transparency: The missed opportunity
One measure that costs little, and faces few legal barriers, is transparency. Unfortunately, few districts are giving parents access to detailed information about how many adults in their children's schools are vaccinated.
Just 14 districts in our review publicly report employee vaccination rates. Chicago Public Schools provides updates on districtwide vaccination rates, and only Portland Public Schools in Maine has detailed school-by-school tracking of employee vaccinations.
If a district wants to mandate vaccines for employees, publicly reporting the rates could illuminate which schools are most vulnerable to staff shortages. If a district wants to spend scarce funding to incentivize vaccinations, the public should know whether costly incentives are having an impact.
If debates over masking and vaccinating have reached political stasis, but state leaders want to make a meaningful difference in school safety, they should consider doing what Maine has done and provide public access to data about vaccinations in schools, or find cost-effective ways to encourage school employees to get inoculated without mandates. 
Investing in those systems now could help schools navigate this phase of the pandemic and lay the groundwork for increased public health transparency in schools for years to come.
Travis Pillow is editorial director at the Center on Reinventing Public Education and former editor of redefinED, a website chronicling the new definition of public education in Florida and elsewhere. Bree Dusseault and Christine Pitts contributed research to this report.
Support The 74's year-end campaign. Make a tax-exempt donation now.