By Design, New Orleans School Board has Limited Power. November's High-Stakes Election May Change That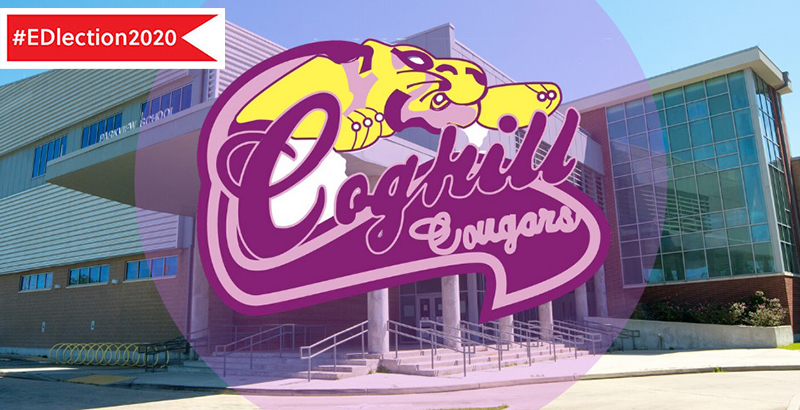 In the nine years after Hurricane Katrina, average New Orleans school performance scores rose 41 percent — a feat researchers have linked to the state's willingness to close chronically underperforming schools and replace them with better programs.
So when the state returned the schools to the control of the Orleans Parish School Board four years ago, the architects of the experiment took a collective deep breath. Elected school boards are notoriously sensitive to the pressures of local politics, and few moves are as unpopular as school closures. Would a board composed of educators and hyperlocal activists keep the heat on?
The question is about to be put to the test. All seven board seats are up for election Nov. 3, with more than 20 candidates in the running. Three long-term reform advocates who helped craft NOLA Public Schools' novel school accountability system have stepped away, and some of their potential replacements have signaled discomfort with the high stakes — especially in a pandemic.
Unlike traditional districts, NOLA Public Schools oversees a system made up almost entirely of autonomous charter schools. The district is the schools' charter authorizer, which means its main duty is to decide, on an ongoing basis, whether a school's performance merits renewal of its charter, the legal agreement that grants permission to serve students.
Nearly a fourth of the city's schools are up for renewal in the 2020-21 academic year. Because no end-of-year tests were administered during the spring's pandemic-related closures, decisions about their fate can't be made using the mix of data that school and district leaders agreed to when they crafted the accountability plan two years ago.
In August, the board approved a plan that would give the district a wider — and more subjective — range of information to consider for renewal decisions that must be made during the pandemic. Five schools have already made cases for why their charters should be extended under the new guidelines.
Whatever the eventual decisions about the first schools renewed under the new process, the board members who will be sworn in in January will inherit ongoing tensions, say several people who were deeply involved in creating the district's novel structure.
"Our school board has its own distinct, nontraditional role," says Patrick Dobard, former superintendent of the state school turnaround agency, the Recovery School District, and current CEO of New Schools for New Orleans, which works to improve school quality. "Our hope is the newly elected board will continue to support the strategy of holding schools accountable within the framework."
Caroline Roemer, executive director of the Louisiana Association of Public Charter Schools, says authorizers nationwide are struggling to figure out how to make decisions about renewals during the pandemic.
"The Orleans Parish School Board is doing as good a job at authorizing as any authorizer in the country right now," she says. "While [COVID-19] presents an immediate problem, I hope there is a longer-term opportunity to rethink how we hold schools accountable."
The lack of 2019-20 assessment data is problematic, she says, but there are multiple ways of gauging school performance. "What are the indicators that would tell us this school is a healthy, productive place for kids to be?" she says. "The goal is to create schools anyone would be excited to have their children in."
None of the candidates on the November ballot is a shoo-in — not even popular incumbents. Nor do the races, which are taking place in seven individual districts, cleave the way they often do in big, traditional districts. The field is a mix of community activists, educators, K-12 policy experts and political hopefuls with slender ties to education.
The Nov. 3 election is a primary. Any candidate who captures more than 50 percent of the vote that day wins outright. In other races, the top two candidates in a district advance to a Dec. 5 runoff.
In each of four districts, three candidates filed. The current board president faces four opponents. One candidate is a college student. One is a veteran of the state Department of Education.
A number of candidates have been lambasted — sometimes profanely — by the small but very vocal community group Erase the Board, which calls the current system "an illegal experiment" and wants to return to a traditional district structure. At least one candidate the group appears to support has tried to distance herself from it.
One new candidate recently resigned from the board of Mary D. Coghill Charter School after it was revealed he emailed faculty and staff to say no student could be given a final grade lower than a D. The school lost its charter in December.
The decision not to renew Coghill's charter came despite heated protests. In addition to the scandal involving the board member, the school earned low marks on state report cards, including an F for the 2018-19 year. It was also found to have failed to provide special education services to numerous students.
Following the announcement that Coghill would be run by the district for now and start with a new operator in the 2021-22 school year, four members voted to overrule the decision — one vote too few by law.
Community outrage over school-closing proposals is often hard for local officials to withstand, says Doug Harris, director of Tulane University's Education Research Alliance for New Orleans, which did the research that identified replacing underperforming schools with high-quality ones as a huge factor in New Orleans's improvement.
"Closing schools is painful, and painful for particular groups — and those groups can organize," he says. "The superintendent's stance is generally to stick to the rules and not generally stand for failing schools."
Whoever is seated on the new board in January needs a thorough understanding of the district's unique legal structure and the tensions in its autonomy-for-accountability relationship with its schools, says Dobard. Board members will need to be able to communicate the difference between how a traditional school district operates and how a charter authorizer makes decisions, the scope of the board's authority and the reasons for insulating the decision-makers from political pressures.
Schools were better, but far from good enough
Last year, Harris's Research Alliance issued a report attributing the school system's dramatic growth in test scores to the Recovery School District's policy of closing underperforming schools and replacing them with higher-performing ones.
The academic performance of New Orleans schools was among the lowest in the country when Hurricane Katrina hit in 2005. The state seized control of all but 19 of the district's schools, which at the time numbered 124.What followed was the most dramatic and rapid period of school improvement in modern U.S. history.
The Recovery School District invited nonprofit charter operators to take over one or more schools. If a school's subsequent performance was still bad, the state would give it to a new operator or a more successful school network.
As the 10th anniversary of Katrina approached, it became clear the community was tired of state officials making unilateral decisions in Baton Rouge, an hour away, with no mechanism for community input. Polling data showed New Orleans families believed the schools were better, but far from good enough.
School and community leaders hashed out a series of compromises that were ultimately enshrined in state law. In addition to provisions designed to make enrollment, funding and discipline fair, Act 91 gave charter operators control over staffing, curriculum and the length of the school day and year. The NOLA Public Schools superintendent would decide whether to renew schools' charters, or to give a lagging school to a new operator. A board supermajority of five votes is required to overrule or to fire the superintendent, currently Henderson Lewis.
The superintendent's discretion is limited. The district can't dictate school-level decisions like staffing and academics, but still has to respond when a school runs afoul of basic rules meant to ensure students' rights.
The district, says Harris, has little ability to dictate what a school should do to improve. "It has no management authority, just governance," he says. "The ability to steer but not to row, is how it's been put."
Schools earning As and Bs on their state report cards are automatically eligible for charter renewals. For schools earning multiple Fs, their charters must be revoked. Those that fall somewhere in the middle are judged on a complex mix of data regarding student academic growth, grade-level proficiency and compliance with operational and financial standards.
Six months after the new law was enacted, a relatively sedate school board election took place. Teachers unions often exert an outsized influence in urban school board elections, but with just a couple of unionized schools in New Orleans, their spending was limited in 2016. Four of the seven board members elected that year either faced no opponents or won after challengers dropped out or were disqualified.
Elected in that contest, charter school network founder Ben Kleban — one of the people who crafted the local control governance structure — announced in March that he was resigning to move out of state. Two other long-serving reform proponents, Sarah Usdin and Woody Koppel, also chose not to run again.
Their departure creates a vacuum. Beyond supporting the overarching strategy, board members have a crucial role to play in helping the community understand how an all-charter system should operate.
"The risk is if the board that is elected is unable to articulate this, especially given that it's so complicated," says Dobard. "When board members understand and embrace these roles, they can take steps to make sure everyone is engaged."
People lose sight, Dobard adds, of the fact that 400 New Orleans residents serve on the boards of individual charter schools. Those all-volunteer boards have the power to make decisions about specific things families are unhappy with.
For her part, Roemer is concerned that antagonism against New Orleans's all-charter system has flared back up at the state level. At the time Act 91 was drafted, state Sen. Joseph Bouie Jr. was its staunchest opponent, equating it with the Tuskegee syphilis experiment.
On Oct. 14, as the Louisiana Legislature was in special session to address the pandemic and Hurricane Delta, Bouie testified in favor of a bill he authored that would allow high-stakes decisions to be made by a simple majority of the Orleans Parish School Board. He cited the Coghill closure as the impetus for the bill.
The measure failed, on a 10-5 vote, to pass out of the House Education Committee, but Roemer notes that hers was the only in-person testimony opposing the measure.
"Orleans Parish School Board and the superintendent are going to have to lean in a lot more on these issues," she says. "These races, to me, are really about what the future looks like."
Get stories like these delivered straight to your inbox. Sign up for The 74 Newsletter