The 'A' Word: Lizzette Reynolds — 'Accountability Shouldn't Be Considered a Way of Limiting a Child's Progress'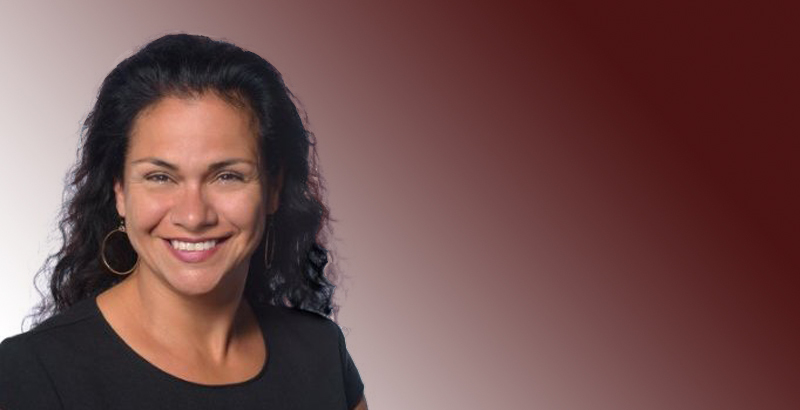 This interview is part of The 'A' Word series, produced in partnership with the Bush Institute to examine how "accountability" became a "dirty word," and what can and should be done going forward to ensure accountability withstands the test of a bad reputation. The interviews were conducted over the telephone, transcribed, and edited for clarity and length. The same questions, or types of questions, were put to each participant to see what they thought independently and collectively about accountability. Their answers will take the reader into the inner workings of schools, the intricacies of the politics of education, and the ways in which campuses can better serve students. Click through the grid below to read other 'A' Word conversations.
Lizzette Gonzalez Reynolds, vice president of policy for the Foundation for Excellence in Education, has nearly three decades of experience in education policy. She previously served as deputy legislative director for then-Gov. George W. Bush and as chief deputy commissioner for the Texas Education Agency. She also was the U.S. Department of Education's regional representative in Texas for Education Secretary Margaret Spellings, and she served as special assistant in the Office of Legislation and Congressional Affairs under Secretary Rod Paige. Reynolds currently sits on the board of the  KnowledgeWorks Foundation and is a member of the advisory boards of IDEA Public Schools in Austin and UTeach.
In this 'A' Word conversation, Reynolds draws upon her experiences to explain the benefits of school accountability, starting with the fact that it squarely puts the responsibility for improving student outcomes on adults. She also offers practical suggestions for improving accountability, including breaking down complex testing data so parents can understand — and act upon — their students' results.
She also explains why educators and school leaders need better training in using data in order to make decisions to support student success. And she believes that supporters of school accountability must do a far better job explaining to middle-class and wealthy parents why accountability matters to all kids, including their own.
Anne Wicks & William McKenzie: How do you define accountability, and has that definition changed over time? 
Lizzette Reynolds: Accountability in schools is a way of measuring student outcomes, particularly student achievement. It is the foundation by which schools are held accountable for their students. For me, that is the bottom line.
Accountability hasn't necessarily evolved in and of itself. The conversations around accountability have evolved, but not in the best interest of kids. The voices of some of the adults in the system are have been empowered to the detriment of students learning.
At the national level, accountability was elevated by No Child Left Behind, but initiated in Texas by then-Governor Bush in 1995. That's when the focus became making sure all students were accounted for in their academic learning and that each group of students were measured against their peers. We could then truly understand both the gaps in learning and the gaps in access to a quality education. 
Today, the conversation has stagnated and students have plateaued in their learning. We're seeing National Assessment of Educational Progress scores leveling off with no significant achievement gains or gaps closing. That is disappointing. 
At the same time, the demographics in this country have changed. The perception is that because poverty is growing within the student population, caveats are being placed on student learning. That's wrong. 
(Click through the grid below to read other 'A' Word conversations)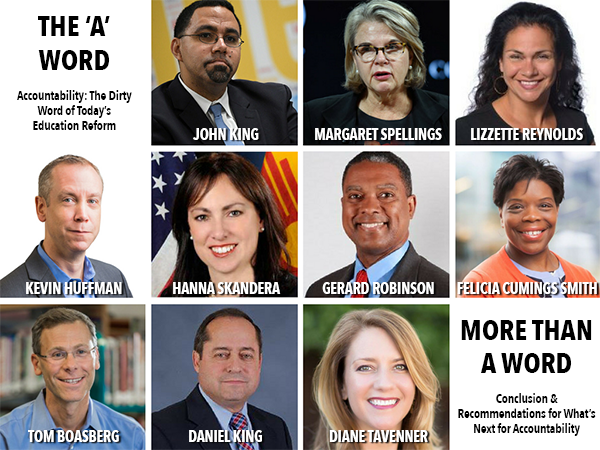 In the early days of NCLB, you helped sell a bigger sense of accountability. Has that conversation changed?
Before George W. Bush brought accountability to Texas as governor, people felt like the schools were just fine. In the aggregate, that was true, but when you dug down into who was learning, a whole new picture was starting to emerge. Poor kids couldn't read! What was going on? 
That was the initial foray into the conversation. The system said it was being held accountable, but it wasn't. The system was not identifying and measuring the progress of each child. It was not getting down to the student level and having conversations where parents understood how and what their kids were doing.
Accountability scared people when it first came in, but then, it was somewhat embraced. The Texas business community also made accountability its top priority under Governor Bush. And other people thought, "OK, I guess we need to know this."

Back then, tests were seen as helping kids. Today, that conversation has changed to an emphasis on the tests themselves and how they are hurting kids. That's unfortunate.
How did you use accountability in your role as a state education leader? 
We used it to measure our schools and to give parents information about how their schools were doing with their kids.
Unfortunately, states struggle to do a good job communicating what those results mean. Some people say that in order to have a fair system you need a complex system. Well, the complexity just confuses parents, and then parents don't understand why we need accountability.
States use accountability to identify areas of success, but we don't make that connection for parents. All they see is their kids taking a lot of tests and hear their teachers complaining about teaching to the tests and not having the flexibility to teach their students the way they know best.
People also complain that they don't know what's in the tests, that they don't see the exams, and that they don't know who makes up the tests. How do you counter those complaints?
States tend to release the tests after the fact. How that really informs parents, I don't know. 
The results also can come back in edu-speak, with reports like "your child is proficient in quantitative reasoning, but borderline on X, Y, and Z." When I worked at the agency, I even had to call the state's assessment director and ask her whether the questions my daughter missed on her fifth-grade math test would hinder her as she went along. Did she miss on critical standards? The director brought me her scores and said, specifically, she missed it here, but she got it here, so she's fine.
Parents don't have that kind of access, so they don't know what the data means. What does it mean if your child is approaching proficiency? Is that good? Is that bad?
Since then, [Texas Education Commissioner] Mike Morath and [Texas Deputy Education Commissioner] Penny Schwinn have worked hard to create confidential student report cards to make the test results more accessible and understandable. They should be applauded for this tremendous accomplishment. I was never able to accomplish that myself at the agency.
ExcelinEd's also working to help states adopt better policies. Our Fewer, Better Tests project includes providing more easily understood information about a student's scores on their state assessments.
How do you make the information understandable for parents? 
A good example is right here in Texas. The report card not only shows how your student did on the state test but explains it in a very accessible way. You can understand the elements the student has accomplished and/or where he or she needs support. The report also provides the measurements of the student's reading history and provides suggested reading. It is no longer black and white with language only education insiders would understand.
Our organization also supports bringing "softer" characteristics into the student report card, such as including suggestions on the report card for how a parent can increase their child's chances to master key subjects. 
We also advocate for sharing the results of each student's state assessment with the incoming teacher of record. That way, the teacher or teachers and can understand where the student stands academically. They also can use that information during parent-teacher conferences. The results are then more relevant and less of a mystery. 
Some say that making the summative exams more relevant to parents is just a way to continue to make sure the test vendors profit off our kids' knowledge or lack thereof. But we need to bring this information to the level of the parents.
And how do you bring it to the level of parents?  What do you say to them?
One thing is to let them know it is OK to bring supplemental support to your kids at home. For example, parents worry about making sure their children have art and PE, so let them supplement that at home. We also need to open the schoolhouse doors to parents, particularly parents who have felt disenfranchised or intimidated by the system itself. 
Similarly, we need to demonstrate to parents of higher-achieving kids that accountability is also for their kid. Some parents of high-achieving students feel like nobody cares and that the focus for accountability is on the kids that are way below level or right on the bubble.
The accountability system is much more than that. It's about ensuring all students get the same level of support regardless of where they are academically. It's the system that is being held accountable … not the kids. 
We just need to keep reaching parents of all levels of income so they can see why accountability is good for them as well. We've tried that with college readiness, explaining how assessments are aligned so that their kids can be ready to enter the postsecondary institutions of their choice. We just need to make this relevant, and that state assessments aren't the devil.
We're moving into the era where states are going to have more authority over accountability systems. If you could design a perfect accountability system, what would it look like?
That's not easy. As I mentioned earlier, there is the notion that to make an accountability system fairer, it's got to be complex. But with that complexity needs to come some functionality.
If results from state assessments are a significant part of a school's score, there needs to be an opportunity to think about what other elements a school brings to the table for each of their kids. There needs to be additional measures of success, like the so-called career readiness indicators. That may be a credential students earn or a certificate that is directly aligned to the needs of the labor market. That would address parents who think the system is only for college readiness.
The point is, there are elements that can make accountability more holistic. Some states are doing a good job with that, or are moving towards doing a good job. But it takes a lot of stakeholder input.
All of what we are talking about has to do with data. What is it you wish that state leaders, school trustees, or parents knew about the importance of data? 
I have a love/hate relationship with data because I have witnessed folks who read data sheets all day long but don't actually do anything with it or put it towards some actionable outcome.
We need to teach teachers and administrators in their preparation programs how to use data in their daily interactions with students. Data about achievable outcomes should drive academic decision-making. It should penetrate into the classroom as a non-negotiable, but it is not.
The effective use of data also is a leadership issue. There are district and charter leaders here in Texas that are using data to make decisions about their schools. Dr. Danny King of Pharr–San Juan–Alamo is a great example ,as are Pedro Martinez in San Antonio and Tom Torkelson of IDEA Public Schools. 
Leadership is just as big a part of the equation.
Data and accountability are somewhat similar in that regard. They're not the end; they're the means to get to a better education and better student outcomes.
Absolutely.
So, training in the use of data needs to happen early in somebody's career? 
Yes, so you can go to a parent-teacher conference and know whether your child is succeeding and know whether there are things that we as parents can do to support that learning.
There seems to be a lack of patience for the systemic, big shifts that we need in education. What advice would you give to an incoming principal or superintendent who knows that the ship needs to move when it comes to changing reading, math, or instruction, but who knows there is not much patience for the change? 
We've seen examples of that bear out here in Austin, such as when they shut down the old Johnston High School. Over the years, Johnston was continuing to fail cohorts of students. The district had thrown a bunch of money at it, and that still didn't do anything.
Some local activists wanted the school to just be left alone. But the school finally got a leader, Bruce Miller, who as principal advocated for bringing in outside help. A contract with Johns Hopkins University was secured by the district to bring intensive whole-campus support that included a focus on reading, math, career pathways, and dropout prevention. Student outcomes began to improve.
The school is now called Eastside Memorial, and the great work continues under the leadership of Miguel Garcia. 
Sometimes discussion around education reminds me of the old saying "out of sight, out of mind." If you don't see things firsthand, you are not likely to take an action to change things. Education can be the same, and that disconnect can't continue.
Get stories like these delivered straight to your inbox. Sign up for The 74 Newsletter