Bucking the Trend: How 2 D.C. Principals Restored Black Parents' Trust in Returning Kids to the Classroom
By Taylor Swaak | February 28, 2021
This piece is part of "COVID Warriors: How Educators Are Saving the Pandemic Generation," a two-week series produced in collaboration with the Solutions Journalism Network that explores what educators, schools, and districts are doing to prevent an entire generation of students from lost learning and its lifetime of consequences. Read all the pieces in this series as they are published here. Catch up on all of our solutions-based coverage here.
As Garfield Prep Academy in Washington, D.C., prepared to reopen in February, Principal Kennard Branch pulled out all the stops to make parents feel more confident about sending their children back to the building for in-person classes.
Responding to parents' wariness over whether the Ward 8 school would be safe during a pandemic, he posted self-produced video tours of the building online. He helped secure plastic shields for every desk.
As students return, he's sent them home at the end of the day with what one parent called a "supper bag" — often a sandwich, fruit and juice.
At nearby Kramer Middle School, Principal Katreena Shelby encouraged parents to text or call her cell phone with questions, and she has given a few one-on-one building walkthroughs upon request.
While virtual learning has strained many families, the majority of D.C. parents in the predominantly Black wards east of the Anacostia River have opted to keep their kids home, citing health concerns and splintered trust in the district.
But the two D.C. Public Schools principals believe their tailored approach — close communication with families and staff, being transparent about building readiness and following through on community members' requests — has resulted in a different outcome: a higher proportion of their students coming back in person than at nearby schools.
"It has been a struggle districtwide to really get parents interested in sending their students back," Shelby told The 74. "Our school culture plays a large role in [our momentum]. … Relationships and rapport have helped us."
DCPS began preparing for Term 3 reopening last fall with a goal: for schools to serve 25 percent of their students in person. By early February, DCPS data showed the average percentage of schools' student bodies signing up for in-person services in Ward 8 was in the mid-teens.
But at Garfield and Kramer, where 99 percent of students are Black, interest has been building. As of last week, 74 students, or 27 percent of Garfield's population, opted for in-person classes four days a week, with 45 on the waitlist. In-person attendance was around 75 percent.
At Kramer, 24 percent of kids signed up to return twice a week.
"I always treat [my students] as if those babies are really my children," said Branch, who's led the school for 11 years. And "[I tell parents] that everything that's in our power to control, we will take care of."
Education experts agree fostering trust is integral to reopening. Similar approaches have worked elsewhere: In San Antonio's Northside Independent School District, for example, principals leaned on tactics like home visits to build families' confidence in returning.
Garfield Prep Academy
For Sheila Butler, who's been part of the Garfield community since her now-adult son attended, confidence in Branch to keep students safe played an outsized role in the family's choice to send her three grandchildren back.
Starting in February, students returning to Garfield are in school four days a week, most of them learning in person with a teacher.

It's the little things. When the crossing guard couldn't come in one day, Branch stepped in to usher kids across the street. He'd prioritized student safety pre-pandemic, too, successfully advocating for new digital speed signs and a traffic signal near the school.
"At Garfield, they have my children's best interests at heart," Butler said. Comparatively, "I have an older grandson who's in middle school, and I just wouldn't trust him going back in the building."
Mercedes Boone, a teacher's aide at Garfield whose preschooler with asthma is also now back in the building, agreed. Branch is "scared like we're scared" about COVID-19, she said. As a staffer, she can see extra protections firsthand: The plastic shields on every desk, the custodians meticulously sanitizing rooms with steam guns. "I know he's going to take the proper precautions."
Butler and Boone said they also felt parent and staff feedback were central to reopening planning. Garfield's current reopening model, in fact, wasn't Branch's initial vision.
Branch had wanted to bring back first- and second-graders — those in critical early learning grades — and students with individualized education programs. But after staff phone calls to every family and three to four meetings with his Reopen Community Corps, it was clear parents wanted options across more grades.
So the school shifted gears, and Garfield opened one in-person class in pre-K through fourth grades, along with a self-contained classroom and CARE classroom.
Acting on family and staff concerns has helped with buy-in, Branch said. Families considering sending their kids back didn't need to worry about losing a beloved teacher because teachers at every grade level have co-taught together virtually since the beginning of the year. Branch also used some funding normally reserved for trash bags and toilet paper to buy surgical gowns and booties.
So far, there have been no reported COVID cases at the school, Branch said. On a few occasions, students have come in with masks that won't stay up; in those cases, he's provided another mask for them to wear underneath.
He's determined to get attendance to 100 percent. If a student doesn't show up — even one day, he said — that family gets a phone call at 9:30 a.m.
Kramer Middle
Shelby's cell phone buzzes often.
About five families will call or text her daily, some checking in on a child they've sent back to the building: How are they doing today?
Through the pandemic, Shelby has made herself accessible to parents. That's included giving a handful personal walkthroughs of the building, too.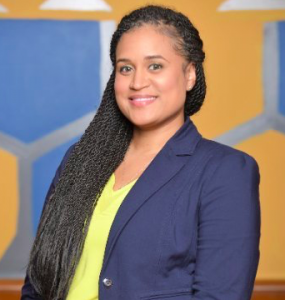 "The willingness to open the space to the community showed my confidence in what we have put together," she said. And once a parent is reassured, there's often a ripple effect, because "those parents are going to talk to someone else."
In response to parent and student feedback, Kramer is open Tuesdays and Thursdays. While students are still technically learning virtually on laptops, there's a teacher in the classroom — often one of their own teachers.
This in-person setup includes social-emotional supports that Shelby thinks have provided an added incentive to return. Lunchtime "wellness circles," for one, provide a space for students to talk about topics from TV shows to what the Jan. 6 insurrection at the U.S. Capitol means for democracy.
Parents "feel like this is going to help their students get back on track," Shelby said. Some already are: A group of eighth graders who'd largely disengaged during virtual learning are now showing up to school on time, ready to learn.
Colenthia Collins, who enrolled her two children at Kramer this year, was bent on getting them back in the classroom. She's a single working mom, and her children have struggled socially and mentally with virtual learning — especially her seventh-grade son with autism.
Seeing the steps Kramer is taking to keep students safe has made her confident in her decision. She waits in the car for them to enter the building, watching as student after student gets their temperature taken, some even stopping to wipe down their shoes. The school is also providing all materials students need, even pencils, to discourage outside items.
"I don't feel like my kids are going to go to school and contract coronavirus," she said. "I don't have any concern with dropping them off."
To win teachers' support, transparency has been key: The school's air conditioning system needed repairs after malfunctioning over the summer, for example, and Shelby requested an in-depth report from the city's Department of General Services to ease concerns about ventilation. The report laid out "what the malfunction was, [and] what was done to correct" it. She shared it with her staff.
Attendance is Shelby's main focus for improvement; about 60 percent of students who accepted the 60 available seats have been coming in.
It's mostly logistical hold-ups: Some parents still need to get their kids immunized. A few are waiting to hear if a younger sibling also snagged a seat before making the call.
Shelby expects at least eight more students in class this week. "We just have to make sure we continue to be communicative [with families]," she said. "That they hear from us."
---
Lead Video: A kindergarten class at Garfield Prep Academy in Washington, D.C. (Taylor Swaak / The 74)
Support The 74's year-end campaign. Make a tax-exempt donation now.