Book Excerpt: 'Permission to Feel' Shows the Power of Giving Students Tools to Understand and Regulate Their Emotions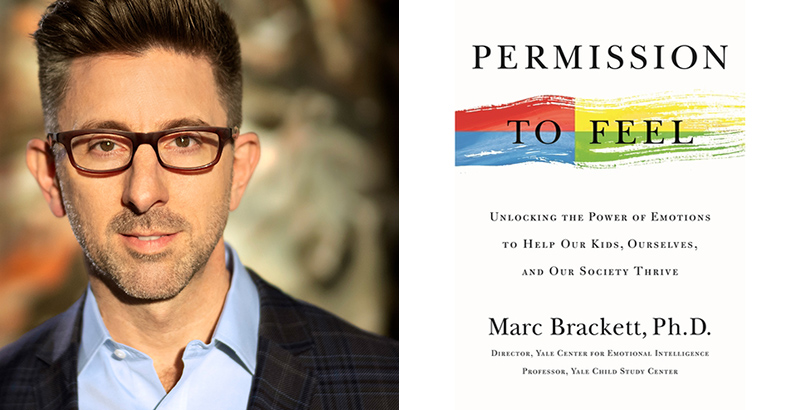 From Permission to Feel: Unlocking the Power of Emotions to Help Our Kids, Ourselves, and Our Society Thrive by Marc Brackett. Copyright © 2019 by the author and reprinted by permission of Celadon Books, a division of Macmillan Publishing Group, LLC.
Okay, let's get the easy questions out of the way first: What's up with that title? Since when does anybody need permission to feel?
True, we all have feelings more or less continuously, every waking moment — even in our dreams — without ever asking or getting anybody's approval. To stop feeling would be like to stop thinking. Or breathing. Impossible. Our emotions are a big part — maybe the biggest part — of what makes us human.
And yet we go through life trying hard to pretend otherwise. Our true feelings can be messy, inconvenient, confusing, even addictive. They leave us vulnerable, exposed, naked to the world. They make us do things we wish we hadn't done. It's no wonder our emotions scare us sometimes — they seem so out of our control. Too often we do our best to deny them or hide them — even from ourselves. Our attitudes about them get passed along to our children, who learn by taking their cues from us, their parents and teachers — their role models. Our kids receive the message loud and clear, so that before long, they too have learned to suppress even the most urgent messages from deep inside their beings. Just as we learned to do.
You haven't even begun reading this book yet, but I'll bet you already know what I'm talking about.
So, we deny ourselves — and one another — the permission to feel. We suck it up, squash it down, act out. We avoid the difficult conversation with our colleague; we explode at a loved one; and we helplessly go through an entire bag of cookies and have no idea why. When we deny ourselves the permission to feel, a long list of unwanted outcomes ensues. We lose the ability to even identify what we're feeling — it's like, without noticing, we go a little numb inside. When that happens, we're unable to understand why we're experiencing an emotion or what's happening in our lives that's causing it. Because of that we're unable to name it, so we can't express it either, in terms the people around us would understand. And when we can't recognize, understand, or put into words what we feel, it's impossible for us to do anything about it: to master our feelings — not to deny them but to accept them all, even embrace them — and learn to make our emotions work for us, not against us.
I spend every minute of my working life dealing with these issues. Through academic research and plenty of real-life experience, especially in the world of education, I've seen the terrible cost of our inability to deal in healthy ways with our emotional lives.
Here's some evidence:
● In 2017, about 8 percent of adolescents aged twelve to seventeen and 25 percent of young adults aged eighteen to twenty-five were current users of illicit drugs.
● The number of incidents of bullying and harassment in U.S. K-12 schools reported to the Anti-Defamation League doubled each year between 2015 and 2017.
● According to a 2014 Gallup poll, 46 percent of teachers report high daily stress during the school year. That's tied with nurses for the highest rate among all occupational groups.
● A 2018 Gallup poll revealed that over 50 percent of employees are unengaged at work; 13 percent of those are "miserable."
● In 2016-17, more than one in three students across 196 U.S. college campuses reported diagnosed mental health conditions. Some campuses have reported a 30 percent increase in mental health problems per year.
● According to the 2019 World Happiness Report, negative feelings, including worry, sadness, and anger, have been rising around the world, up by 27 percent from 2010 to 2018.
● Anxiety disorders are the most common mental illness in the U.S., affecting 25 percent of children between thirteen and eighteen years old.
● Depression is the leading cause of disability worldwide.
● Worldwide mental health problems could cost the global economy up to $16 trillion by 2030. These include direct costs of health care and medicines or other therapies and indirect costs such as loss of productivity.
We seem to prefer spending more money and effort on dealing with the results of our emotional problems rather than trying to prevent them.
I have a personal interest in the bad things that happen when we deny ourselves permission to feel. Meaning I've been there, but thanks to someone who cared, I made it out alive. We'll talk about that too.
Only a few naturally insightful among us can claim to have the skills discussed in this book without consciously pursuing them. I had to learn them. And these are skills. All personality types — loud or quiet, imaginative or practical, neurotic or happy-go-lucky — will find them accessible and even life-changing. These are clear, simple, and tested skills that can be acquired by anyone of almost any age.
Recently, I was training administrators at one of the country's most challenging school districts. I was warned, "They'll eat you alive." At lunch on the first day, I was standing in the buffet line next to a principal, and to make small talk, I asked him, "So, what do you think about the session so far?" He looked me in the eye, then looked down at the food and said, "The desserts look pretty good." I realized at that moment what I was up against. I'm used to resistance, but his attitude hit hard. I decided at that moment that he was going to be my project. His superintendent was fully on board, but it was clear that we would succeed in this district only if principals, like this guy, were also believers.
At the end of a couple days of intensive teaching, I ran into him again. "The other day, when we met, you weren't so sure this course was going to work for you," I said. "I'm curious. Now that you've spent two days learning about emotions and how to integrate emotion skills into your school, what do you think?"
"Well, I'll tell you," he said, pausing to collect his thoughts. "I realize now that I didn't know what I didn't know. The language of feelings was foreign to me."
That was encouraging, I thought. Then he went on.
"So, thank you for giving me the permission to feel."
Let's begin there.
Marc Brackett, Ph.D., is the founder and director of the Yale Center for Emotional Intelligence and a professor in the university's Child Study Center. He is the lead developer of RULER, an evidence-based approach to social and emotional learning that has been adopted by nearly 2,000 pre-K through high schools across the United States and in other countries.
Get stories like these delivered straight to your inbox. Sign up for The 74 Newsletter