Big Spark: Opening the World of STEM for Girls in New Orleans
Mom says Electric Girls' science and engineering program gave her daughters 'the resources and education they never knew they needed'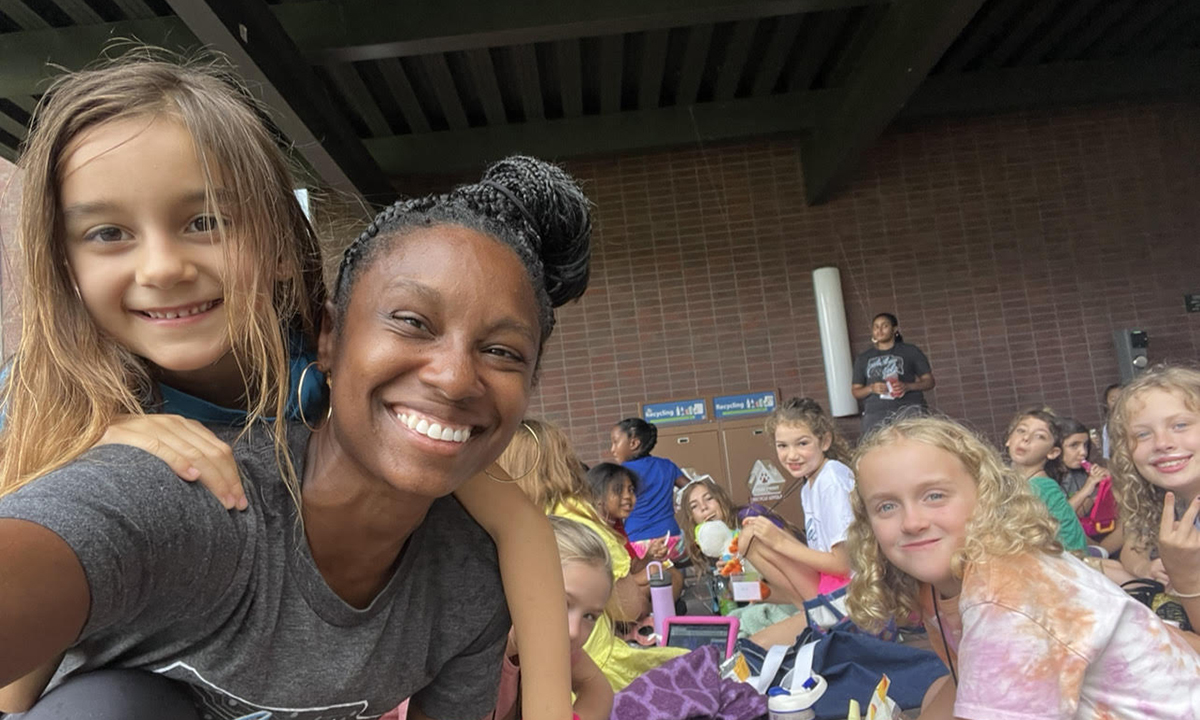 No paywall. No pop-up ads.
Karmin Naquin wanted to be a nurse or athletic trainer when she grew up — professions she saw as suitable for girls. But that was before the pre-teen attended a one-day Electric Girls event in New Orleans, where she and her younger sister, Kayla, built a flashlight. That experience opened up an entirely new world of engineering for Karmin, and now, at 16, she's heavily involved in robotics and loving science.
"I went from looking at colleges for health care to looking for a college for engineering," says Susan Mendez, Karmin's mom. "Karmin and Kayla will always give credit to Electric Girls for giving them the resources and education they never knew they needed."
Launched in New Orleans in 2015, the nonprofit organization is restructuring and ramping back up following the pandemic, with both STEM summer camps and afterschool programs, says Bryoni Prentice, program director.
During the pandemic, Electric Girls offered at-home STEM kits, but this summer in-person events resumed with summer camps — including one at Loyola University New Orleans where Karmin served as a volunteer counselor. The camps offer an intense two-week session that teaches 400 girls a variety of skills, allowing them to then create a project of their choosing. "Are you interested in nature and a terrarium? Let's make one that lights up and find the best way to create an ecosystem," Prentice says. "This is all about tapping into their curiosity, learning new skills and growing their love of science at an early age."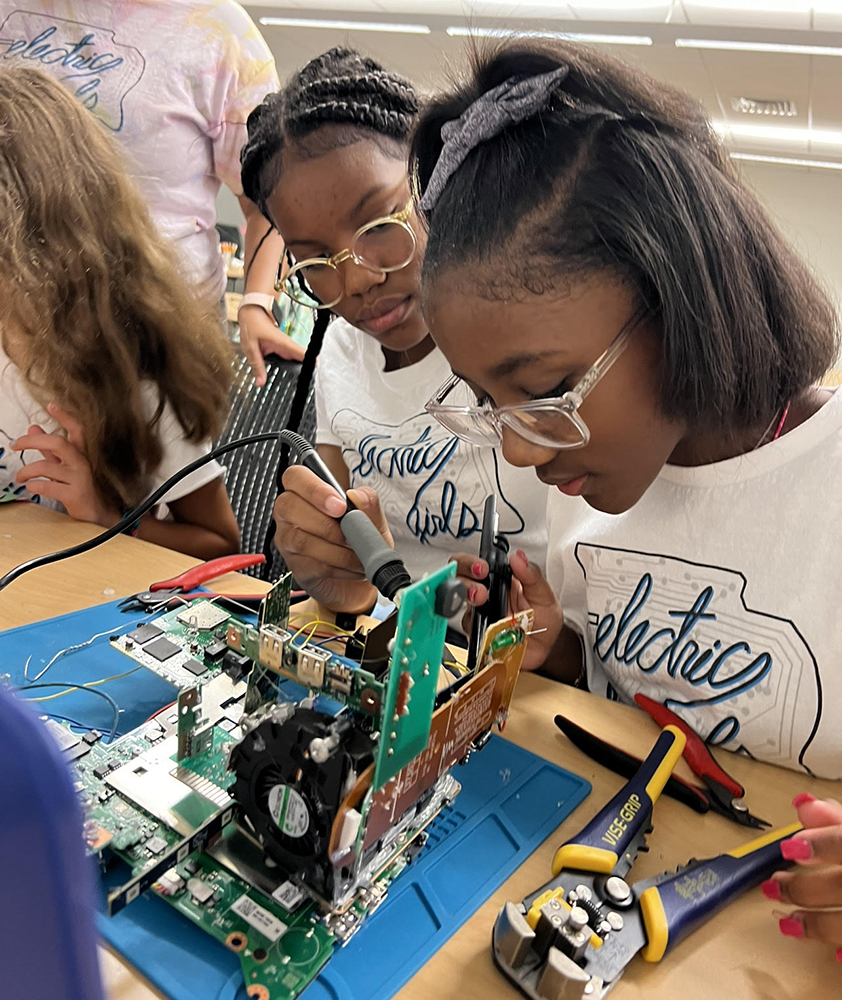 Now back in schools for the first time since the pandemic, Electric Girls remains focused on the New Orleans area because much of its grant money requires the nonprofit to support students in the city. This fall, the program is operating four afterschool programs and Electric Girls hopes to add more schools for the spring.
For 90 minutes every school day, instructors teach girls from age 5 to 14 an array of tools, from the basics of how a circuit works to soldering to operating power tools to how to code. Students can then focus on an interest and expand it into an individual project.
Electric Girls partners with the schools they serve. Administrators and counselors inform students of the meaningful educational opportunities the nonprofit provides, and the program collaborates with science teachers so Electric Girls can serve as an extension of the school day.
For students at other schools, the five-member team that makes up Electric Girls is looking to host additional three-hour evening workshops to help connect students to STEM. They have already partnered in the past with local libraries to host workshops and use the time to teach basic skills at each event. While reaching a range of ages, Electric girls has found girls in second through fourth grade attend most frequently.
"Statistics show the earlier you tap into a kid's mind and let them know what is out there, the more likely they are to follow that path," Prentice says. "When you think about science, it is in everything. There is food science if you want to cook, there is science in clothing design. In every single thing they may want to do, there is science. You can take science and solve problems and tap into curiosity. No matter what they are passionate about, you can use science."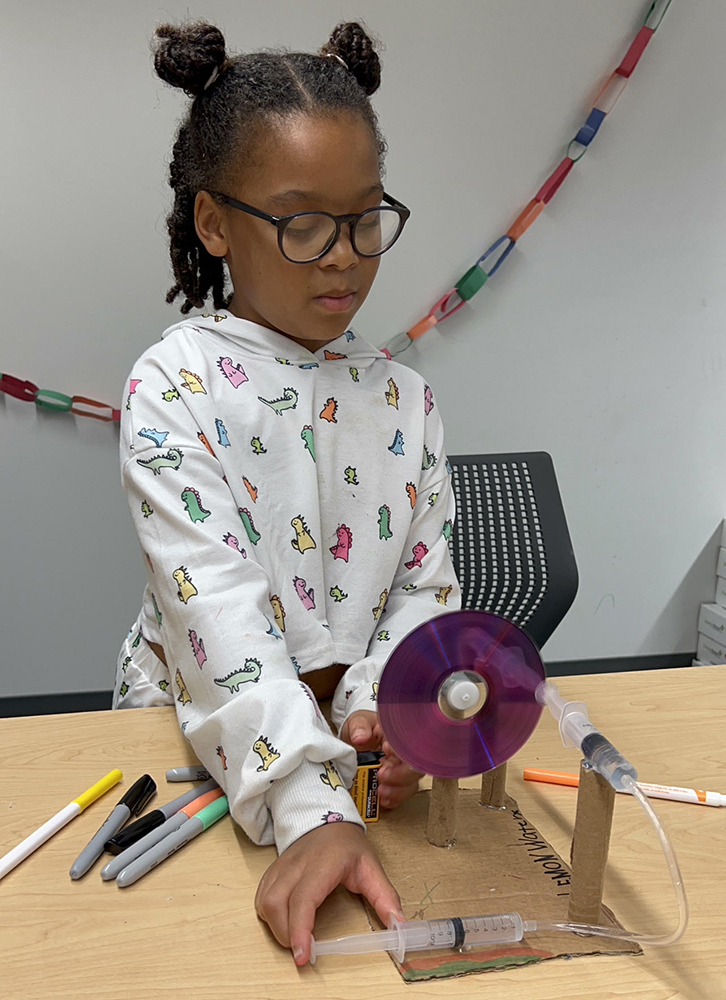 For Karmin and Kayla Naquin, that scientific passion started with a single Electric Girls "demo day" about flashlights and grew when the girls joined an afterschool program. "I loved seeing their little minds work and explain in detail their experiences," their mother says. "They taught us things we didn't even know. I have seen them both grow as a person."
This love of engineering led Karim to join a school robotics team in 2020 and helped her become a leader of a group that now competes in First Robotics competitions. "Karmin and Kayla learned from Electric Girls women empowerment, how to be a leader, public speaking, to be inventive and creative, troubleshooting, time management, how to work alongside others, being attentive and to teach," Mendez says. "(Karmin) learned Arduino [open-source electronic prototyping], computer programming, soldering, how to use a drill, website design, scratch coding, 3D printing, how electrical stuff works, how to build a mini car — all things I could never have taught my daughters on my own."
Get stories like these delivered straight to your inbox. Sign up for The 74 Newsletter