Why Schools Are Training All Teachers to Use Lifesaving Overdose Drugs
Texas is attempting to address the fentanyl crisis gripping schools by having staff learn how to administer lifesaving medication.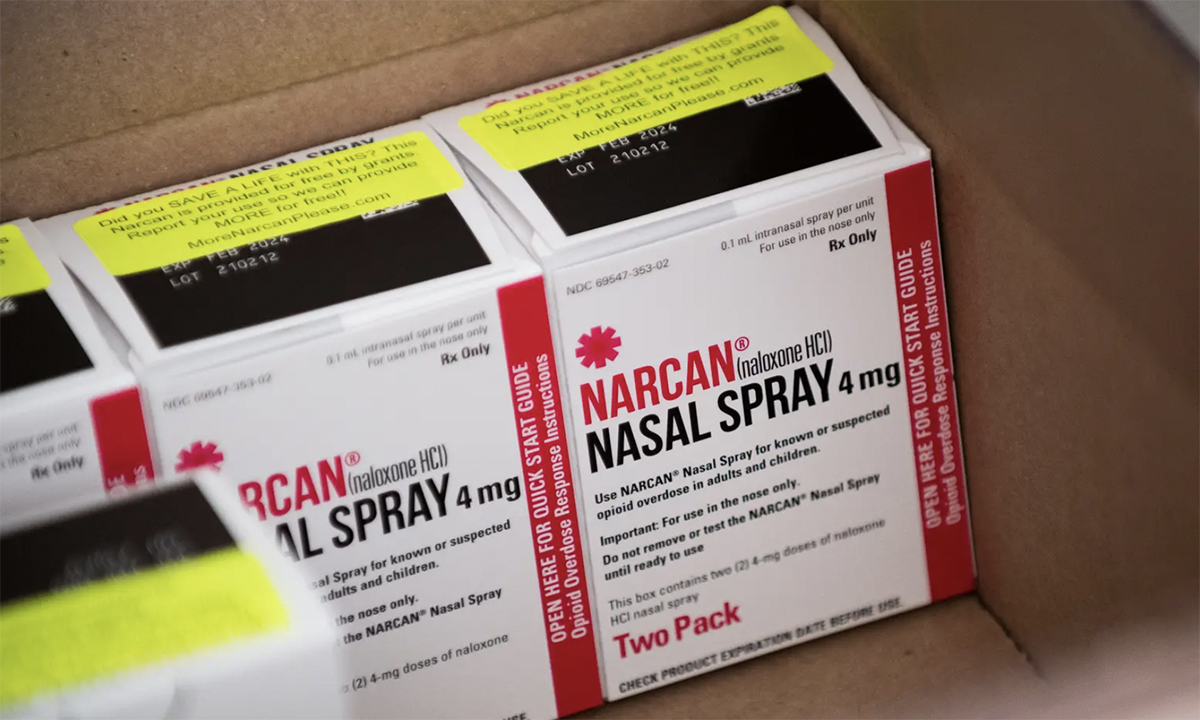 Support The 74's year-end campaign. Make a tax-exempt donation now.
As illegal opioid use rises among young people, several bills filed by state lawmakers would require Texas teachers to be trained and equipped to treat fentanyl overdoses, both on campus and at school-related events.
Several bills call for educators and school staff at public, charter and private schools, as well as those at colleges and universities, to know how to reverse deadly opioid overdoses with Narcan and other overdose medications known as "opioid antagonists."
Eight bills calling for some sort of opioid emergency training for school personnel have been filed by Democrats: state. Sen. José Menéndez of San Antonio and state Reps. Philip Cortez of San Antonio, Bobby Guerra of Mission, Jolanda Jones of Houston, Erin Zwiener of Driftwood, Sheryl Cole of Austin; and Rep. James Talarico of Round Rock.
These bills cover a wide range of topics regarding the use of overdose reversal medications, including allowing physicians to dispense such medication to schools without requiring identification of the user and setting training standards for school personnel.
"We are adding this to the things that we've already done in the past when it comes to epinephrine pens and medication for people who suffer from asthma," said Menéndez, author of Senate Bill 629. "We're just saying that this is important as other lifesaving measures that you have in schools."
Narcan (the brand name for the drug naloxone) or other opioid antagonists would be stored on campuses and school personnel would be trained in its use. All of these bills would also require the state health commissioner to establish an advisory committee to conduct a follow-up review after each time the medication is used.
Fentanyl is a synthetic opioid that is up to 50 times stronger than heroin and 100 times stronger than morphine. Prescription fentanyl can be taken safely when prescribed by doctors. But a rise in its illicit use began during the pandemic and continues today.
"Currently, an opioid epidemic is sweeping the nation, and Texas is not an exception," said Hannah Reinhard, chief of staff for Cortez. "This bill comes from the fact that anyone can suffer from addiction and a potential overdose. Not only that, but children can easily mistake an opioid for candy and risk devastating effects."
These bills would put Texas in line with similar states like South Dakota that have provided naloxone, the overdose-reversing nasal spray, to schools through a grant program.
"The more people authorized to administer naloxone, the better," said Katharine Neill Harris, a drug policy fellow at Rice University's Baker Institute for Public Policy. "I've heard from some people who have tried to get naloxone in schools that nurses/teachers have felt they aren't allowed to administer it. The law would clear up any liability concerns and thus encourage more schools to have it available throughout campuses."
Menéndez's bill doesn't specify how the medication and the training would be funded, but the San Antonio lawmaker believes settlement funds the state has received from opioid companies should be more than enough. Texas is estimated to receive about $1.17 billion over the course of 18 years from three large pharmaceutical distribution companies through a settlement agreement reached in 2021.
House Bill 4801, authored by Talarico, would allow the state to use money from the opioid settlement to purchase opioid antagonists in bulk from manufacturers to decrease the price burden on organizations distributing the medication. First responders and groups that work with people who use drugs have difficulty supplying Narcan because of its cost — about $125 for a kit with two doses.
Nationwide, the Centers for Disease Control and Prevention reported that more than 107,000 people died from drug overdoses in 2021, the last available year. Synthetic opioids were responsible for 71,000 of those deaths, and they were largely from fentanyl.
Opioid overdose deaths increased by 94% among people ages 14 to 18 from 2019 to 2020 and by 20% from 2020 to 2021, the CDC reported. Since the pandemic began, there's been wider accessibility to fentanyl and other opioids through social media.
In Texas, the CDC reported more than 5,000 people died of drug overdoses between October 2021 and October 2022. Overdose deaths involving fentanyl in the state rose 399%, from 333 people dying in 2019 to 1,662 people in 2021.
A majority of people who ingested a fatal dose of fentanyl had no idea the synthetic opioid had been laced with other drugs they were attempting to use.
Makers of illegal drugs often use fentanyl as a booster for other drugs they are selling,
Since September, Carrollton-Farmers Branch Independent School District in the Dallas-Fort Worth area has reported three student deaths while six others were hospitalized, all from fentanyl overdoses. Four Hays Consolidated Independent School District students died last year from fentanyl overdoses. None of these occurred on school campuses.
Just 2 milligrams of fentanyl can be a lethal dose depending on a person's body size, tolerance and past usage, according to the U.S. Drug Enforcement Administration.
The agency has warned that fentanyl is increasingly finding its way into "fake prescription pills" that are "easily accessible and often sold on social media and e-commerce platforms."
Republican and Democratic lawmakers have been recently working together when it comes to tackling the growing fentanyl crisis in the state.
State Sen. Nathan Johnson, D-Dallas, has teamed up with state Sen. Bob Hall, R-Edgewood, to push through a bill to decriminalize the use of testing strips and other methods used to detect fentanyl.
Late last year, Republican Gov. Greg Abbott came out in favor of legalizing fentanyl test strips which help users identify whether the drugs they are planning on taking contain the deadly synthetic opioid. Abbott previously opposed such a policy but said the increase in opioid overdose deaths had brought a "better understanding" that more needs to be done by the state to tackle the problem.
The Texas governor also said he wanted to make Narcan more readily available across the state.
Rep. Ryan Guillen, R-Rio Grande City, has also proposed a bill that would create a task force to study methods to incentivize manufacturers of opioid antagonists to increase production. The task force must submit a report to the Legislature no later than Dec. 1, 2024.
The commissioner of the Texas Department of State Health Services would be required to issue a statewide standing order prescribing opioid antagonists to those in need and would have all liability removed to accomplish this under Senate Bill 954, proposed by Sen. Charles Perry, R-Lubbock. A matching bill, House Bill 1543, was authored by Rep. Tom Oliverson, R-Cypress, and Democratic Reps. Donna Howard of Austin and Venton Jones of Dallas.
Menéndez said the idea for his bill came after hearing the fears from local parents and students about how easily fentanyl can accidentally be consumed.
"There is a powerful drug out there in our society and we need to be prepared," he said. "It's scary how pervasive this thing could become very quickly. And how damaging, unless we get on top of this, it can be specifically for those living in areas with limited access to health care."
Texans seeking help for substance use can call the Substance Abuse and Mental Health Services Administration's free help line at 800-662-4357. They can also access services in their region through the Texas Health and Human Services website.
Disclosure: Rice University and Rice University's Baker Institute for Public Policy have been financial supporters of The Texas Tribune, a nonprofit, nonpartisan news organization that is funded in part by donations from members, foundations and corporate sponsors. Financial supporters play no role in the Tribune's journalism. Find a complete list of them here.
This article originally appeared in The Texas Tribune, a member-supported, nonpartisan newsroom informing and engaging Texans on state politics and policy. Learn more at texastribune.org.
Support The 74's year-end campaign. Make a tax-exempt donation now.