Antonucci: Biden Set a Goal of Returning Students to Classrooms in 100 Days, But It's Not the President (Nor Any Governor or Mayor) Who Holds the Real Power to Reopen Schools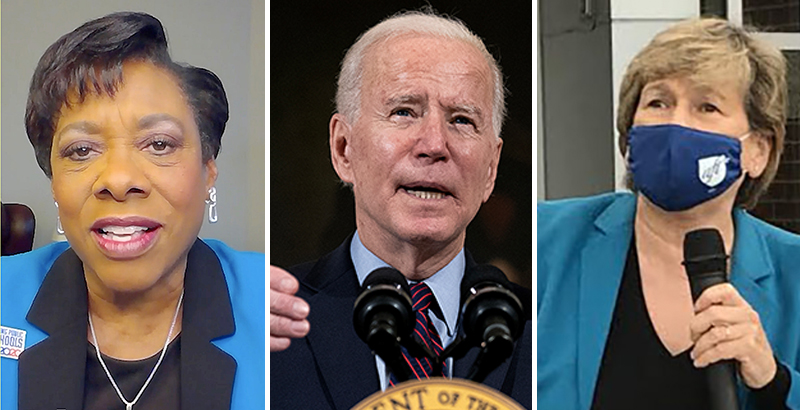 Updated Feb. 10 | Mike Antonucci's Union Report column appears most Wednesdays; see the full archive.
"Reopening America's 98,000 public school buildings doesn't happen with an all-caps tweet or an ultimatum from the president." — Randi Weingarten, president of the American Federation of Teachers, in a July 19, 2020, column for The New York Times.
Weingarten was referencing Donald Trump, but the accession of Joe Biden to the presidency doesn't seem to have changed the situation much.
In December, while still president-elect, Biden pledged to make school reopenings one of his top goals. "It should be a national priority to get our kids back into school and keep them in school," Biden said. "If Congress provides the funding, we need to protect students, educators and staff. If states and cities put strong public health measures in place that we all follow, then my team will work to see that the majority of our schools can be open by the end of my first 100 days."
His formulation left a lot of wiggle room should he fall short of the 100-day goal, but the press and the public took it seriously enough that the White House has since been deluged with questions on the topic, leading to a lot of backpedaling.
"He really wants to and believes that the schools need to reopen in the next 100 days, essentially all the K-8 schools, within 100 days," Dr. Anthony Fauci told a National Education Association virtual town hall. "That's the goal. That may not happen because there may be mitigating circumstances, but what he really wants to do is everything within his power to help get to that."
And when Dr. Rochelle Walensky, director of the Centers for Disease Control and Prevention, said, "Vaccinations of teachers is not a prerequisite for safely reopening schools," White House press secretary Jen Psaki disavowed the statement the same day.
Watching this trend, CNN's Jake Tapper tweeted, "I've yet to see any evidence the Biden administration disagrees with teachers unions. Even when THEIR OWN health officials are saying something different."
This might be a bit unfair. If President Biden were entirely in lockstep with the teachers unions, he never would have made a 100-day pledge in the first place. You won't find union officers calling for schools to be opened in the next 100 days.
Instead, Biden has belatedly discovered he has little or no power to reopen schools. He can boost funding, distribute equipment and protective gear, even call those union heads and ask them nicely to go along. But he can't make them do anything.
Most public education decision-making is left to state and local governments. Those folks are also demonstrating that they have little say in school reopening — even if they are union allies.
In California, Gov. Gavin Newsom's reopening plan met with stiff resistance from the teachers unions and their friends in the state legislature.
Oregon Gov. Kate Brown put teachers at the top of the vaccination list in an effort to reopen schools, but the union is making no commitments. "Our students' families don't have protection against COVID if they're not vaccinated," said Elizabeth Thiel, president of the Portland Association of Teachers.
The Biden administration and a few governors have suggested extending the school year in order to mitigate learning loss. The unions are less than enthusiastic.
"A lot of teachers do need a break for their own mental health," said Jessica Tang, president of the Boston Teachers Union. "We want them to be ready for the fall, and they need some time to heal themselves."
NEA New Mexico believes extending school "would restrict teachers' summer vacations too much," according to the Albuquerque Journal.
Even where agreements with unions have been reached, timelines are delayed or nonexistent. Chicago Public Schools, which had been scheduled to reopen last week, now have a March 1 reopening date. San Francisco reached a tentative agreement with its teachers union, but the agreement has no firm schedule. Meanwhile, unions in places like Los Angeles, Philadelphia and Fairfax, Virginia, are entrenched against reopening for the foreseeable future.
Debates over reopening are dominating the news, even though a large percentage of schools already provide in-person instruction. Burbio, a company that tracks a representative sample of 1,200 districts, reports a majority of K-12 students are receiving at least some in-person instruction. Burbio frequently updates a map to show where those places are. The darker the state, the more in-person schooling is taking place.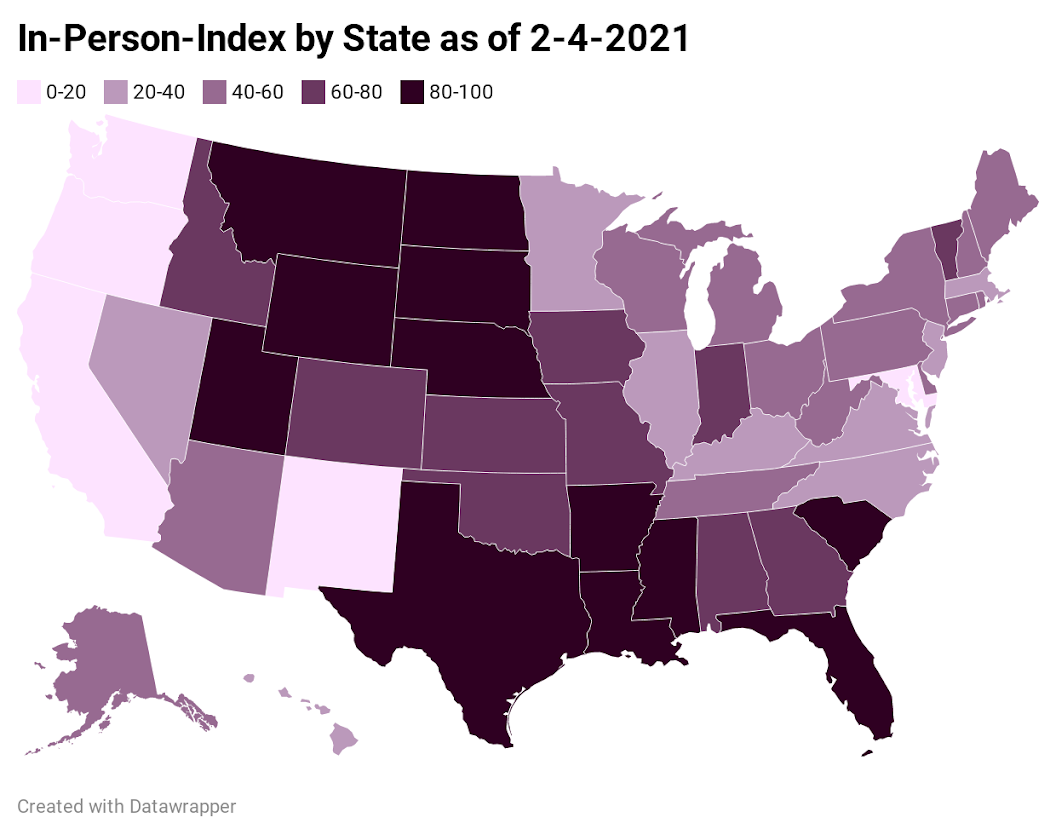 Parents who want to send their kids back to school are naturally baffled. It seems no combination of politicians, health experts and working teachers is affecting the views or actions of those resistant unions.
No one should be forced back to work, and thankfully in this nation no one can be forced back to work. But when a monopoly fails to provide a contracted service, eventually people seek alternative sources. It would be ironic if the unions caused the very breakup of the public education system they always claim to be preventing.
Get stories like these delivered straight to your inbox. Sign up for The 74 Newsletter