Common Core, Trumped: Ed Secretary Hopeful DeVos Aligns With Pence in Pushing Local Standards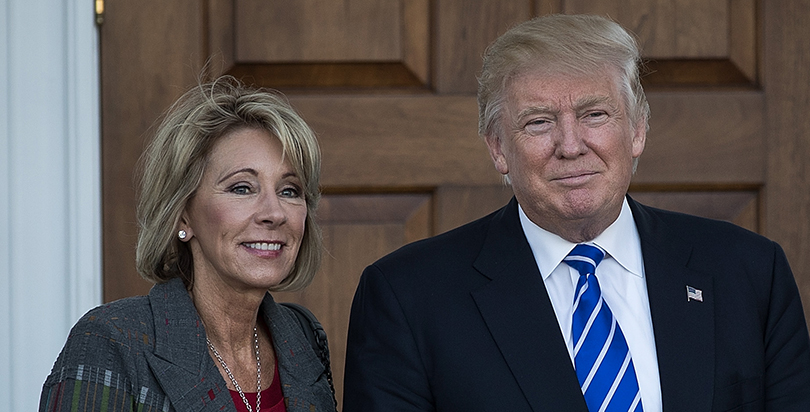 "I am not a supporter — period," DeVos said in a brief Q&A she released, before pivoting to say she favored rigorous academic standards.
"I do support high standards, strong accountability, and local control. When governors such as John Engler, Mike Huckabee and Mike Pence were driving the conversation on voluntary high standards driven by local voices, it all made sense."
The alignment of her stance with that of the vice president–elect, Indiana Gov. Mike Pence, who heads Trump's transition team, sheds additional light on what DeVos's views might mean in practice if she is confirmed by the Senate.
In 2010, under Gov. Mitch Daniels, Indiana became one of the first states to adopt the Common Core. When Pence became governor, he opposed the standards, arguing they were an example of federal overreach in local education. DeVos, a prominent GOP donor who supported Pence, said in her statement that the Common Core had "turned into a federalized boondoggle."
By 2013, Indiana had dropped out of the Common Core–aligned test, the Partnership for Assessment of Readiness for College and Careers. The next year, Pence and Indiana Superintendent of Public Instruction Glenda Ritz endorsed a new set of standards that were criticized by some as being too close to the Common Core. They were
approved
anyway.
Pence said the standards Indiana ended up with were "written by Hoosiers, for Hoosiers, and are uncommonly high."
Choice, standards and naming an education secretary have been a bit of a delicate balance for President-elect Donald Trump.
During the campaign, Trump appeased staunch conservatives by repeatedly criticizing the Common Core State Standards, saying they were a
"disaster"
imposed by the federal government that should not continue. (Fact-check: They were developed by states and implemented on the local level).
His other education priority pre-election was school choice. In his only speech devoted to schools, Trump announced a plan to funnel $20 billion to states that implemented school choice, from charters schools to vouchers.
---
I have been consistent in my opposition to Common Core. Get rid of Common Core— keep education local!

— Donald J. Trump (@realDonaldTrump) February 11, 2016
---
Finding someone among well-known education reformers who both opposed the standards and liked school choice narrowed Trump's field of potential candidates for education considerably.
In nominating DeVos,
who founded the pro-school-choice American Federation for Children, Trump clearly signaled that he plans to aggressively implement his school-choice agenda. That DeVos would disdain the Common Core was far less evident, and Trump's own transition team said after the two met last weekend they
discussed
"the Common Core mission and setting higher national standards and promoting the growth of school choice across the nation."
DeVos hadn't said much publicly at all about the standards, which are meant to better prepare students for college and careers and to set some shared benchmarks for what children should learn and know in math and English across states and school districts.
Others saw more in DeVos's past alliances and jumped on them to criticize her nomination. Breitbart, the online site formerly led by Trump's chief White House strategist Steve Bannon, stated her Common Core position as fact
in its headline
: "Donald Trump Announces Pro–Common Core Betsy DeVos as Education Secretary."
DeVos appeared to chide those forces in her Q&A.
"Have organizations that I have been a part of supported Common Core? Of course. But that's not my position. Sometimes it's not just students who need to do their homework."
Among those organizations is former Florida governor Jeb Bush's
Foundation for Excellence in Education, on whose board DeVos sits. The Foundation and Bush strongly
support
the Common Core, and Bush took considerable heat — particularly from Trump — for sticking by them before he dropped out of the 2016 presidential race.
In 2013, DeVos co-authored an
opinion piece
with former New York City Schools chancellor Joel Klein that advocated for awarding A–F grades to schools, like those championed in Florida under the Bush administration.
"School grades are no panacea, but they are an important step in creating a transparent system that holds schools accountable for students," she wrote. "To begin with, these grades help us to identify which schools are doing a great job, so that we can learn from those successes and scale them up."
DeVos was an
at-large delegate
at the Republican convention this summer for Ohio Gov. John Kasich, the only other GOP presidential candidate who favored the standards widely derided by the rest of the Republican field.
DeVos also sits on the board of the Great Lakes Education Project, a Michigan-based school-choice advocacy group that is pro–Common Core.
"The Great Lakes Education Project strongly supports efforts to improve academic achievement, increase accountability and empower parental choice in our public schools. Implementing the Common Core State Standards is an important step in this process, and we urge the Governor, legislators and state policy makers to stay the course," GLEP Chairman Jim Barrett
wrote in May 2013
.
In addition to DeVos, Trump met last weekend with former D.C. Schools chancellor Michelle Rhee, a vocal and consistent Common Core advocate. Rhee, a Democrat,
announced
Thursday that she was not considering a position in the Trump administration but appreciated being able to share her views on education with the president-elect and root for his success on behalf of the "millions of American school children who desperately need a better education."
---
The Dick & Betsy DeVos Family Foundation provides funding to The 74, and the site's Editor-in-Chief, Campbell Brown, sits on the American Federation for Children's board of directors, which was formerly chaired by Betsy DeVos. Brown played no part in the reporting or editing of this article. The American Federation for Children also sponsored The 74's 2015 New Hampshire education summit.
The 74 is supported by donations from foundations, corporate sponsors and individuals. Our reporters play no role in cultivating financial relationships with any of our contributors. Donors do not dictate editorial content and understand that The 74 may publish content that does not reflect their views or preferences.
Get stories like these delivered straight to your inbox. Sign up for The 74 Newsletter