Belnick: For Free Community College to Work, Students Must Be Able to Transfer Their Credits. How Some States Are Making That Easier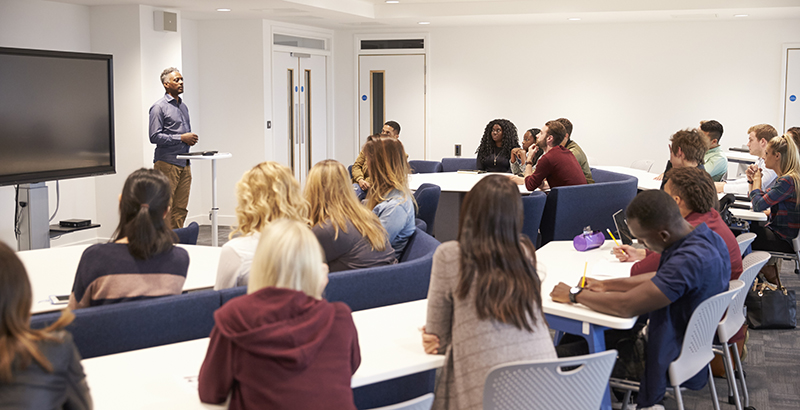 Get essential education news and commentary delivered straight to your inbox. Sign up here for The 74's daily newsletter.
At a time when the economy and job market rely on highly skilled workers, it is more important than ever for students to be provided with clear pathways to baccalaureate degrees.
Twenty-nine percent of today's nearly 12 million community college students are the first generation in their family to attend college. While many of these students seek to continue their education at a four-year college, most will be unable to reach that goal due to obstacles in the transfer process, including the loss of earned credits.
The recent push from the Biden administration to make two years of community college free has made the need to improve the credit transfer process increasingly relevant. As many as 50 percent of students transferring from two- to four-year institutions lose some credit in the process. In fact, the largest barrier to bachelor's degree completion for community college students is the loss of credits upon transfer — and students who don't graduate may incur additional debt with lower earning potential and fewer skills to advance in a career.
Transfers play an especially important role for low-income, first-generation college students and students from historically underrepresented groups, all of whom are more likely than students whose parents attended college to start their higher education journey in a community college.
Building affordable pathways with strong student supports can help ensure that historically underserved Black, Latino, Indigenous, and Asian and Pacific Islander students have an equitable opportunity to benefit from the advantages tied to bachelor's degrees, like entering higher-paying, quality jobs.
One critical area of improvement is course alignment between community colleges and four-year schools. To be effective, two-year and four-year institutions must work together to create clarity about the steps students should take to attain an associate degree as a pathway to a bachelor's degree and ensure that instruction and other programming support students through those steps.
The impacts of the pandemic on higher education and the economy have exacerbated the need for campus leaders, administrators and state policymakers to rethink transfer policies and practices with an emphasis on affordable and timely completion.
One strategy for doing this is through a multilayered approach that leverages institutional partnerships and statewide policies focused on successful transfer of postsecondary credits. We at ECMC Foundation recently took this approach with our Catalyzing Transfer Initiative, a national shared learning and collaboration effort that aims to build and manage new ways to increase transfer of credits and timely bachelor degree completion among marginalized racial and ethnic groups. The participants in this initiative each have a unique approach to solving the credit transfer problem.
The Institute for Higher Education Policy has partnered with Arizona, Illinois and Virginia to commit to transfer success, invest in students and institutions, and track outcomes. This approach reflects the value of state and institutional buy-in to improving transfers.
The Western Interstate Commission for Higher Education has developed the only nationwide network of colleges and states dedicated to transferring general education course requirements from associate degrees, certifications and similar programs from one institution to another. The American Association of Community Colleges is also expanding and establishing academic program transfer pathways between pairs of two-year and four-year institutions, and the State Higher Education Executive Officers Association is helping Colorado, North Carolina, South Carolina and Washington develop and adopt state- and systemwide transfer standards.
Time will tell if these strategies can help open the credit transfer pipeline, but states and organizations continue to show a willingness to work together to tackle challenges. Collectively, these efforts have the ability to influence multiple aspects of transfer reform, including accountability, funding, data and governance.
Improving transfer pathways to bachelor's completion is essential for the millions of community college students who have a desire to become part of the American middle class without incurring excessive student loan debt, and to help ensure they are primed and trained for the post-pandemic economy and job market. This is also a critical step as policymakers consider free community college in the coming weeks and months. As we look toward building a more equitable future, now is the time for a broad approach to addressing student transfers that will ultimately benefit both students and the economy at large.
Sarah Belnick is senior program director, college success, ECMC Foundation.
Support The 74's year-end campaign. Make a tax-exempt donation now.