Back at School After Wildfires, California Educators Address Student and Teacher Trauma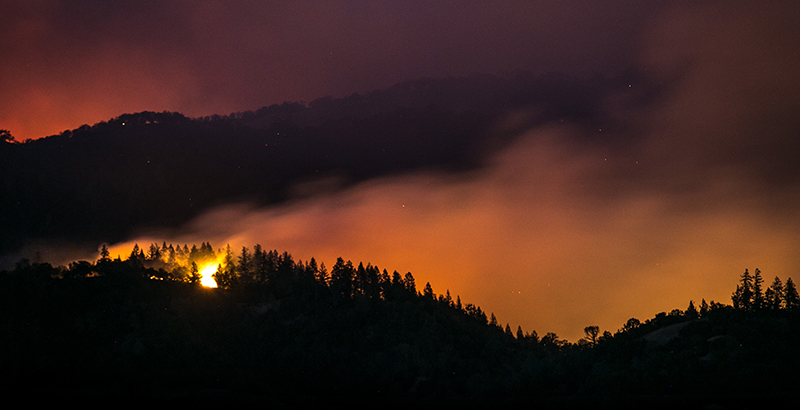 "Apocalyptic" is a word Nina Craig is tired of hearing, but it's the only one she can think of to describe the past two weeks in Santa Rosa, California. The elementary school principal would wake up coughing from smoke, text with her staff, and check in on students as they all waited for their schools to reopen while California's deadliest wildfire displaced 100,000 residents, destroyed 8,400 homes, and closed schools for 260,000 children.
This is the first week back for Craig and many educators in northern California who now must address the trauma their students experienced watching the wildfires destroy parts of their community, leaving many homeless.
"Every day was a little bit different," Craig said. "Everyone was really in a state of shock. Even now just remembering it makes me emotional."
Helping students cope with trauma is a long process, one that many schools have recently faced in the wake of hurricanes, floods, and fires. But having a plan in place to address trauma is critical, researchers said, as it affects everything from student behavior in class to academic performance to substance abuse.
"Not all of us are going to respond in the same way, because we didn't have the same experiences," said Melissa Brymer, director of terrorism and disaster programs at the UCLA-Duke National Center for Child Traumatic Stress. "Some of these kids will have lost everything, and their parents and families will have additional adversities."
Trauma support for both teachers and students
Many schools and districts held trainings for teachers before students returned to school. They practiced classroom exercises like sharing feelings in a circle, breathing meditatively, drawing, and engaging in physical activities to relieve tension from being stuck indoors for weeks.
Schools also had to balance taking care of physical and emotional needs. Some brought in grief counselors, chaplains, therapy dogs, and extra staff for support, and guided students in making thank-you posters and cards for first responders. Others held resource fairs for families where they could pick up donated supplies. Stuffed animals, backpacks, and books were waiting for students when they came back to class.
"It has been a really nurturing return, and we're really happy to have them back," said Sue Field, superintendent at the Bennett Valley Union School District. Though Field's schools were not damaged in the fire, 18 families and seven staff members lost their homes, and many were evacuated.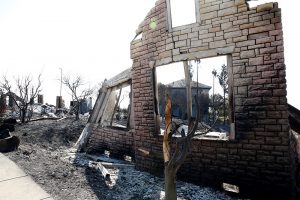 Educators have the dual challenge of taking care of their students while dealing with trauma themselves, especially if they lost a home. That's why districts have been making sure teachers have also been learning practices of self-care. "Adults are more impacted than the children because they understand more of the long-term losses that can occur," said David Schonfeld, director at the National Center for School Crisis and Bereavement at the University of Southern California.
At the Rincon Valley Union School District, 80 families and 19 staffers lost homes, said Cathy Myhers, assistant superintendent for student services.
"For the staff, it's been hard," she said. "Many who lost homes and had been evacuated, they're still going through trauma steps, and we know this is a long, long process."
Long-term social-emotional needs
Several districts told The 74 that the first day back was a positive experience for students, who were eager to return to their routines. But symptoms of trauma may appear later, especially from secondary stressors such as a parent's unemployment or financial hardship that can follow natural disasters.
This long-term toll underlines the importance of having proper social-emotional programs in place at all times, Schonfeld said. "Once you open your eyes and see what kids bring to school every day, you can't close them when the funding runs out," he said.
Brymer recommends that schools monitor students over time for chronic absenteeism and changes in moods. For example, some students may be afraid of leaving their families after disasters and will skip school. Others who used to be talkative may become quiet. Some may complain of headaches. It's also important for teachers to notice triggers, such as a fire siren or the smell of smoke, and pause class to acknowledge the reaction and assure students that they are safe.
For parents, Brymer recommends checking in with their children to talk about the event, because students often won't bring it up even if they want to discuss it.
Lessons from the past: California school heals two years later
Researchers said there's no easy answer for how long it can take to heal. Some students may show signs of trauma weeks after the event; others, years.
This fire was an unsettling reminder for Principal David Leonard, who two years ago watched a devastating wildfire destroy his home and the houses of more than one-third of the families in his school, Cobb Mountain Elementary. This year's fire closed the school for a week due to unsafe air conditions, though the community was spared from the flames.
"It will always stay with me," Leonard said. "It's a traumatic experience."
He saw his students this year remembering their trauma again. One kindergartner drew pictures of flames surrounding his home. A first-grader talked about this fire in relation to the one he had already lived through.
But Leonard has also witnessed a lot of resilience in his community. Students are creating cards to send to another Northern California school where more than 100 students lost homes. The elementary school is also sending gift cards to the families there, because Leonard said they remember how important having that extra money was two years ago.
Four fire trucks lined the school playground at Cobb on the students' first day back at school in 2015, and firefighters visited during an assembly. "I wanted to make sure kids knew that they were safe," Leonard said.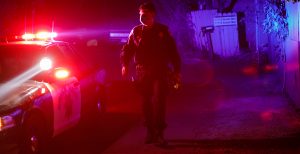 But mental health support persisted past the first day, as the school teamed up with counselors and psychologists from the American Red Cross and the county's behavioral health team. Once a month, the school also hosted dinners for families, where parents could visit with counselors and talk through their trauma.
Leonard and many of his staff found themselves trying to take care of their school community while healing from trauma themselves. His advice is to remember self-care, to take personal days, to talk with people in similar situations, and to seek help as they fight insurance companies for money.
A busing program transported displaced Cobb students to school, even if they lived more than an hour away. Of the 163 students who were enrolled before the fire, 144 remained at the end of the school year — and two years later, families are beginning to move back. Leonard's home is being rebuilt, and he fondly remembered a framing party back in April, when neighbors were invited to write messages on the wooden beams before the walls went up.
"It's important to stress that it's not a quick heal, but things do get better," Leonard said. "As time goes on, you start to see the green and not the destruction."
Resources:
Get stories like these delivered straight to your inbox. Sign up for The 74 Newsletter