10% of All Public School Students Missing Classes as 6 States Cope With Irma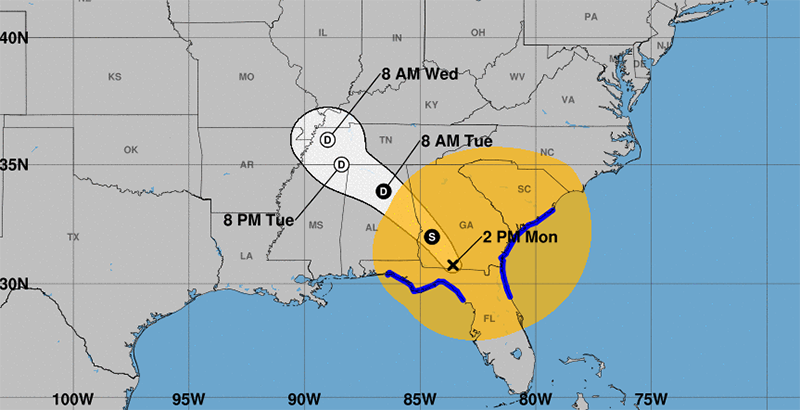 Updated Sept. 12
More than 4.5 million students, or 10 percent of the nation's school-age population, are missing classes due to Hurricane Irma's enormous sweep across the southeastern states.
Hundreds of school districts in Florida, Georgia, South Carolina, North Carolina, Tennessee, and Alabama have posted delays or closures lasting from several hours to indefinitely, citing concerns of strong winds and flooding that would prevent students from getting to school or learning in safe conditions.
A hurricane that had been expected to strike South Florida head-on trekked up its west coast instead, impacting the school schedules of millions of teachers and students in other states as well. Irma is now predicted to move northwest, downgrading to a tropical depression (wind speeds less than 39 miles per hour) over Alabama by 8 a.m. Tuesday.
Millions of Floridians were without power Monday, and Gov. Rick Scott had canceled classes last week for all K-12 students through Monday. "Closing public schools, state colleges, state universities and state offices will provide local and state emergency officials the flexibility necessary to support shelter and emergency response efforts," Scott said in a statement.
Georgia's Department of Education canceled a summit scheduled for later this week to free up hotel space in case it is needed for evacuees.
Even as Irma weakened to a tropical storm, southeastern states received warnings for flash floods, life-threatening wind gusts, heavy rain of 2 inches per hour, and rising rivers.
FEMA offered advice for helping children deal with Irma's approach: play games, keep explanations of the natural disaster simple, and tell them steps are being taken to get them to safety.
Get stories like these delivered straight to your inbox. Sign up for The 74 Newsletter