Awakened By SCOTUS Ruling, Young People Join Push For Reproductive Rights
"Young people who have not been previously involved in the abortion movement are feeling called to act," said organizer Tamara Marzouk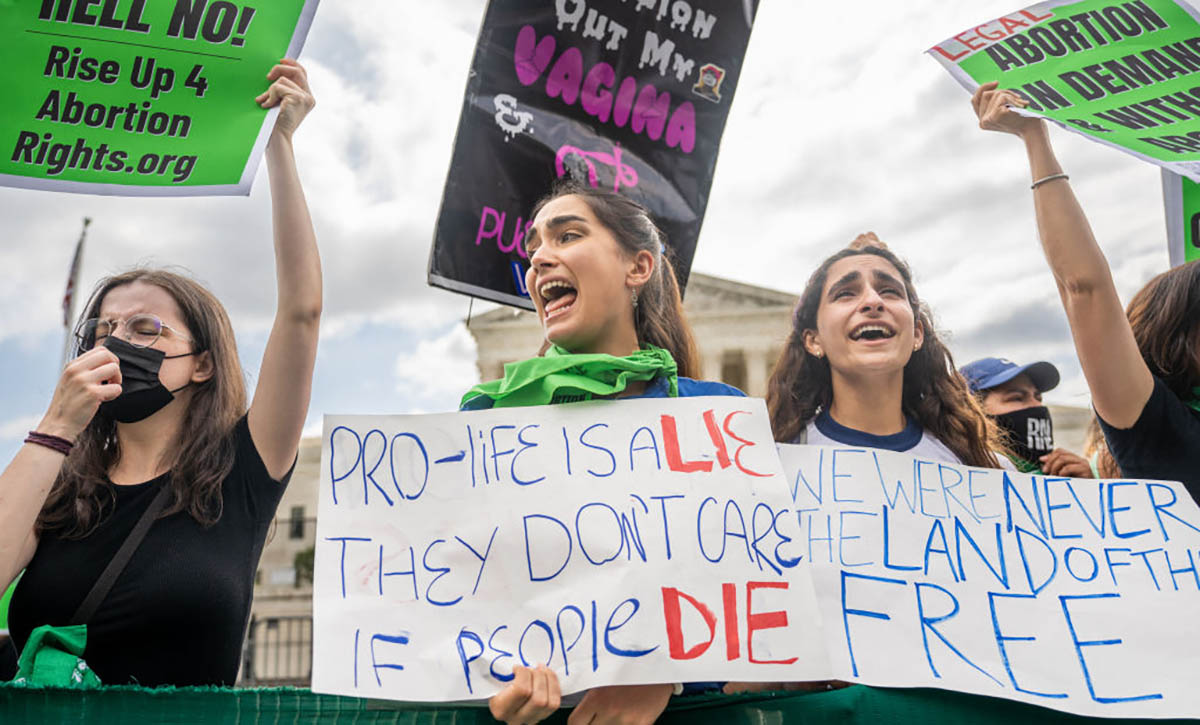 Get stories like these delivered straight to your inbox. Sign up for The 74 Newsletter
When Matisse Laufgraben learned of the Supreme Court's 6-3 decision to overturn Roe v. Wade, the rising Indiana University sophomore lept into action.
Along with her peer Reese Wiley, Laufgraben decided to launch a new group, IU Students for Reproductive Rights. In Indiana, Republican Gov. Eric Holcomb on Friday announced an emergency legislative session in early July, likely to enact a new abortion ban.
With that backdrop, IU Students for Reproductive Rights will support people on campus with uteruses, run voter registration drives and share information about ways to take action, such as a Monday abortion rights rally in Bloomington, said Laufgraben.
On Saturday, the leaders created an Instagram page for the new group. Just a few days since its founding, the account already has hundreds of followers. More than 80 students have reached out asking how they can get involved.
"We were not expecting so many people to be coming to us, saying, 'I'm passionate, I want to help,'" Laufgraben told The 74.
The co-founders created a group chat for their new student members. A cascade of messages quickly began pouring in:
"Hey guys," one student wrote, "I just wanted to say to anyone on here, if you need support or love during this time, don't hesitate to reach out."
"I'm so grateful for the support because this is such an important issue that needs action immediately," added another.
The camaraderie and uplift after a Friday ruling that left her and others "heartbroken," said Laufgraben, has been encouraging.
"It has been sparking so many conversations and it's honestly really beautiful because people are finding support within this group," she said.
The response among Indiana University students is one of many examples of youth across the country rallying for reproductive rights in response to the Supreme Court's Dobbs v. Jackson Women's Organization decision.
"Young people who have not been previously involved in the abortion movement are feeling called to act," Tamara Marzouk told The 74.
Marzouk works with hundreds of youth advocates for reproductive rights as director of abortion access at the nonprofit Advocates for Youth. In the days since the Friday ruling, she's seen a new wave of young people become galvanized over abortion access.
In the 24 hours after the Supreme Court announced it was overturning Roe, more than 150 young people across the country — in states where abortion remains legal as well as where it is now banned — signed up to join the Youth Abortion Support Collective and work for reproductive rights in their communities, she said.
Since a leaked majority SCOTUS opinion came out in early May, youth advocates have been preparing for the possible overturn of Roe, including work on college campuses similar to what Laufgraben and her peers will pursue.
"We still need to be fighting for abortion policy, but in the meantime, young people are really taking care of one another," said Marzouk.
Voters of Tomorrow, a Gen Z-led organization working to help youth nationwide get involved in politics, issued a statement promising mobilization at the polls in response to the ruling.
"[Friday's] decision makes clear that the Supreme Court does not represent Gen Z or the future we imagine for our country," the organization wrote. "We must elect representatives who will protect us when the courts have failed. Our generation will not stop fighting for reproductive rights — for human rights."
Abortions are now illegal or heavily restricted in at least 11 states, and 12 other states have laws in place that could pave the way for similar bans. Still more, including Indiana, are expected to soon enact new laws outlawing the procedures.
In the past, Indiana University students seeking to terminate a pregnancy have been able to receive treatment at a Planned Parenthood clinic in Bloomington, Indiana, said Laufgraben. But if the legislature criminalizes the procedures, young people would soon have to trek out of state to receive care — an option that will be difficult for students who don't have access to transportation or can't get permission to skip their classes and on-campus jobs.
In Arkansas, a near-total abortion ban is already in effect with no exceptions for rape or incest. Ali Taylor, president and co-founder of the Arkansas Abortion Support Network, said the law will have a disproportionate impact on young people.
"It's difficult for minors to travel," she told The 74. "Most minors will probably [now] have great difficulty in accessing abortion."
Taylor's organization is based in Little Rock and the closest clinic now available is in Granite City, Illinois, a five hour drive away.
The fall of Roe "most adversely affects communities that are already marginalized," Marzouk emphasized. "There are some people who might be able to travel across state lines. That may not be a burden as much for some people as it is for others."
Laufgraben, for her part, is still absorbing the possible implications on her Indiana campus. But she's determined to continue to push for change.
"Right now is really scary," said the young organizer. But "the fight isn't over."
Get stories like these delivered straight to your inbox. Sign up for The 74 Newsletter