At Reagan Summit, DeVos Rails Against Federal Schools 'Footprint' but Embraces White House Push for Patriotic Education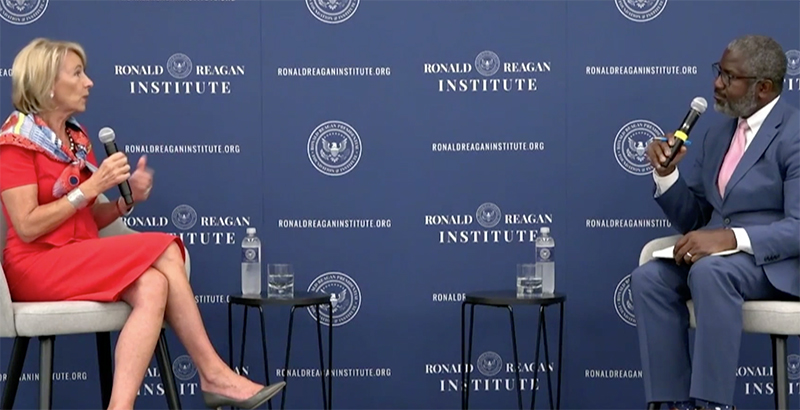 The federal government should have "a much smaller footprint" in education, U.S. Secretary of Education Betsy DeVos said Thursday, using Constitution Day to highlight the decision of the nation's founders to delegate the responsibility for education to states and communities.
The agency she leads, she said, has in "many areas overstepped its bounds and created a dynamic that is not helpful to laboratories of democracy at the state level."
Her comments at the third annual Reagan Institute Summit on Education, however, came before she joined President Donald Trump at the National Archives Museum for an announcement that could signal greater involvement in the nation's classrooms. The president promised to sign an executive order creating a 1776 Commission that would "encourage our educators to teach our children about the miracle of American history."
"The only path to national unity is through our shared identity as Americans," he said, denouncing the New York Times's 1619 Project and its emphasis on the legacy of slavery. "That is why it is so urgent that we finally restore patriotic education to our schools."
At the Reagan summit — broadcast virtually — DeVos spoke in person with Ian Rowe, a fellow at the conservative American Enterprise Institute, who is part of a separate initiative called 1776 Unites. An effort to counteract the 1619 Project, the 1776 Unites curriculum features essays by Black individuals who are "agents of their own uplift," Rowe said.
When Rowe asked whether the federal government has a role in curriculum, DeVos answered, "I fear doing that, frankly," adding that instruction is a state and local responsibility. "But we can talk about curriculum that honors and respects our history," she said.
But Trump's focus on teaching history didn't win praise from some conservatives. "The federal government, [Trump] included, has no authority to create any curriculum, 1776, 1619, or 2020," tweeted Neal McCluskey, who heads the libertarian Cato Institute's Center for Educational Freedom.
DeVos also touched on many of her top priorities, including schools reopening in person, allowing teachers to purchase their own professional development, and her hopes that Congress will eventually pass legislation increasing private school choice, calling it a "justice issue" for families.
"Of course, President Trump will sign that in a heartbeat," she said.
Other discussions throughout the day included current and former officials clamoring for the federal government to assume a stepped-up response to the pandemic's disruption in education. With an emphasis on state leadership, several speakers also addressed the challenges of finding students that are not participating in remote learning as well as their hopes for state assessments in the spring.
Providing students reliable access to the internet is one area where the federal government could be showing more leadership, several speakers said, including U.S. Sen. Tim Scott, R-S.C. In addition to highlighting his support of school choice legislation, Scott said there is a "federal nexus" because broadband access is necessary for education, health care and employment.
"How are you going to get an education if you can't get online to your virtual school?" he asked.
Meanwhile on Thursday, the House Energy and Commerce Committee held a hearing where Democrats harshly assessed the Federal Communications Commission under Trump. Rep. Frank Pallone of New Jersey said the agency hasn't done enough to "significantly help the millions of families falling through the digital cracks."
At the Reagan event, Margaret Spellings, education secretary during the second Bush administration, noted that roughly a third of students in Texas "didn't have access to what it took" to learn virtually in the spring. "That is a place where we can find consensus across party lines."
'A safe place to be' 
Arne Duncan, education secretary during the Obama administration, took a tougher stance against Trump, saying there hasn't been a national plan to "defeat the virus" or provide education. District leaders, he said, are bearing too much of the responsibility.
"We need a massive federal investment," he said. "Absent that, bad things are going to happen for education." He mentioned a national tutoring initiative as one possible response.
Duncan and Spellings were also among several speakers throughout the day to raise concerns over students who have not logged on to virtual classrooms and might not have safe homes. "We have to step up, do home visits," Duncan said. "We can't just let them disappear. Disappear to what?"
In a session with current state chiefs, Wyoming Superintendent Jillian Balow said she has lost sleep over the decline in reports of child abuse and neglect while schools were closed. Educators have been concerned that without educators to notice signs of maltreatment, such issues are not being addressed. "We know students aren't safer at home when school is their safe place to be," she said, adding that the responsibility for reporting has to be spread more broadly across the community.
Mississippi State Superintendent Carey Wright agreed that one-on-one Zoom sessions or even home visits might be necessary. If students aren't attending virtual classes, "you need to figure out where they are and, more importantly, how they are," Wright said.
Tennessee Gov. Bill Lee touched on the same issue. "We knew child abuse wasn't going down" even though cases dropped, he said. But even he thought state education chief Penny Schwinn went too far with a plan to conduct well-being checks at students' homes. Schwinn later withdrew the guidance to districts, but some local officials have nevertheless called for her resignation.
Balow, Wright and District of Columbia State Superintendent Hanseul Kang also emphasized the need for assessment data, even if it means students take tests remotely. "We need to know where our students are," Kang said.
DeVos told state chiefs earlier this month not to expect waivers from state tests in the spring. Balow, the current president of the Council of Chief State School Officers, has also been supportive of continuing the tests, but, quoting assessment expert Scott Marion, she said educators should accept that if students are taking tests at home, they'll have "access to Google and a calculator."
"That's where we should be heading with assessments anyway," she said. "We want students to demonstrate their thinking, not just the ability to recall."
Support The 74's year-end campaign. Make a tax-exempt donation now.