At Education Town Hall, New Kansas Gov. Colyer Talks About State's School Funding Lawsuit, Standing Firm Against School Closures & Arming Teachers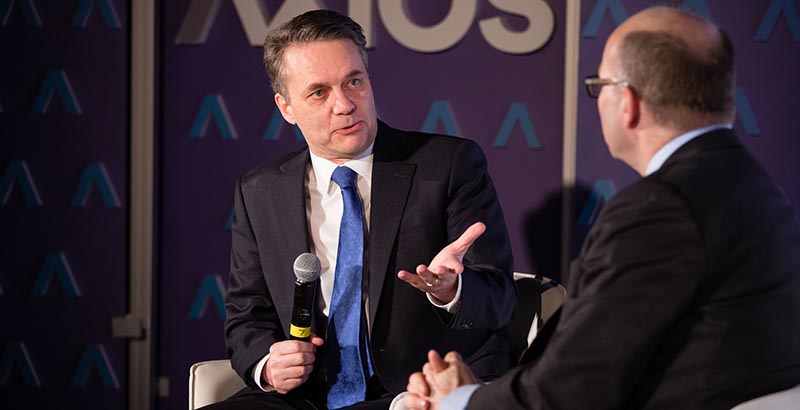 Washington, D.C.
Kansas Gov. Jeff Colyer has only been on the job a few weeks — and he's ready to get moving.
But there's a longstanding issue in his way: a decades-long tussle between lawmakers and the state Supreme Court over school funding.
Colyer ascended to the top job Jan. 31, when the U.S. Senate approved former Gov. Sam Brownback as ambassador at-large for international religious freedom. Fights over school funding in Kansas began in the 1970s, with a flurry of activity in recent years after lawmakers, following Brownback's plan to slash taxes, made huge cuts to state spending, including on schools.
The state Supreme Court in October ruled that a new funding system — which included a tax hike passed by lawmakers over Brownback's threatened veto — wasn't enough, nor was it equitable. Justices said the legislature must come up with a new funding system by April 30 so it can be reviewed before next year's appropriations go to districts.
"I've told the people that I'm only going to sign something that ends the litigation and doesn't force schools to close. I think we can get there. …It won't be easy. And it won't be a short solution. We're thinking longer-term," Colyer said Friday.
He spoke to The 74 after his appearance at "Raising the Bar: A Conversation about Education in America," an event moderated by Axios's Mike Allen and presented by The 74 and the Walton Family Foundation. Govs. Roy Cooper of North Carolina and John Hickenlooper of Colorado also spoke at the town hall event.
Here's Gov. Colyer's conversation with Allen:
And here's his quick one-on-one chat with The 74 backstage at the Washington, D.C. town hall:
Colyer said he believes an equitable system can be reached without a tax increase and that the ongoing litigation is holding back some long-term planning. Legal proceedings will take some time, but "we can all move forward in a constructive manner" to improve education if everyone agrees to a final plan, he said.
Colyer, like Cooper and Hickenlooper, also discussed school safety and shootings in the wake of the Valentine's Day killing of 17 students and teachers at Marjory Stoneman Douglas High School in Parkland, Florida.
The solution will be multi-faceted, Colyer said.
"There isn't just one simple solution. The mental health issues are important," he told The 74. One of his acts as governor was a visit to Westside School in Hays, Kansas, a mental health center for K-12 students, he noted.
During his town hall conversation with Allen, Colyer said the Kansas response to school shootings will be led at the local level — but that President Trump's proposal to allow teachers to carry concealed weapons on campus "may be a good solution."
Andrew Brownstein contributed reporting to this story.
Get stories like these delivered straight to your inbox. Sign up for The 74 Newsletter