As Oklahoma Governor's Race Tightens, Voucher Debate Takes Center Stage
Incumbent Republican Kevin Stitt says parents need more choice while opponent Joy Hofmeister, state ed chief, says vouchers would 'kill' rural schools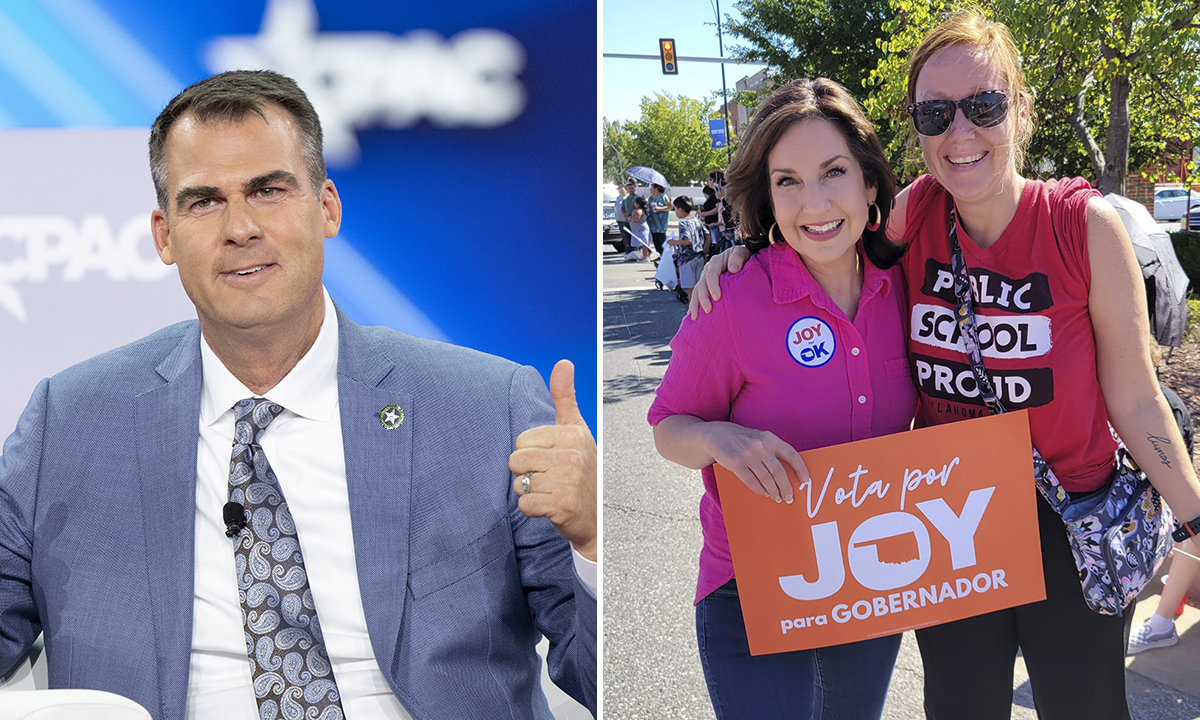 Get stories like these delivered straight to your inbox. Sign up for The 74 Newsletter
Don Ford, a veteran Oklahoma educator who leads a rural schools network, initially thought state Superintendent Joy Hofmeister didn't "understand the workings" of schools outside the state's major cities.
But then Hofmeister, a former teacher and onetime owner of a Tulsa tutoring company, put half a million miles on her car traveling throughout the state. She listened as educators spoke of the challenges facing small-town schools.
"She was willing to listen and learn by getting out into our districts," Ford said.
Educational options in those communities are now center stage as voters prepare to choose their next governor. Incumbent Gov. Kevin Stitt is campaigning on a statewide "fund-students-not-systems" platform and promises to "support any bills … that would give parents and students more freedom to attend the schools that best fit their learning needs."
A voucher plan that died in the Senate earlier this year would have opened them to children in families that earn roughly three times what it takes to qualify for free or reduced-price lunches, with most awards ranging from $5,900 to about $8,100. Senate President Pro Tem Greg Treat, a Republican, has pledged to introduce a similar bill if Stitt wins.
But Hofmeister, who switched parties to challenge Stitt as a Democrat, has called the proposal a "rural schools killer" because it would pull funding from traditional districts.
"I have gone to those communities that have lost their school, and then they lose their town," Hofmeister told The 74.
As the leader of one of the reddest states in the country, Stitt fully embraces the GOP education agenda, from restricting how teachers discuss race and gender to ending a policy that allowed students to use bathrooms that match their gender identity. In his State of the State address this year, he said, "God gave kids to parents — not the government!" He blames Hofmeister, who is finishing her second term, for a lack of improvement in Oklahoma schools, while she points to financial scandals under his watch.
Recent polls show Stitt's lead over Hofmeister shrinking — a reflection, some say, of the power of her message about rural schools.
"We've hit on an issue that strikes at the heart of a community's identity," said Amber England, a public affairs and political consultant who previously ran an education nonprofit.
A Hofmeister supporter, England said Stitt might roll into a rural town "with a hat on and cowboy boots," but doesn't grasp that his proposal won't help students in remote areas without private schools.
Rural schools depend more on state funding than those with a larger tax base, said Ford, executive director of the Organization of Rural Oklahoma Schools. Vouchers, he said, could translate to an annual loss of $350 million in funding for public schools.
"We're worried about money," he said. "Anytime you take money out of the formula, how are you going to replace it?"
But Trent England, a fellow at the conservative Oklahoma Council of Public Affairs, accused Hofmeister of seeking to preserve a one-size-fits-all system and "trying to scare people" by implying vouchers will shutter rural schools — often the largest employers in these towns.
"There are serious problems in public schools, and that's not limited to urban areas," said England, who is not related to Amber England.
'Hard feelings'
On his campaign website, Stitt said Hofmeister hasn't done enough to fix Oklahoma's schools, which have ranked low for decades. The 2019 National Assessment of Educational Progress put the state among those performing significantly below the U.S. average in math and reading.
Hofmeister said one way she plans to improve schools is to address the state's teacher shortage. She has proposed a $5,000 raise for teachers as part of a budget request for next year's legislative session. Meanwhile, Stitt proposed a bill that would push some teacher salaries to as high as $100,000. But the only legislation that passed was a new incentive and scholarship program to push high schoolers to major in education when they go to college.
Oklahoma teachers haven't had a substantial raise since 2018, when the legislature passed a $6,100 increase, falling short of the $10,000 they asked for. They walked out for nine days, part of the wave of "Red for Ed" demonstrations across the country. Walking out even after lawmakers boosted their pay, Ford said, "created hard feelings between the teachers and legislators" that linger today.
"Our teachers don't feel respected," he said.
Those feelings have only increased with Republicans' efforts to clamp down on lessons and educator training that address institutional racism, some educators say. In July, the state board of education downgraded the Tulsa district's accreditation after a state investigation prompted by Stitt concluded the district's training materials violated the state's law banning critical race theory.
"I firmly believe that not one cent of taxpayer money should be used to define and divide young Oklahomans by their race or sex," he said in a video on the audit. "Let's teach students, not indoctrinate them."
Ryan Walters — the state's education secretary, a new position created by the governor — has tweeted videos from his car calling out teachers he says push far-left ideology. Walters, who is running for state superintendent, trails Democrat Jena Wilson, a middle school teacher in Oklahoma City, according to a poll released last month.
"Many teachers state they don't know how they will be able to remain teaching should the outcome of the race be a win for both men," said Stacey Woolley, president of the Tulsa Board of Education. "Many have directly said they will resign immediately."
'Overseeing the money'
In addition to decrying Stitt's culture war focus, his critics draw attention to the misuse of $650,000 in federal relief funds distributed through ClassWallet, an online payment system for educators. Walters oversaw the $8 million program, which offered $1,500 grants to low-income families for educational expenses.
But some spent the money on video games, Christmas trees and cookware, a federal audit found. Local reporters obtained documents showing that in his role as executive director of an education nonprofit, Walters helped ClassWallet secure the contract. The state is suing ClassWallet's parent company, Kleo Inc., for breach of contract.
Stitt's campaign did not respond to requests for comment.
With Hofmeister and Stitt scheduled to debate on the 19th and the election still weeks away, the race is expected to be close.
Kenneth Hicks, a political science professor at Rogers State University, said the results might hinge more on voter reaction to the U.S. Supreme Court's decision in Dobbs v. Jackson Women's Health Organization, which took away the constitutional right to abortion and returned the decision to the states.
"It was easy as a campaign issue for Stitt to say he would sign any anti-abortion bill," Hicks said "Republicans may be finding themselves regretting jumping on that issue with both feet."
Regardless of the reason for the race's narrowing gap, some of Stitt's supporters are nervous.
"For Republicans, it's certainly closer than it should be," Trent England said, but added Oklahomans are "staunchly pro-life" and support the governor's opposition to transgender females using girls' locker rooms.
In a state that was solidly Democratic until its Congressional delegation began to shift in the 1980s, Amber England is hoping for an upset. As someone who led a successful Medicaid expansion campaign in the state in 2020, she's seen surprises on Election Day.
"Voters don't get enough credit for making good decisions at the ballot box," she said. "If we're able to run a race in Oklahoma on the issue of protecting public schools, that's a game changer for our friends across the country."
Get stories like these delivered straight to your inbox. Sign up for The 74 Newsletter