As New Wisconsin Budget Expands Voucher Program and Charter Schools, a Governor's Race Forms Around Key Education Issues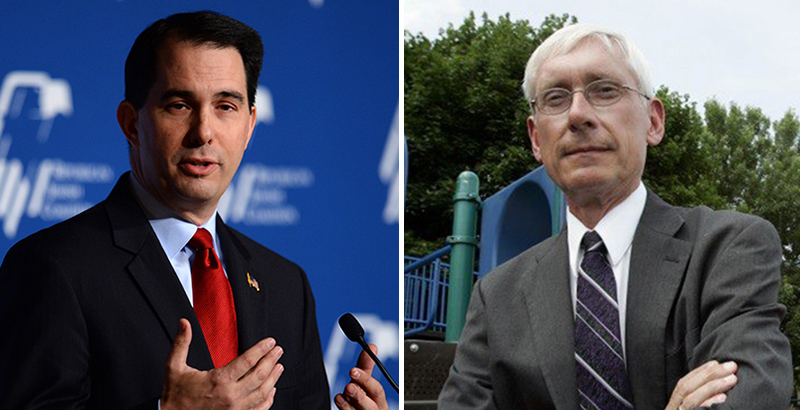 Wisconsin governor Scott Walker exercised a hallowed gubernatorial prerogative on Sept. 26 by proclaiming his own holiday: Youth Apprenticeship Day, which he marked with visits to vocational programs at Amery High School and Milwaukee's Bradley Tech High School.
The commemoration of apprentices was just one of an array of educational items on Walker's schedule last month as he makes what some local observers regard as a pre-campaign push. The previous Friday, he stopped by Sheboygan South High School for the second time this year. His appearances at middle schools in Altoona and Chippewa Falls, both in September, drew notice as well. And to drive the point home, Walker signed the state's 2017-19 budget last month at Tullar Elementary School in Neenah. The press release from his office highlights the education budget items as top priorities.
This summer was a consequential one for Wisconsin schools — perhaps uniquely so, depending on the outcome of the gubernatorial election next November. In a budget battle that dragged on for months after the June 30 deadline, the Republican-led legislature significantly expanded access to private school vouchers and green-lit the first major increase in education funding of Walker's tenure. The state's "charter school czar," previously restricted to authorizing new schools in Milwaukee and Madison, was also empowered to launch charters statewide. The state's school improvement plan under the federal Every Student Succeeds Act was reviewed and submitted to Washington for approval, though not before earning the governor ire on its way out the door. And the head of the agency that drafted that plan, thrice-elected state superintendent Tony Evers, became the most prominent Democrat to contest Walker's re-election in 2018.
Through it all, the governor smiled and shook hands with students, usually in classrooms.
"He just loves going to schools suddenly," laughed longtime Milwaukee education commentator Alan Borsuk, a senior fellow at Marquette University Law School. "He perceives this as playing to the middle. It's good politics."
Walker, a GOP eminence who is already drawing buzz as a possible presidential candidate in 2020, may find his electoral gifts tested in a campaign centered on schools. His state's education politics occasionally confound both partisan allegiance and logical comprehension.
Stuck in the session

Intramural squabbles among Republican majorities in both the state Assembly and Senate helped prolong the lengthy budget dispute, many of them arising from disagreements on school choice and finance. An expansion of the statewide voucher program, which allows low- and middle-income families to attend private schools at public expense, was always on the table. But party members were split on whether the income threshold for eligibility — currently capped at 185 percent of the federal poverty level — should be lifted to 220 percent or a much more generous 300 percent (around $74,000 annually for a family of four).
(The 74: A Reboot for School Choice in Wisconsin as Republicans Propose Dramatically Expanding Charters & Vouchers?)
Although Assembly Speaker Robin Vos and a few other true believers held out for the higher cutoff, Republican senators revolted against subsidizing tuition for better-off families and ultimately carried the day. Eligibility for a separate voucher scheme for special needs students was also considerably broadened late in negotiations. Projections show that the program's size will more than double over the coming year.
The true prize, however, and the headline that Walker hopes will follow him into next year's election, is the budget's $636 million boost in state aid for schools. That oft-touted windfall could help turn the page from the massive cuts his administration imposed on K-12 education in 2011, which were the deepest of any state when they were enacted. A version of Scott Walker who proposes "surprisingly liberal" budgets could be the perfect candidate to win a third term in a year that's beginning to look perilous for Republican incumbents.
Yet tension arose on school financing as well. After months of maneuvering, Wisconsin's arcane school funding system finally looked open for revision, but a last-minute intervention from the governor scuppered the plans of Assembly Republicans.
In 1993, concerns about rising education costs and the property tax hikes necessary to sustain them led the legislature to mandate revenue caps for all of Wisconsin's 464 school districts. Each year, the districts were limited in the amount of money they could raise from both state aid and property taxes. This, lawmakers hoped, would keep costs down and taxes low.
The problem is that the straps were fastened variably for each district, based on their expenditures when the revenue limits were put into place. Districts that spent less per student 24 years ago are still locked into spending less today. And while the caps were generally raised by about $250 per student annually, districts were still vulnerable to external shocks (such as massive cuts in state aid or plummeting property tax collections, both of which followed the Great Recession); a few have even found themselves at risk of closure. According to Borsuk, while the average revenue limit statewide was around $10,400 in 2016–17, nearly 1 out of 4 Wisconsin districts faced caps of less than $9,800.
These districts, many of them rural, are represented by Republicans as well as Democrats, and their shrinking resources are the concern of many of the governor's allies.
A proposal from state Rep. John Nygren, co-chair of the legislature's Joint Finance Committee, would have allowed districts spending less than the state average to levy property taxes to gradually make up the difference with their better-funded neighbors. His colleagues in the Assembly warmed to it, eventually passing it in their budget.
But Walker, empowered with a line-item veto, struck the provision from the final law. Slicing property taxes was too central to his message to give up.
Nygren didn't pull punches with his fellow Republican.
"I am severely disappointed in Gov. Walker's decision to reject an opportunity to correct a long-term inequity in our K-12 funding system," Nygren wrote in a statement. "The veto will continue this funding imbalance and have lasting impacts on the quality of education available to some of our children."
Evers to the left
Tony Evers, Walker's most viable Democratic challenger, wasted no time in picking up Nygren's critique and encouraging Assembly Republicans to override the governor's veto. On the same day Walker finally signed the completed budget, Evers blasted state leadership in his annual State of Education address in Madison.
"On school funding, we must face the reality that for too many budget cycles public school funding has not been the priority for those in control," he said at the time.
The state superintendent is no stranger to the art of political thrust and parry. Even while maintaining a cordial relationship with Walker, Evers routinely took shots at past Republican budgets, forcefully defended the Common Core State Standards when the political winds turned against them, and seldom missed a chance to blast Milwaukee's voucher system — he once called it "morally wrong" in a memo. He's also proved to be an effective campaigner, winning a third term in office this spring with 70 percent of the vote.
His first confrontation with the man he hopes to unseat was precipitated by Wisconsin's ESSA draft. The plan, which sets goals of narrowing achievement gaps between racial groups and lifting high school graduation rates, has been billed by the Department of Public Instruction as an effort to re-emphasize local control over schools. But Walker refused to sign off on the document (the governor's blessing is not required) before it was sent to the U.S. Department of Education.
"Your bureaucratic proposal does little to challenge the status quo for the benefit of Wisconsin's students," Walker wrote in a letter to Evers. "I hope you will agree that adding layers of bureaucratic paperwork does little to help low-performing schools."
Evers matched him barb for barb, writing in his own statement, "Every single time Scott Walker has had to choose between doing what's best for Wisconsin and his own political aspirations, he chooses himself. What's particularly sad is that now he put his re-election campaign before Wisconsin's kids, and if there's one thing we should be able to agree on, it's putting our kids first."
It's an open question whether the schools chief will be able to withstand the attrition of an ultra-partisan campaign. The vitriol has already begun to flow: The day after reports surfaced that Evers would announce a bid for office, Wisconsin Republicans released a digital advertisement accusing him of permitting a teacher to spread pornographic materials at school. But Borsuk thinks that this may be only a taste of what's to come.
"Seven hundred thousand people voted in the state superintendent election in April of this year," he said. "But the last several gubernatorial elections have had, I believe, 2.3 [million] to 2.7 million voters. It's like going from playing Class C Minor League Baseball to playing in the major leagues — the fundraising, the demands of public attention, the advertising, the viciousness of the attacks."
Regardless of the outcome, a Walker-Evers race would impart to Wisconsin's schools a prominence they rarely enjoy in statewide politics.
"If Tony's the final opponent, education will inevitably [become a major issue]," Borsuk predicted. "That's his central position, that the education system in Wisconsin has been impaired by what's happened in the last bunch of years."
Get stories like these delivered straight to your inbox. Sign up for The 74 Newsletter