A Reboot for School Choice in Wisconsin as Republicans Propose Dramatically Expanding Charters & Vouchers?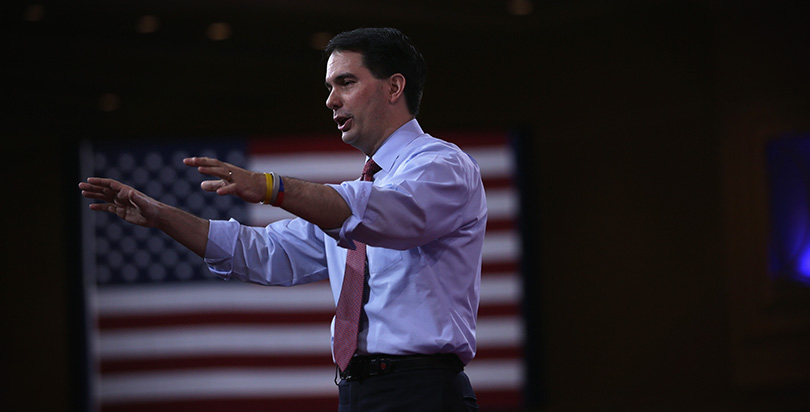 Updated August 4
An expansion of charter schools and publicly funded vouchers is likely to move forward in Wisconsin as legislators hammer out a biennial budget over the next few weeks. Republican majorities in both houses of the state legislature are also mulling a boost to online "e-schooling" and limitations on local referenda that raise school funding through property taxes.
The proposals are taking shape in response to long-term trends in both education and politics. Local observers are split on their merits, with debate intensifying around two proposals in particular. One would raise the income cap for participation in a statewide voucher program, potentially extending access to middle-class families. The other would dramatically extend the reach of a state agency charged with authorizing new charter schools.
Meanwhile, statewide elections over a year away are already beginning to influence lawmakers' calculations. "[Republican Gov. Scott] Walker is up for re-election, and he's trying to fix areas of perceived weakness," says Dan Rossmiller, director of government relations for the Wisconsin Association of School Boards. "I imagine school funding is one of those."
Senate Republicans were the latest to release their spending plan as part of a negotiation with their counterparts in the state assembly. Due to unrelated disputes around road funding — and, lately, tax incentives included in the deal to attract electronics supplier Foxconn to the state — the process has dragged on past a July 1 deadline.
But while those issues may grab the headlines, the future of school choice and funding in the state is being decided through a series of intra-party deliberations between Senate Majority Leader Scott Fitzgerald and Assembly Speaker Robin Vos.
"The politics are really peculiar because all the fighting is among Republicans," says Alan Borsuk, a senior fellow of law and policy at Marquette University and a commentator on local education for nearly 40 years. "Democrats are totally outside the loop on this."
Casting a wider net for charter & voucher families
This year's budgeting process takes place at a very particular moment for school choice in Wisconsin. For years, momentum behind charter schools has slowed, while support for private school vouchers — the state operates a statewide voucher program alongside older systems in Milwaukee and Racine — has only grown.
In their budget, Senate Republicans appear poised to broaden access to both options. Most strikingly, the budget would lift the income threshold for families seeking access to the statewide school voucher program. The cutoff is now set at 185 percent of the federal poverty level, (an annual income of $45,263 for a family of four), which would escalate to 220 percent ($53,826 for a family of four). That mark is considered a half-measure by some advocates of private school choice, who would prefer to match Milwaukee's upper limit of 300 percent ($73,399 for a family of four).
An increase of that scope would make thousands more families eligible for the program. The number of Milwaukee students using vouchers leaped by 12 percent when the city raised its threshold to 300 percent FPL in 2011. In a statement provided to The 74 last week, former Milwaukee Public Schools superintendent Howard Fuller called for the legislature to do the same.
"It is important that we update the income cap to fit the reality of today's economic environment for low-income and working-class families," he wrote.
Not everyone shares his conviction. John Witte, professor emeritus at the University of Wisconsin's Robert M. La Follette School of Public Affairs and a friend of Fuller's, said that opening statewide vouchers to that extent would risk turning them into "a kind of entitlement program." "I think you're going to have a situation where you're sending very well-off people to private schools on our dollar," he says. "At some point, you stand back and say, 'What have we done?' "
Beyond vouchers, Senate Republicans are also looking to extend the map of Wisconsin's public charter schools. Specifically, they are proposing expanding the scope of Wisconsin's Office of Educational Opportunity, which was created in the 2015–17 budget to incubate new schools in only two cities: Madison and Milwaukee. Going forward, agency chief Gary Bennett — a former Republican staffer for whom the position was effectively designed — would be allowed to authorize new charters statewide.
The overwhelming majority of Wisconsin charter schools are authorized by local school boards, staffed by district employees, and typically used by their districts as alternative programs to more traditional offerings. A handful of "independent" charters exist in Milwaukee — authorized by either the city government or the University of Wisconsin — which retain more control over finances and staffing. The OEO was originally created in the hopes of green-lighting more independents in the state's two largest cities.
Those hopes haven't yet been realized, and the proposed extension of its mandate to the rest of the state can be seen as an effort to reverse an apparent stagnation in Wisconsin's charter growth. The total number of both charter schools and students have flattened out over recent years, and some critics have pointed to Bennett's own record of inactivity since 2016: The OEO is only just getting around to authorizing its first school, an alternative institution for teens recovering from drug addiction.
"There just isn't that much advocacy around here for charters," says Borsuk, who witnessed the birth of the sector in the 1990s as a journalist with the Milwaukee Journal Sentinel. "Things have kind of ground to a halt in Milwaukee." Indeed, the Walton Family Foundation announced it would tamp down its large grants to Milwaukee educational organizations two years ago.
The politics of school choice
Whatever the policy considerations, Republicans will make their final decisions with an eye toward the 2018 midterm elections as well. Running for a rare third term in office, Gov. Walker has included in his own proposal almost $650 million in additional funding for K-12 education. That's a striking reversal from the severe cuts he imposed in previous budgets. Local journalists have also noted an uptick in Walker's visits to schools around the state.
In their caution on expanding eligibility for statewide vouchers — several sources suggested that Senate Majority Leader Scott Fitzgerald would not move upward from the 220 percent FPL threshold — Republicans are also tiptoeing around the treacherous politics of private school choice.
"Here's the complexity: Republicans are in the suburbs, and Democrats are in the cities," Witte explains. "Poll after poll shows that African Americans favor vouchers. So the Democrats are stuck with one of their primary constituencies favoring vouchers. In the other camp, Republicans have got wealthy suburbs that are white, and their public school systems are good. A lot of them don't go to parochial schools. So the politics get to be confusing."
Local Democrats likely won't shy away from the issue of education as 2018 nears. Late July brought the news that Tony Evers, the thrice-elected state schools superintendent who has often clashed with Walker, had filed papers to campaign against him next year.
Borsuk found the prospect dubious. "The odds of someone like Tony Evers bearing up under the heat of a Walker campaign strike me as not too likely. If I were advising him, which I'm not, I'd tell him to be a little more hard-headed than some of the people whispering in his ear."
Support The 74's year-end campaign. Make a tax-exempt donation now.