As High Court Mulls Ruling on Census Citizenship Question, Education Advocates Warn of Dire Impact on Federal Funding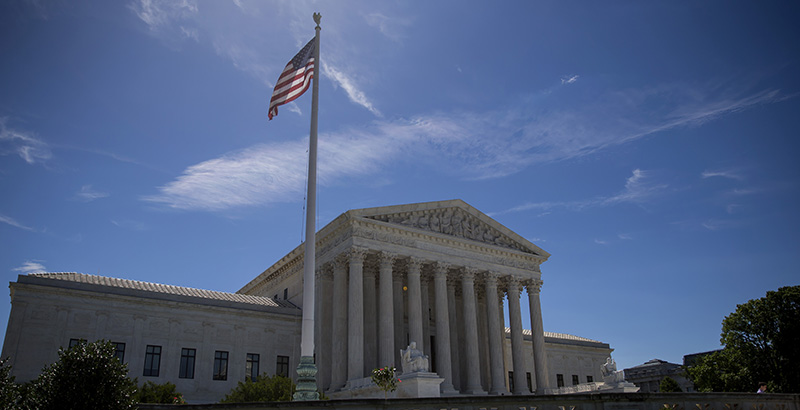 A Trump proposal to add a citizenship question to the U.S. census could strip critical funding from school districts that educate large numbers of Hispanic and immigrant students, education groups have warned ahead of a Supreme Court ruling on the issue expected as early as Monday.
One major education organization predicted that undercounting 5.8 percent of Hispanic and non-citizen residents in New York City alone could cost schools there $10 million in Title I funds every year.
"An undercount resulting from the addition of a citizenship question to the 2020 census would lead to the schools most in need of more resources to educate vulnerable populations receiving less," several education groups said in a brief filed in the pending court case, Department of Commerce v. New York.
The Trump administration argues that adding a question to the 2020 census asking whether individuals are U.S. citizens is necessary to enforce federal voting rights laws. Civil rights groups and other opponents say it will have a chilling effect on non-citizens and will lead to an undercounting of immigrant and Hispanic populations.
"For every person that goes uncounted, your state will be losing a particular number of dollars. It [affects] everything you can imagine, from education to health care to infrastructure … There's no sector of American society that it doesn't touch," said Kelly Percival, counsel with the Brennan Center for Justice, a nonprofit law and public policy organization focused on civil liberties.
The Supreme Court heard oral arguments in the case in April, and observers have predicted that the court's five-member conservative majority would side with the Trump administration. A ruling is due by the end of June.
Because many major federal education programs, like Title I funds for low-income students and Individuals with Disabilities Education Act grants, are doled out based at least partly on census figures, undercounting some students could leave schools with less than they'd otherwise be entitled to.
The Council of the Great City Schools, which represents large urban school districts, calculated how much Title I funding could be lost to schools in New York, Los Angeles, Las Vegas, Chicago, Dallas and Miami under different hypothetical undercounting scenarios. Besides the $10 million lost in New York, the group calculated that Las Vegas would lose more than $1 million and Miami would lose $5.6 million, the group said in its brief.
The group filed the brief "for the court to understand the financial, fiscal impact on our districts," said Julie Wright Halbert, legislative counsel at the Council of the Great City Schools.
A loss of funding would impact not only traditional district public school students but also those in charter schools, as well as low-income students in private schools entitled to receive additional services under Title I, she noted.
The 2020 census will be published in the spring of 2021; because of a delay in incorporating population data into Title I allocations, it would be another year or two before district funding would be affected.
Besides Title I and IDEA, grants for school lunches are also allocated based on figures tied to the census. Other public assistance programs that benefit children, like the Children's Health Insurance Program, child care grants and nutrition programs, are also allocated based at least in part on census figures, so they may also be affected, the KIPP Foundation and UnidosUS, a civil rights group representing Hispanics, said in a brief.
"All of these resources have a direct effect on the health and well-being of children and their families. Without these resources, our most vulnerable will suffer," the groups said.
Early-education advocates are also concerned, as programs like Head Start allocate new seats based on poverty.
Young children were already undercounted in past censuses, and adding the immigration question has the potential to exacerbate that problem, said Stephanie Jones, faculty director of the Saul Zaentz Early Education Initiative at Harvard's Graduate School of Education.
Failing to enroll a child in a needed early childhood program means they could miss crucial health screenings and early identification of learning disabilities and other special needs, she said.
"All of those critical services are then missed. These larger downstream effects, I think, are important to consider," she added.
The census is conducted only once a decade, so the consequences will be long-lasting, Wright Halbert said.
School districts are aware of the issue, and those represented by the Council voted to participate in the court case with their brief, but so far they aren't taking precautions to prepare, Wright Halbert said.
"Our hope is that the court understands how serious the consequences are, and hope we get the right decision."
Get stories like these delivered straight to your inbox. Sign up for The 74 Newsletter