As Georgia Looks to Expand Its Workforce, a New Kind of College Degree Aims to Establish Atlanta as the Financial Technology Capital of America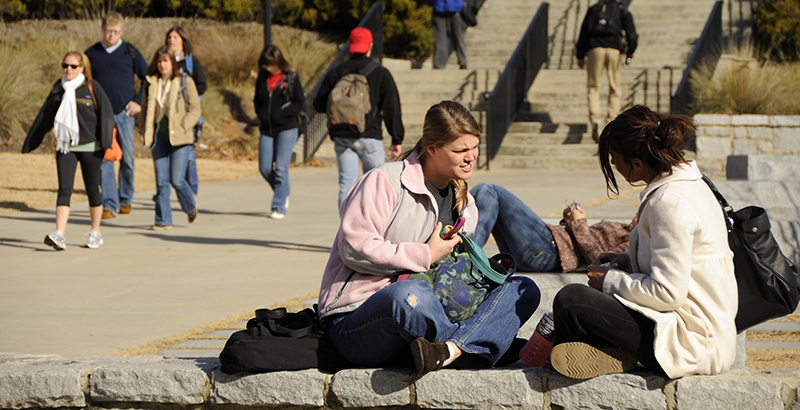 Silicon Valley, Seattle and other major innovation hubs may be better known for their ability to attract talent in technology, but a state traditionally revered for its peaches and peanuts is introducing a big initiative to grow skilled tech workers right at home.
Georgia wants to position its college graduates at the forefront of the financial technology boom — by way of a new degree that offers highly specialized coursework and a foot in the door at major fintech companies.
The nexus degree in fintech from the University System of Georgia debuts this spring and entails 18 hours of coursework — approximately one year of study — in technical areas like payment transactions. At least six of those hours are spent in the field working for one of the financial technology companies that call Georgia home. The name of the degree — "nexus" — refers to this connection between learning in the classroom and learning on the job.
A piece of the goal is to make sure that young Georgians are at the top of the list when competitive fintech companies are hiring. The other piece is to create a pipeline for talent and — through internships and career opportunities — to keep talented graduates from leaving the state for hubs like Silicon Valley, said Scott Meyerhoff, chief financial officer for InComm, a payment technology provider.
"Why would you want to leave Georgia? You can change the world, and take a bike to work doing it," Meyerhoff said. "And with the cost of living here, you wouldn't even need to live in a 350-square-foot studio."
"The new degree is additionally valuable for people who may have a job but want to acquire a new skill, or who have not yet completed a college degree and want to advance," the university's website says.
USG Chief Innovation Officer Art Recesso said nexus degrees are meant to get Georgians into high-demand sectors quickly to meet the need while attracting students who might be interested in a more technical education.
"What we heard from companies is that, 'Your grads are great, but what could really put them over the top is experience in these highly specialized fields,'" Recesso said. "Somebody who has this on their résumé goes to the top of the pile."
The nexus degree in fintech is just debuting this spring, Recesso said. The curriculum was designed by subject-matter experts and includes coursework in keeping transactions secure, for one, on top of an experiential learning component that places students at major companies.
Fintech is booming in Atlanta. A popular statistic cited by those who work in "Transaction Alley" is that 70 percent of all payment transactions conducted in the U.S. are routed through Atlanta-based merchant-service providers like Elavon, First Data and others, which processed a total of about $5 trillion in transactions in 2015.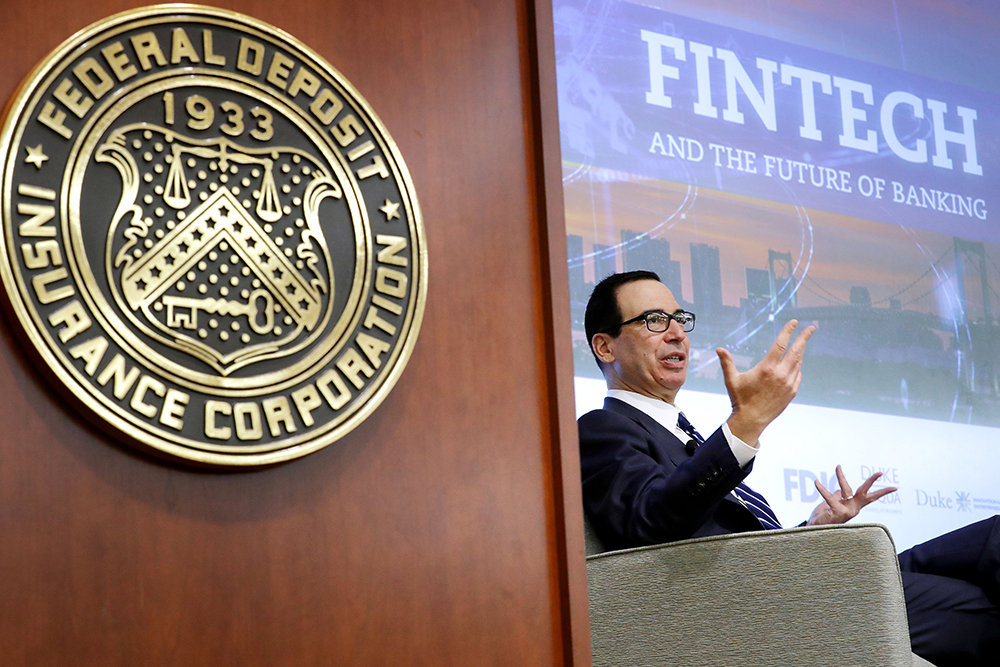 But the $30 billion industry also has deep roots in the state. Before the Great Recession, dozens of banks of varying size had headquarters in Georgia. The mass closure of branches in subsequent years earned the state the dubious honor of leading the nation in bank failures. But while the financial institutions vaporized, the companies that provided their underlying technology remained, leaving a vacuum that would be filled by new fintech enterprises, Meyerhoff said.
"Georgia had the high-speed internet, and the access and capability to handle transactions seamlessly," he said. "So we thought, what could constrain it? And it was not having that talent pool fully developed."
Today the state is trying to grow its own fintech workforce, a contrast in many ways to Atlanta's bygone proposal to import an Amazon HQ2 and the slew of highly skilled engineers and developers that would come with it.
Meyerhoff said that while he neither supported nor opposed the Amazon deal, he did wonder whether the financial incentives could be better spent on an industry that was already positioned to hire residents to high-tech and innovative careers.
"It's right here in your backyard," Meyerhoff said. "You can invest in the pipeline that's already here, that's already innovating."
At InComm, 75 percent of interns have accepted full-time jobs with the company. Others, like Kennesaw State University alumnus Kevin Osorio, have taken jobs elsewhere.
"One of the biggest takeaways from InComm was being able to expand my networking circle and how to carry myself as a professional," Osorio said. "My passion was always in cybersecurity, and through multiple efforts I was offered a full-time position as a cybersecurity analyst at Intercontinental Exchange/New York Stock Exchange."
Osorio said he found his passion in cybersecurity classes at Kennesaw, but he added that he might have been interested in fintech classes had they been on offer before he graduated in 2017.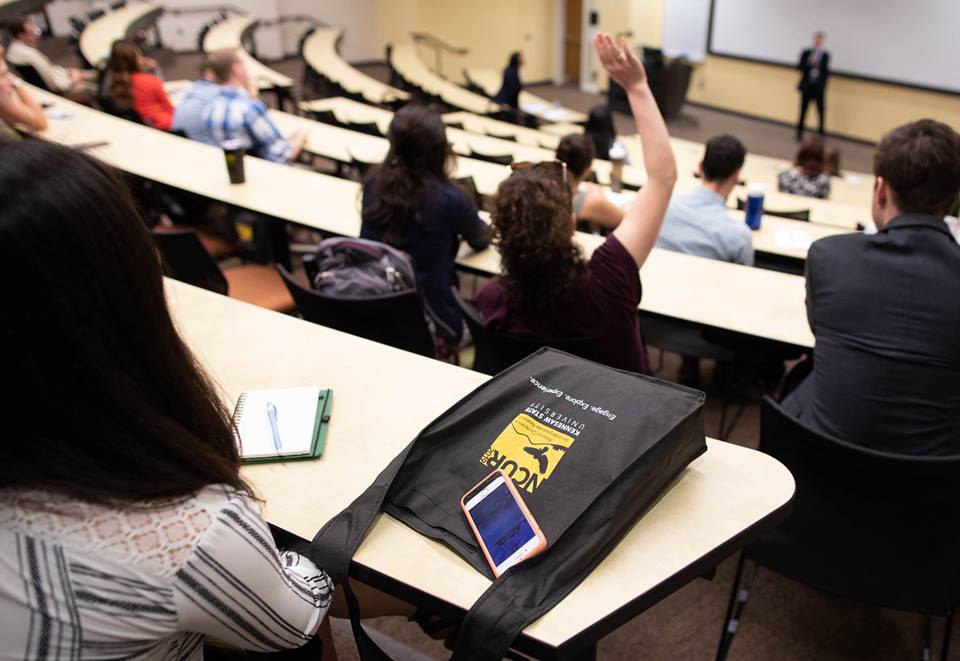 While the HQ2 proposal once included a Georgia Amazon Academy for potential workers, USG will instead focus on nexus degrees that also offer technical training for careers in growing industries like fintech and moviemaking.
The credential first launched in the fall of 2018 at Albany State University and Columbus State University in high-need, technical fields. Columbus State offered a film production credential, while Albany State — a historically black university — focused on blockchain with machine learning or data analytics. Nexus degrees stand on their own, but they're also "stackable," allowing students to take them on top of other degrees to create a customized educational experience — engineering with a side of fintech, for example.
Nexus degrees were developed as part of USG's College 2025 Initiative, which seeks to expand access to higher education to first-time and nontraditional students, as well as those in pursuit of technical careers. The university system is the sixth-largest in the country by enrollment, and the vast majority of those 318,000 students come from Georgia.
But gaps exist in the demand for skilled workers and the number of Georgians with some postsecondary education. A report by the Georgia Budget and Policy Institute found that in 2015, the state had 129,000 fewer workers with bachelor's degrees than jobs that required them, and another 189,000 fewer workers with some college or an associate's degree than needed. In another example, by 2020, 60 percent of jobs in the state will require postsecondary credentials, but only 42 percent of Georgians between the ages of 25 and 34 will have them.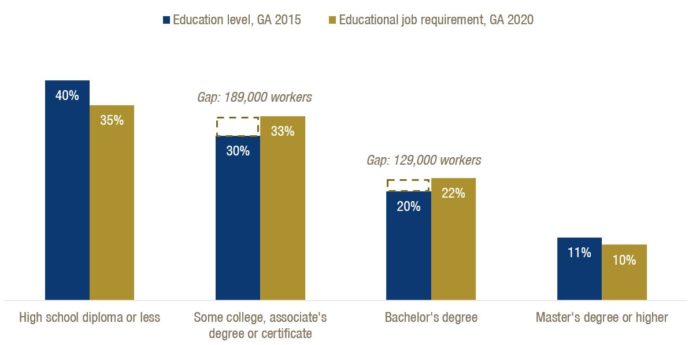 The same study found that 78 percent of Hispanic Georgians lack postsecondary schooling, compared with 68 percent of black Georgians and 56 percent of white Georgians.
Recesso said the response from the student body has been overwhelming, with more than 400 students enrolled in fintech classes so far. The university system had to offer more sections to accommodate the interest, and the hope is to eventually offer spots to up to 1,000 students.
An understanding of security is among the top priorities for new hires at InComm, Meyerhoff said. But his company, and others, would also like to see graduates who understand that a single payment transaction often encompasses many steps and players and, more importantly, those who know how to keep that process running smoothly.
"What's most in demand is people who want to change the world, get into a fast-growing industry and not think about the traditional world of banking," Meyerhoff said. "We're looking for innovative and creative people."
For students looking to go into fintech, engineering careers are readily available, but companies are also looking for program managers, graphic designers and more, according to Meyerhoff. A student interested in fintech should also look into internships, he said, which could be a part of the experiential learning built into the nexus degree.
The next step may be to broaden the fintech curriculum to include high school students, too. Meyerhoff said the idea has been broached in ongoing discussions between Atlanta's Chamber of Commerce, the members of fintech Atlanta and Lt. Gov. Geoff Duncan.
"We could really create an extension of STEM education," Meyerhoff said. "Payments are a great equalizer that allow people to pay, shop online, with a bank account, without a bank account. We're looking for people from all over the board."
Disclosure: The 74's coverage of the skills gap, the challenges and opportunities of better educating our future workforce, and efforts underway to improve local employment pipelines is underwritten in part by the U.S. Chamber of Commerce Foundation.
Support The 74's year-end campaign. Make a tax-exempt donation now.