Robots, Inequality, Apprenticeships: If America Is to Usher In an 'Age of Agility' in Education, Experts Say We Must Talk Less About Schools — and More About Students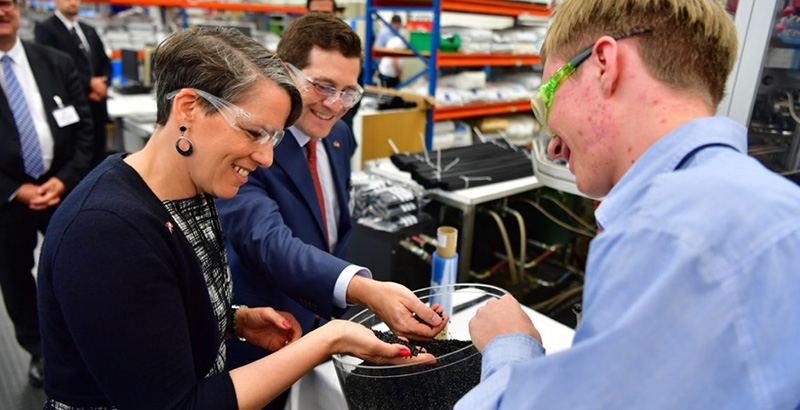 You might think of Suzi LeVine as the Johnny Appleseed of the workforce of tomorrow. A former Microsoft executive, she was appointed U.S. ambassador to Switzerland and Liechtenstein in 2014. Upon arrival, she was blown away by the Swiss model of student apprenticeships, in which young people acquire cutting-edge skills while they are still in what we think of as their high school years.
As ambassador, LeVine persuaded 30 Swiss companies with U.S. facilities to extend those opportunities to students here. Now commissioner of the Washington state Employment Security Department, she continues to seed the idea that the traditional "four by four" model — four years of high school followed by four years of college — is old news.
LeVine was one of a number of speakers who convened to mark the 25th anniversary of the Center on Reinventing Public Education by considering what leaps, conceptual and practical, will be required to provide all students with the skills to both keep up with automation, robotics and artificial intelligence, and ensure a healthy democracy.
A Seattle-based think tank, CRPE generates research and ideas about issues in education, ranging from the effectiveness of school governance models to best practices in equitable finance and charter school accountability.
The symposium explored ways in which the traditional concept of school could be challenged, pushing particularly on the notion that the traditional high-school-to-college continuum leaves too many talented people behind. About a third of Americans have a four-year college degree, yet an estimated 6.3 million jobs are going unfilled for lack of skilled candidates.
The author of this story moderated the panel anchored by LeVine, "Rethinking High School to College and Career Pathways."
Because public education in the United States is geared toward degree attainment and not skill acquisition, employers see a degree as a proxy for career readiness when, in fact, it doesn't necessarily mean a job seeker has the ability to collaborate, solve problems or succeed at other tasks that require complex intellectual skills to complete.
The traditional four-year college model is as antiquated as its K-12 precursor, attendees agreed. Even as they are hobbled by enormous debts, graduates don't necessarily possess the traits that assure them a well-paid job.
After nine years of compulsory schooling, LeVine told attendees, every Swiss student has the opportunity to opt in to a national system of apprenticeships. Winning one is prestigious, and 70 percent of Swiss teens participate, choosing one of 250 career pathways. They continue to go to high school part time, and many later earn a college degree.
Swiss businesses contribute 60 percent of the $6 billion annual cost and receive a return on their investment of up to 10 percent, LeVine said. Business sees the expense — the equivalent of 1 percent of the GDP when state and federal contributions are added — as an investment, not an act of corporate responsibility.
Despite the system's seemingly enormous price tag, the apprenticeship model is actually 40 percent less costly than full-time attendance at a traditional high school. Students who finish the equivalent of high school without completing an apprenticeship are on an academic track that leads directly to college.
The magic, which is difficult to communicate to anyone steeped in the American concept of school, is that there are no dead ends for students. One may earn a graphic design credential as an apprentice, yet go on to become a doctor.
LeVine was joined by women spearheading efforts to create apprenticeship systems in Washington and Colorado. Home to tech-fueled corporations such as Microsoft, Amazon and Boeing, Washington already is grappling with the workforce implications of automation. The state has launched multiple efforts to increase the number of students in the pipeline to fill skilled jobs that don't require a traditional degree.
At the same time, its industries are piloting some of the technologies that will disrupt the job market. For example, a first-of-its-kind Amazon store in downtown Seattle has done away with traditional customer service; shoppers' devices are scanned and their accounts billed as they enter, fill their carts and leave without checking out.
The workforce of tomorrow, CRPE Director Robin Lake said, places a premium on skills only the human mind possesses, such as teamwork, empathy, deep thinking and problem-solving.
"If we're honest with ourselves, no one has a plan for how schools are going to deliver all of these things while still struggling to just deliver the basic competencies," she said.
The kindergarten-to-college pipeline provides too little of those, and does so in a way that perpetuates inequities, she said. Shifting the discussion from talking about schools to talking about students could help usher in what one attendee called the "Age of Agility," in which an array of experiences offer opportunities for all kids, not just students ranked as "good" by conventional measures.
"We need to design for the tails, and not the means," Lake said, referring to students with disabilities and other challenges who are not typically thought of as likely talents, as opposed to those who fall squarely in the middle academically. Or, put another way: "The student is the 'X' we need to solve for."
The unskilled, routine jobs previously open to students who don't make it to and through traditional higher ed are being automated at a rapid pace, which means the middle class is particularly vulnerable to the shift, Andreas Schleicher, director for education and skills at the international Organisation for Economic Co-operation and Development, told the group.
"In the past, in the industrial era, we needed only a few leaders with lots of people working for them," Schleicher said. "Now we need all leaders."
Hand in glove with doing away with the notion of high school and college as two separate — and lengthy and expensive — experiences, other ideas advanced at the symposium and in a series of accompanying essays published by CRPE explored tying education funding much more closely to individual students, who could use funds to pay for everything from out-of-school enrichment activities to special education services; creating system navigators to help families choose an array of educational options to best meet their child's needs; and finding ways to design evaluations that measure success in such highly individualized environments.
Communities can start, à la Switzerland, by tapping local businesses and civic organizations interested in ensuring the right talents are being nurtured, symposium speakers agreed.
Summarized Todd Rose, a faculty member at the Harvard Graduate School of Education and author of noted books on individualization, "We have to find a way to do for education what Apple did for music."
Disclosures: The Walton Family Foundation and the Carnegie Corporation of New York provide financial support to The 74 and for the Center on Reinventing Public Education's 25th anniversary symposium.
The 74's coverage of the skills gap, the challenges and opportunities of better educating our future workforce, and efforts underway to improve local employment pipelines is underwritten in part by the U.S. Chamber of Commerce Foundation.
Support The 74's year-end campaign. Make a tax-exempt donation now.