As Economy Hums, South Carolina Governor's Race Focuses on Underwhelming Education System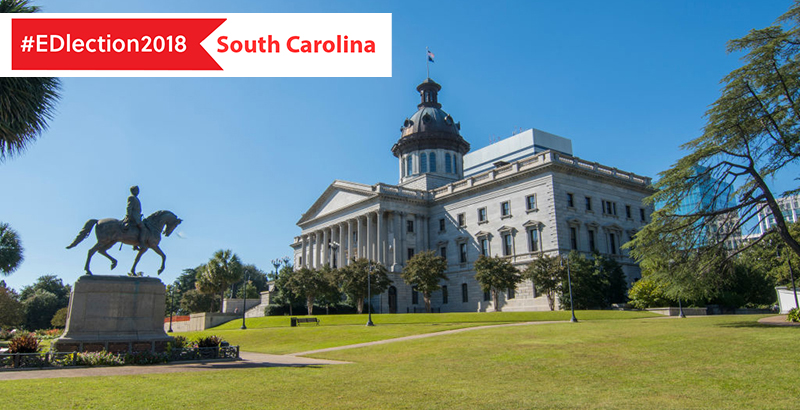 June 22 Update — Two Republican candidates have advanced to a June 26 runoff: Incumbent Gov. Henry McMaster and businessman John Warren. 
In the spring of 2015, Mercedes-Benz and Volvo each announced $500 million projects to build new manufacturing plants in South Carolina. Together, the development called for more than 5,000 new jobs.
While hiring for those openings, however, Volvo has found that only 4 percent of applicants from the state's technical college worker training program had the basic knowledge and skills to make it through just the first step of the recruiting process.
It's becoming clear that South Carolina's education system has not kept up with its economy. And that revelation is being brought center stage as Republican Gov. Henry McMaster and a host of contenders jostle for the state's top seat in the June 12 gubernatorial primary,
"We're booming in terms of [information technology], advanced manufacturing, and health care. And so the workforce demands are different from what we've had in the last 50 years," said Melanie Barton, executive director of the state's Education Oversight Committee. "We've got to increase the educational attainment of our students, and this is what's going to create some issues."
As a result, education has come to the fore of the governor's race, in which McMaster is facing intraparty challengers while three Democrats are locked in a competitive primary. McMaster, now 71 years old, previously served as lieutenant governor; he ascended to the governorship in January 2017 after President Donald Trump appointed then-Gov. Nikki Haley to serve as ambassador to the United Nations.
By all accounts, South Carolina's public education system is middling at best; various rankings place the Palmetto State between 35th and 50th nationally. The state has struggled with low teacher pay, poor teacher retention, and — despite the abundance of jobs for skilled grads — low enrollment in its technical colleges. The percentage of high school graduates enrolling in the state's public colleges and universities has fallen to 67 percent from 81 percent over the past decade as debt from higher education has soared. Public colleges in South Carolina — alongside those in Vermont — charge the country's highest tuition as a percent of average household income.
On the Democratic side, the three leading candidates' positions on education vary enormously, from radical reform to laissez-faire. State Rep. James Smith, a 50-year-old Afghanistan War veteran who received a Bronze Star and a Purple Heart, and Phil Noble, a 67-year-old business consultant, both believe in the governor taking a hands-on role in educating South Carolinians. Following the lead of former Democratic governor Dick Riley, Smith has promoted himself as the "education governor," with a particular focus on lowering the cost of higher education. Riley served as the U.S. Secretary of Education under Bill Clinton and endorsed Smith in this election. Noble, meanwhile, has lamented the "education crisis" and has called on his experience in technology to propose giving every student a laptop or iPad.
"If you radically overhaul education, which is what we are saying, then you ought to expect radically better results," Noble said during a press conference in May. "It will be a fight, it will be tough, and it will be hard. And some of the stuff we'll try to do won't work. It's like, we're going to screw it up and end up 50th in education, right? That's where we are. So we ought to take chances."
Rather than put forth education policy proposals, the third leading Democratic candidate, 67-year-old lawyer Marguerite Willis, instead focuses on the fact that South Carolina is one of 13 states with an elected, not governor-appointed, superintendent. With the Department of Education not part of the governor's cabinet, Willis has focused on the departments directly under the governor's control.
"I love these guys, I really do," Willis said of Smith and Noble at a May 15 debate. "But they haven't read the South Carolina constitution. Education is not a job that belongs to the governor in this state. … Constitutionally it is not the job of the governor. The governor has got to bloom where she is planted — the Department of Commerce, the Bureau of Prisons, [the Department of Health and Environmental Control], and health care, that's the bottom line."
(South Carolina voters will decide in a November referendum whether to change the state superintendent's position to a be gubernatorial appointment, a move that has received support from candidates in both parties.)
Willis, meanwhile, has hit back by focusing on Smith's 22 years of experience in South Carolina's increasingly publicly corrupt capital, where six state lawmakers have been indicted in an ongoing corruption probe.
"There's smoke-filled rooms in the State House," she said at the June 4 debate. "Mr. Smith smells like smoke."
On the Republican side, Gov. McMaster has held double-digit leads in polls since December, powered in part by his incumbency and the state's development. South Carolina's population has grown each year since the recession as the state's economy has boomed. Since taking office, McMaster has boasted of attracting $6 billion in new investments and 20,000 new jobs. McMaster has tried to capitalize on the theme, likening himself to a veteran coach leading a team on a winning streak.
On education, McMaster backs consolidating school districts to save money and stationing armed police officers in every school across the state. He also favors expanding charter schools.
McMaster's rivals have tried to tie him to the aforementioned corruption probe, in which his longtime political consultant was indicted and later testified as part of a deal to have felony corruption charges dropped. McMaster has not faced charges.
McMaster's chief rival, attorney Catherine Templeton, 47, who served in Nikki Haley's cabinet, has taken more aggressive stances, advocating for public funding to be used for universal school choice, including private schools and homeschooling. She also favors arming teachers.
With the primary set for Tuesday, the establishment's money is on McMaster and Smith. McMaster has the backing of Trump and the National Rifle Association. And of the Democratic candidates, Smith has the most money and the most endorsements (including the state's second-largest teachers union; the largest union does not endorse candidates).
Regardless of who wins, says Barton of the Education Oversight Committee, the next governor will need to put together a comprehensive plan for improving academic outcomes across the state.
"South Carolina has done a great job of recruiting industry to this state," Barton said. "The piece that's now starting to raise its head is, 'Oops, we've got an issue with the workforce development.' "
Get stories like these delivered straight to your inbox. Sign up for The 74 Newsletter