Arizona Has Long Been a Testing Ground for Education Reformers. Now Teachers Could Lead an Election-Year Backlash Against Republicans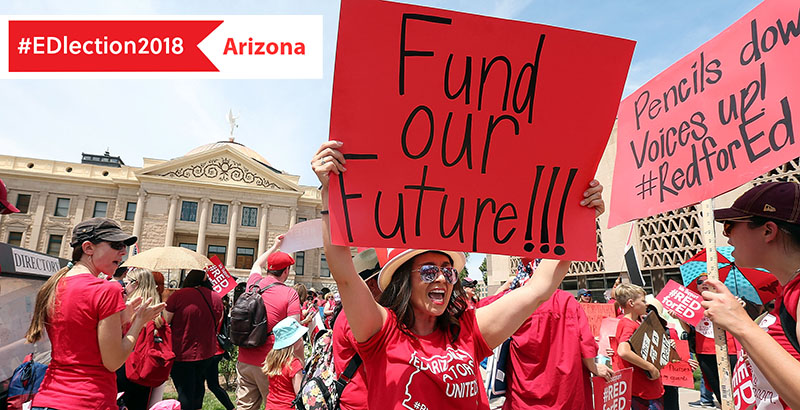 In Arizona, summer heat isn't something you complain about — it's something you survive.
Cars break down. Water bottles and garbage bags melt. And residents generally withdraw to the safety of their climate-controlled homes and offices until fall comes to the rescue.
But this summer, the state's teachers will be out on the sidewalks, absorbing as much direct sunlight as they can bear while clad in bright red T-shirts. Instead of plotting getaways to Lake Havasu, hundreds of volunteers will brave scorched parking lots and flea markets in the pursuit of a most unlikely goal, at least in Arizona: a tax increase to boost education funding.
The campaign to promote the Invest in Education Act — a doubling of the state income tax on Arizona's highest earners, which supporters are trying to put before voters this November — is a bold step forward by Arizona's growing education activist movement. But it's also a repeat of their successful effort last summer, when teachers collected hundreds of thousands of signatures in a bid to roll back a recent expansion of private school choice. In both cases, they've rushed out of the air-conditioning and into huge conflicts with some of the most powerful forces in the state.
But the upcoming midterm elections, which will feature closely fought races at both the local and state levels, set 2018 apart from 2017. Animated by the fight to increase teacher pay, which resulted in the state's first-ever statewide teacher walkout this April, educators and their allies are aiming to set off an earthquake that could alter the political landscape in one of the country's most reliably conservative states.
The mecca of Ronald Reagan's Sun Belt strategy, Arizona has produced iconic Republican leaders like Barry Goldwater and John McCain. Democrats haven't held a legislative majority in the state house for 26 years, and voters have elected a Democrat for president only once since 1948. But Democrats like their chances this year, especially with a corps of organized teachers pushing hard against GOP leaders from the governor on down.
"I've followed politics in Arizona for 40 years, and I've never seen anything like this," Mike O'Neil, a local pollster, told The 74. "These teachers are numerous. They are becoming activists — people who've never been involved in politics in any way, shape, or form. And they have a degree of sophistication because they communicate with one another."
Voucher fight
The seeds for this moment — which could cause one or both chambers of the legislature to change hands, as well as the governor's mansion and a U.S. Senate seat — were laid last year, when Gov. Doug Ducey and his Republican allies made Arizona the first state to offer education savings accounts to any family that applied.
As in other states that have implemented ESAs, the program has generated controversy by directing taxpayer funds to private school tuition. Depending on family income, participants can receive up to 100 percent of Arizona's annual per-pupil funding to offset educational expenses if they remove their children from the public school system. The accounts were made available only to special needs students when they were rolled out in 2011, but eligibility has since been expanded to students from foster homes and military families, those living on Native American land, and those attending a school receiving a grade of D or lower on the state's accountability system.
Last year's proposal was the furthest step yet, making the accounts available to any family that applied (though with a cap of 30,000 participants through 2022). It passed on party lines, with Democratic Sen. Steve Farley warning that a statewide ESA expansion would mean "the beginning of the end of public education in Arizona." Christine Porter Marsh, the state's 2016 teacher of the year, echoed those words exactly, before comparing the bill to "a nuclear bomb" dropped on public schools.
The move won praise from school choice advocates around the country. The Heritage Foundation and the Wall Street Journal editorial page, two of the most influential organs of conservative advocacy and messaging, specifically pointed to Arizona as a model for other states to follow. Closer to home, Jonathan Butcher of the Goldwater Institute, a right-leaning think tank based in Phoenix, penned an op-ed praising the accounts as a valuable option for low-income families.
It didn't take long for an organized response to build. Beth Lewis was a fifth-grade teacher who had followed the expansion fight in disbelief with five friends. All of the women were "in the Mom and educator phase of life," she says, but after witnessing what they considered an assault on public education, they felt they had to get involved.
"It took us going down there to see what on earth was being perpetrated in the name of schools," Lewis told The 74. The ESA expansion "really stood out, because not only were they slashing funding, they were going to divert it from public schools to private schools. And that's what didn't seem right."
In Arizona, laws passed by the legislature can be struck down by voters at the ballot box — provided that enough signatures are collected to trigger a referendum. The women formed an advocacy group called Save Our Schools Arizona, with Lewis serving as chair. In less than 90 days, they organized volunteers to collect more than 110,000 signatures on a petition to ban the statewide ESA expansion. After surviving a lawsuit in January, the referendum, known as Proposition 305, was cleared to go before voters this November, much to the surprise of longtime political observers.
"And all of the old pros said, 'That's nice, but you're never going to get all those signatures without a pile of money,' " says O'Neil. "And they did."
Though the group won't endorse candidates until after the Democratic and Republican primaries in August, Lewis says they'll be active in September and October to elect candidates they consider friendly to public schools. That will mean organizing against Gov. Ducey and Republicans in the legislature.
"To be honest, every candidate down here says they're for education, and that can mean a host of things," she said. "It's certainly not single-handed — there are many key players that have decimated our schools in Arizona. But [Ducey] is no friend of education."
The governor's office did not respond to a request for comment.
'We've gotten to the end'
Beth Lewis and SOS Arizona weren't the only ones moved to organize over last year's ESA fight. Christine Porter Marsh, the 2016 Teacher of the Year, also felt she had to play a part. That's why she's now running for state Senate.
An English teacher at Scottsdale's Cactus Shadows High School, she had always been politically active. During the 2016 election for Maricopa County sheriff, she brought in Republican Joe Arpaio and his Democratic opponent to speak to her class. With schools now in the headlines, she became one of dozens of teachers in the state to run for a state legislative seat — most, though not all, as Democrats.
"This is all cause and effect," she told The 74. "This level of political activism on behalf of educators is the effect of decisions the governor and our legislature have made for a very long time — a couple of decades, but culminating in the last year or two. We've gotten to the end, where the last couple of straws have broken the camel's back."
For Marsh and her colleagues, those straws go past school choice. Since the Great Recession, Arizona has cut per-pupil spending by nearly 37 percent — more than any other state. The state ranks among the lowest in the country in teacher salary and the highest in student-teacher ratio, and funding for all-day kindergarten has been reduced.
The effects of that austerity were felt in April, when thousands of teachers walked off the job demanding pay raises. Enthusiastically emulating teachers in West Virginia and Oklahoma, they dressed in red and packed the state house in Phoenix. Soon Ducey, who had considered green-lighting a 1 percent raise in January, was pushing for an astonishing 20 percent pay increase over four years. GOP legislators went along, dreading an extended labor stoppage in an election year.
Even more striking than the concessions was the spontaneity of the movement. The walkout, conducted under the ubiquitous hashtag banner #Red4Ed, was largely provoked by a newly founded organization called Arizona Educators United, which organized in Facebook groups and acted independently of the state teachers union, the Arizona Educators Association.
"Their organization was extraordinary — it just formed out of nowhere," says O'Neil, the longtime pollster. "The AEA was a witness to all this. There was a train coming down the track, and they just jumped onboard."
The train has kept rolling along since April. Working with the liberal Center for Economic Progress, members of Arizona Educators United are now pounding the pavement in support of the Invest in Education Act, which would raise taxes on Arizonans who make more than $250,000 and direct the revenue to school funding. They have until July 5 to collect 150,000 signatures, the threshold to initiate a ballot measure for this November.
Gov. Ducey denounced the initiative in recent remarks before a local Republican group, claiming that the #Red4Ed protests in April were an effort to grease the skids for future tax increases. Teachers, including some of the strike's leaders, rejected that assertion. But fresh from last year's triumph on Proposition 305, they are feeling bullish.
Perhaps that's because the various groups making up their coalition are happily collaborating. While Lewis of SOS Arizona says her organization strives to maintain its independence, it shares many of the same goals, slogans, and tactics as Arizona Educators United. Activists share one another's posts on social media. Marsh says that one of her most dedicated campaign volunteers often works at her office for five hours a day, then leaves to attend AEU events.
Increasingly, a movement that formed around school-specific issues is venturing into new arenas. SOS Arizona has announced that it will support the Outlaw Dirty Money initiative — yet another ballot initiative, this one to require the disclosure of donors who give more than $10,000 to a political campaign. Noting that prominent conservative activists Charles and David Koch had financed the unsuccessful lawsuit to derail Proposition 305, Lewis said that out-of-state money was dragging the Arizona GOP rightward and weakening public schools in multiple states.
"If it weren't for dark money in our state, we would have fully funded schools," she said. "Any time a Republican in our legislature tries to do something for public education, the result is the threat of a primary [funded] by the Koch brothers. I've been told this by so many legislators."
Tight races
The question is whether that high tide of coordination, ambition, and enthusiasm will pass referenda or elect candidates in November. Ducey has drawn two strong Democratic challengers: Steve Farley, the state senator who inveighed against last year's ESA expansion, and David Garcia, an ASU education professor who lost a 2014 race for state superintendent by just 1 percent of the vote. He was aiming for a rematch this year, but he switched to the governor's race after the passage of the ESA bill.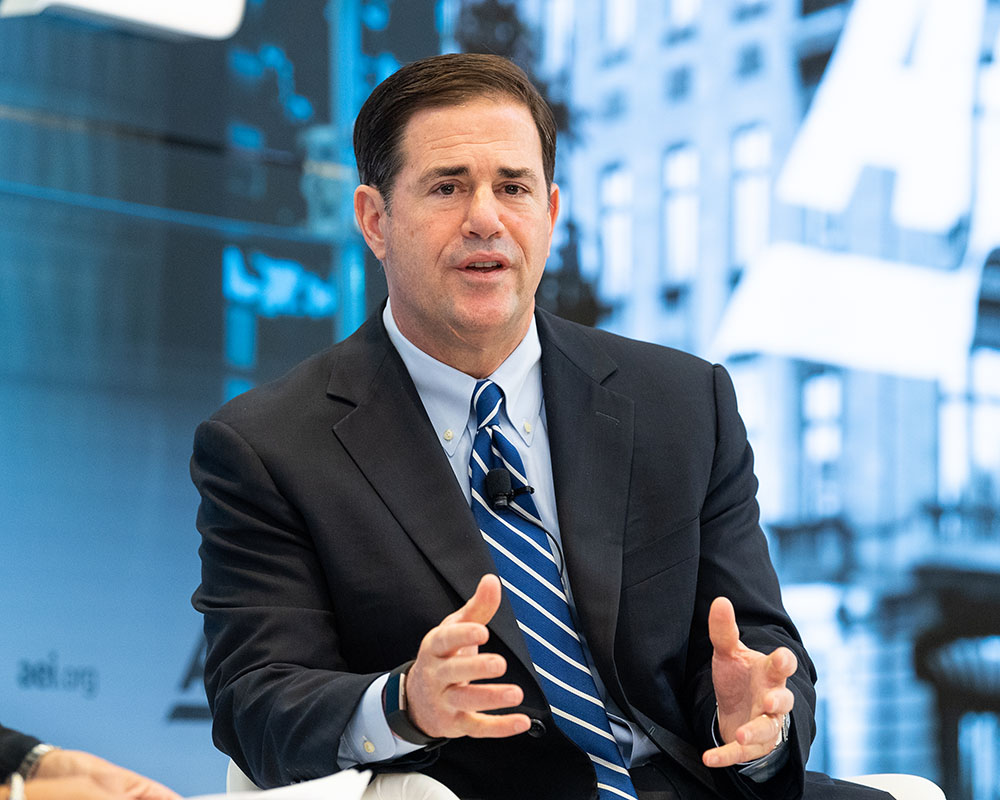 Garcia — running slightly ahead of Ducey in a recent poll — said he originally intended to take another shot at the state superintendent's race. After the Republicans' 2017 moves on education, though, he felt a need to aim higher.
"[My] commitment to public education remains the same," he said in an interview. "But I realized when the governor passed the voucher bill that the fight was not to be superintendent, since I would have had to administer that bill. I realized the fight was at the governor's office."
The freshman governor is favored against both Garcia and Farley, but his approval rating in the state is nowhere near the 50 percent mark, where incumbents begin to feel comfortable. In an election season that will be shaped by voters' attitudes toward Donald Trump — who defeated Hillary Clinton by just 3.5 percent in 2016, a much smaller margin than Republican candidates usually enjoy there — the president's support in Arizona has also slipped considerably since his inauguration.
The state legislature could be an even more tempting target for Democrats. As consistently Republican as Arizona has been for over half a century — the GOP has held the state House of Representatives since 1966 — the party's majorities in Phoenix are typically narrow. A flip of just three seats in the Senate, and six in the House, could tip both bodies toward the Democrats. A development like that, whether or not it was accompanied by a similar shift in the governor's mansion, would fundamentally alter the picture for school funding and choice in Arizona.
"I expect to see very high levels of activism," says O'Neil. "There's a high likelihood that the teachers will win Democrats some seats in the legislature that under normal circumstances they wouldn't have a prayer" of winning.
If he's right, Ducey might start feeling some of that famous Arizona heat. But this year, it could get worse as summer turns to fall.
Get stories like these delivered straight to your inbox. Sign up for The 74 Newsletter