Aquino at the Helm: After A Career Behind The Scenes, the Casual and Empathetic Jaime Aquino Will Lead With Data and Heart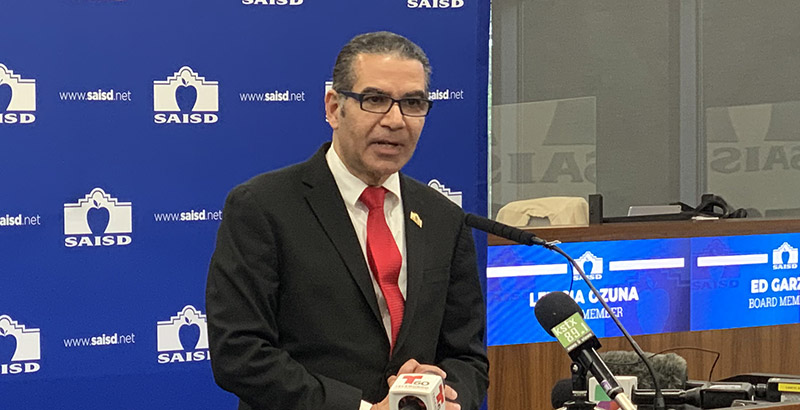 Get stories like these delivered straight to your inbox. Sign up for The 74 Newsletter
For most of his 35 years in public education, Jaime Aquino has avoided the spotlight, staying out of political dustups, preferring to do his work quietly.
But his new job comes with lots of time in the spotlight, dustups included.
Next month Aquino will become the superintendent of San Antonio Independent School District where there's already pressure to get schools back on their pre-pandemic reform track.
But Aquino is also headed for Texas, a state in relentless turmoil over anti-transgender politics, book banning, and pushing Black, Latino, LGBTQ, immigrant, and English-learning children further to the margins.
In his 57 years, Aquino has walked those margins himself. As an immigrant learning English. As a Latino. As a gay man.
He knows how lonely that journey can be, and he has a message for the children of San Antonio ISD, especially those on the margins:
"For those who are in all these groups who have been told they don't belong, that they aren't part of our community, my message is: You belong in our community. We love you. In San Antonio ISD you will always have a place. We're going to do everything we can to make sure you're going to shine."
Aquino, who insists on being called Jaime, has never made his career about any part of his identity other than "teacher," and he's very careful not to set himself up as a spokesperson for the LGBTQ — or any other — community.
When asked, he has been open about his sexuality. "I want other leaders like me to not have to hide who they are."
He's also open about the realities of being an immigrant. English will always be his second language, just like nearly a quarter of San Antonio ISD students, and Aquino is not shy about the myriad challenges that come along with that. He knows the importance of demonstrating what is possible for kids, and while he's no "superman," he said, he wants the children of San Antonio to see that they, like him, belong in the community, in leadership, no matter where they come from or what politicians say.
As he spends time with the district's teachers, parents, and students, Aquino will be able to hone his plan to recoup the losses in enrollment and academic performance after the pandemic all but erased the gains made under previous superintendent Pedro Martinez. He'll also be getting acquainted with the district's performance data, and the predictable gaps in student outcomes.
Martinez's administration focused heavily on bilingual education, and mitigating the effects of poverty on schools. Increased funding, expanded dual language, and school choice initiatives were billed as proof that kids from low income neighborhoods were as brilliant and capable as their middle class peers.
Martinez did acknowledge, however, that during his tenure, special education had not seen the gains other areas had. In an interview with The 74 before he left, Martinez said he could see the "components being put in place," including new administrators, to give those services more attention.
But the parents of students entitled to special education services say they are tired of being shoved off on lower-level administrators, and run around district offices, and are already lining up for a place at the top of Aquino's agenda. From his home in New York, Aquino watched via livestream as parents spoke for a full hour at the April 18 board meeting on their dissatisfaction with the district's special education services.
The parents—who had planned to speak at the same board meeting where Aquino was announced, but were asked to delay so as not to disrupt the celebration—shared stories of being passed from administrator to administrator, regularly denied time and effort from anyone who would make meaningful change for their children.
"No more promised and then deferred conversations," said special education parent Becky McMains. "Special education is the neglected corner of education in this district. We as parents are far from optimism and hope." She mentioned how English language learners had benefited from the expansion of dual language programs in the district, and asked for similarly innovative attention, expressing hope that Aquino himself would lead that effort.
"We know the difference a new superintendent with vision and a heart for equity can make," McMains said.
Special education will indeed be a "top priority" in San Antonio, Aquino told The 74 after watching the meeting. "I have seen first hand how our special education students are sometimes treated as stepchildren, and I don't want that to happen."
While Aquino is not certified in special education, he pointed to his top-level administrative work in Hartford, Los Angeles, and Denver, where he had special education moved from its silo and placed under his purview so he could make it an academic priority.
Addressing the special education discontent will be part of another challenge awaiting Aquino: falling enrollment. Many parents at the April 18 meeting said they were actively considering leaving the district—that in a district with a lot of choices, none were designed with their children in mind.
The Martinez administration did create at least nine open-enrollment schools in addition to the two the district already had — two dual language, two Montessori, two career and technical education, two single gender, and the Advanced Learning Academy — and placed opt-in dual language programs in more than 30 other schools. The efforts briefly stemmed the district's decades-long enrollment decline, but in the wake of the pandemic, numbers have again tumbled.
While he believes that parents should have the information and the options to make a the best choice for their student — and he wants every San Antonio ISD school to strive to be that best choice for all students including those receiving special education services — Aquino is agnostic when it comes to the various models and structures that have occupied much of the debate around school choice and education reform. He's seen good and bad charters, good and bad small schools, good and bad magnets.
"What really makes the difference is the interaction that happens between the teacher and the students in the classroom," he said.
To that end, Aquino has already reached out to perhaps Martinez's harshest critics, the San Antonio Alliance of Teachers and Support Personnel, the district's union. President Alejandra Lopez said she shared the union's priorities with Aquino, and looks forward to continuing to build on the conversations they have started with interim Superintendent Robert Jacklich.
She and her members were, she said, pleased to hear Aquino's repeated emphasis on prioritizing what happens between teachers and students. "We are encouraged to see someone who has classroom experience, who through his statements appears to understand the necessity to engage the work we do in the classroom."
Aquino's relationships to teachers unions have been constructive in his previous roles, he said. As a teacher in New York City, he said, was a delegate with the American Federation of Teachers. He also served as his campus's union representative, a role he said he filled on the condition that his colleagues understand he would never defend actions or advocate for decisions that were not best for the students.
As part of John Deasy's team in Los Angeles, Aquino spearheaded some reforms unpopular with teachers unions, including implementation of the common core and increased use of test scores for accountability. "Not surprisingly, United Teachers Los Angeles did not mourn the departure of Aquino," the Los Angeles Times reported when Aquino resigned in 2013.
However, when he left Hartford in 2004, the president of the teacher's union wrote a letter to the editor lamenting the district's "loss."
"Although we may have not always agreed, we have found that Mr. Aquino will work diligently to reach consensus on issues that directly affect teachers and students," Cathy Carpino wrote.
Aquino pledged to pursue a similar dynamic with Lopez and the union here.
A less splashy, but structurally significant Martinez-era reform — the system of great schools model — could be on firm ground. Aquino was present during the Michael Bennet era of Denver Public Schools, which brought the portfolio model, a precedent for what Martinez and former innovation chief Mohammed Choudhury would do in San Antonio to give principals more control over campus staff, budget, and curriculum.
"I really believe that those closest to our kids should be making most of the decisions" Aquino said, "I will support that, but with a caveat. I need to make sure those who are making these decisions have the right professional learning, training, resources, and skills to make those decisions. I don't ever want to be in the place where we are questioning why school X made such a decision even though it's not backed by data or science."
In many ways, Aquino was brought to the district to give answers like that. Even handed, nuanced, and focused. For him, a quiet tenure of steady improvement without flashy initiatives or saber-rattling would suit just fine, as long as the community is well-served by great schools. He admires the work Martinez did, but as a man planning to retire after his time in San Antonio — a city where he said he already sees himself at home — he plans to do things in his own way, to "build on the great foundation, and hoping to take it to the next level, but in a way that honors the sense of humanity, both in the district and in the community."
Get stories like these delivered straight to your inbox. Sign up for The 74 Newsletter