Analysis: Where Has Public-Sector Union Membership Dropped, and Where Has It Actually Increased? New Database Has Some Answers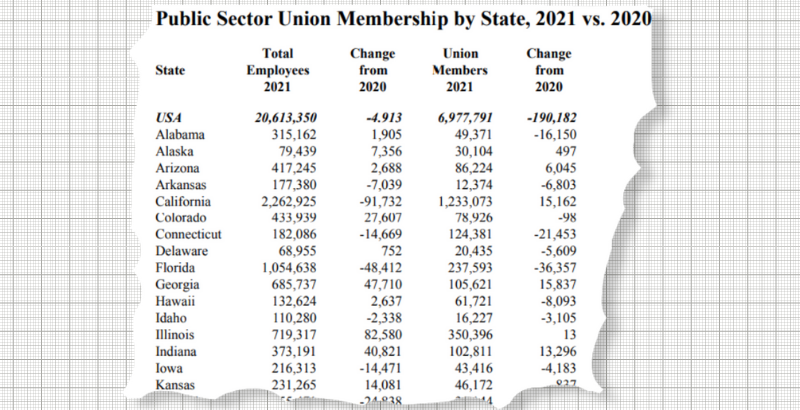 Support The 74's year-end campaign. Make a tax-exempt donation now.
Mike Antonucci's Union Report appears most Wednesdays; see the full archive.
Declines in the raw number of union members, and unions' share of the workforce, have been so consistent over the decades it hardly qualifies as news anymore. Unions see this a consequence of unfair labor laws, but it has persisted through several changes in the composition of Congress, the Supreme Court, the presidency and state legislatures.
However, governments have done a pretty good job of keeping the union movement alive. The number of union members in the private and public sectors has been roughly equal for many years, even though the private-sector workforce is more than five times larger.
While private-sector union drives grab the headlines, such as efforts at Amazon, Starbucks and digital news outlets, the health of the labor movement relies most heavily on government and the size of its workforce.
Each year, the U.S. Bureau of Labor Statistics publishes a report on union membership. It breaks down the number of public- and private-sector union members at the national level, but a deeper dive is required to find those numbers for each state and the District of Columbia.
Fortunately, Barry Hirsch of Georgia State University and David Macpherson of Trinity University annually update their Union Membership and Coverage Database, posting it on their website Unionstats.com. Thanks to their work combing through Current Population Survey data, we are able to cull government union membership for each state and compare it to years past.
I've taken the numbers they provide and created this table, which shows the total number of government employees and public-sector union members for each state in 2021, along with the change from 2020.
Overall, the government workforce in the United States shrank by 4,913 employees in 2021, but the number of public-sector union members decreased by 190,182.
Public-sector unions took the biggest hit in raw numbers in Texas, Maryland, Florida and Ohio. But an even worse outcome was in the 12 states where membership fell despite an increase in the number of government employees. Those states were: Alabama, Colorado, Delaware, Hawaii, Louisiana, Minnesota, Mississippi, Missouri, Montana, South Carolina, South Dakota and Wisconsin.
The news wasn't entirely bad. Public-sector unions made significant gains in workforce share in Arizona, California, New Hampshire, New Mexico, Oklahoma, Oregon and the District of Columbia.
We can draw some inferences about teachers unions from the data, but they can't be considered definitive in any way. The numbers for individual occupations lump private- and public-sector workers together. By crunching the available numbers, we find that the union share of the pre-K through 12, plus special education, teacher workforce (both public and private) was 46.5 percent in 2020, and that it was 44.6 percent in 2021.
But both national teachers unions also have education support employees, guidance counselors, nurses, and state and municipal workers of various stripes among their memberships, so those percentages cannot account for everyone.
While growth in the government workforce doesn't always lead to corresponding growth in government union membership, it certainly allows more opportunity for recruitment. Public-sector unions can't survive trying to get a larger piece of a smaller pie. So the pie must get bigger, which is why the focus of union policies is to add employees. Considering the flood of "teacher shortage" stories we're seeing lately, they are likely to get their wish.
Support The 74's year-end campaign. Make a tax-exempt donation now.