Analysis: What Emails Show About How Cardona Worked With Teachers Unions in Connecticut — and What That Could Mean For Reopening Schools as Education Secretary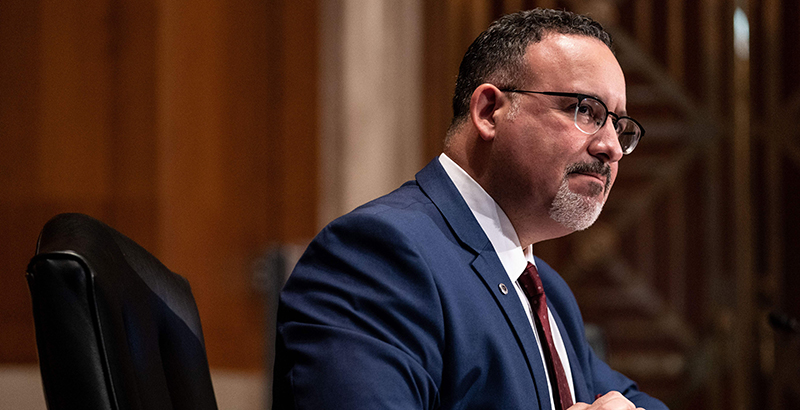 Mike Antonucci's Union Report appears most Wednesdays; see the full archive.
Former Connecticut Commissioner of Education Miguel Cardona sailed through his confirmation hearing before the U.S. Senate Committee on Health, Education, Labor and Pensions. The 17-5 bipartisan vote in his favor virtually ensures that Cardona will be the next U.S. secretary of education.
Both national teachers unions and their Connecticut affiliates have been effusive in their praise of Cardona.
"Throughout the pandemic he has worked closely with education stakeholders to address important issues facing our students, teachers, families and communities and has ensured all students have access to technology for remote learning," said Jeff Leake, president of the Connecticut Education Association. "He believes teachers need to have a seat at the table in order to develop well-informed education policy. He has always sought out diverse educator voices as experts and welcomed their experience and knowledge on many issues that impact educators and their students."
"Before the pandemic hit, he engaged educators on issues ranging from reducing standardized testing to ensuring equity for all students to closing the diversity gap in our schools," said Jan Hochadel, president of AFT Connecticut. She was happy to boast that Cardona was a former AFT member, though that was during the short time he was a teacher in the early 2000s.
Cardona was not the unions' top choice, despite their professed enthusiasm. Leake admitted he preferred former National Education Association President Lily Eskelsen García. She, however, would not have sailed through the confirmation process, and President Joe Biden settled on an uncontroversial choice.
We don't have a lot of evidence either way about how Cardona will interact with the unions, but we do have some, thanks to a public records request made by the Yankee Institute for Public Policy last summer. It is Connecticut's conservative state think tank, and it requested email exchanges between Cardona and the two state teachers unions on the question of reopening schools.
For months, Cardona and Gov. Ned Lamont wanted to restore in-person instruction while the unions remained entrenched in their demand for remote only. The emails cover communications between Cardona and the unions between June 8 and July 20.
Upon publicly releasing the emails Aug. 31, the Yankee Institute reported that they "show teacher unions have little leverage for school reopening demands."
Reviewing the emails two weeks ago, Matt Barnum of Chalkbeat reached a different conclusion. His story was headlined, "How Miguel Cardona pushed for school reopening and kept strong relationships with teachers unions."
Having now read the emails several times myself, I think both evaluations are correct, and they give us some sense of what to expect of Secretary of Education Cardona over the next four years.
Without even looking at the text of the messages, we can learn a lot from traffic analysis, which is a study of the form, direction and flow of communications, rather than their substance. The unions initiated emails to Cardona far more frequently than he did to them. For the most part, the union emails were longer and more detailed, while Cardona's were short and perfunctory.
If we were to summarize the dozens of emails, it would be the unions informing Cardona about what they thought, or what they were doing, and Cardona replying with some variation of his June 15 email: "Please note we will be reviewing these recommendations carefully. Please let your colleagues know we appreciate their efforts to support our learners in a safe way thus far. We appreciate their input!"
Barnum noted that the unions "had an open line of communication with Cardona." This is true. The unions shared reports or press releases with him before they went public, and Cardona returned the favor by sharing a draft copy of the state's reopening plan. At all times, communications were cordial, even when discussing items where they were at cross-purposes.
There is no evidence in the emails, however, of Cardona explicitly agreeing with a union position, or promising to accept a proposal, or to carry water for the unions in any way. This is noteworthy, because they have a source of influence in Connecticut rarely found anywhere else. Donald Williams, executive director of the Connecticut Education Association, was the president pro tempore of the state Senate for 10 years before being hired by the union.
Admittedly, the emails are only one form of interaction between the parties, and we have no information about phone conversations or Zoom meetings that could upend our assumptions. But Cardona mostly referenced "unity" and "the need to work together." This suggests to me that unions will indeed have a seat at the table while he is education secretary. There is no reason to believe, yet, that it will be the only seat.
Support The 74's year-end campaign. Make a tax-exempt donation now.