Analysis: Twins Split — Minneapolis Teachers Strike, St. Paul Reaches Tentative Agreement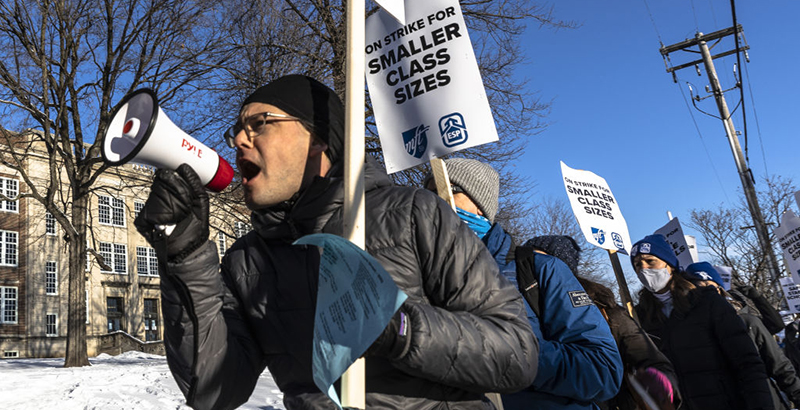 Get stories like these delivered straight to your inbox. Sign up for The 74 Newsletter
Mike Antonucci's Union Report appears most Wednesdays; see the full archive.
Minneapolis school employees walked off the job March 8, the first teacher strike in more than 50 years. While the St. Paul union reached a last-minute tentative agreement to avert a strike, both unions shared a common set of demands: pay increases, class size limits and additional hiring. Administrators from both districts called these demands untenable due to funding losses caused by falling student enrollment.
"Those at the top continue to run our schools with a corporate, top-down model as our students and educators continue to do so much more with so much less," said Greta Callahan, president of the Minneapolis Federation of Teachers.
"For decades, we've watched as district leaders choose to not invest in our students, our schools," Callahan continued. "We've also seen those at the very top, elected leaders, defund our schools. It's time to make some serious investments."
Rhetoric like this comes with the territory of a teacher strike, but these claims are especially divorced from the realities of school funding and staffing in the Twin Cities over the last couple of decades.
Return with me now to those thrilling days of yesteryear, namely the 1997-98 school year, when I first began reporting on national teachers union issues. Let's look at the numbers for Minneapolis and St. Paul, provided by the archives of the Digest of Education Statistics.
Back then, Minneapolis educated 49,157 students at a cost of $8,488 per pupil. St. Paul had 45,142 students and spent an average of $7,394 on each.
Twenty years later, Minneapolis enrollment had dropped to 32,722 students and the district spent $16,571 per pupil, an increase of 26.7 percent after adjusting for inflation. St. Paul's enrollment fell to 34,928 students, and it spent $15,564 on each, an increase of 36.7 percent after adjusting for inflation.
Beth Hawkins of The 74 reported that the combined enrollment for the two districts will barely clear 60,000 students in the 2022-23 school year.
Teacher staffing has not been so dramatically affected. A more than 40 percent decline in enrollment in Minneapolis over those 20 years resulted in a teacher workforce reduction of about 26 percent. St. Paul actually had more teachers in 2018 for about 10,000 fewer students.
There are approximately 15.1 students for each teacher in both districts, below the national average of 16.1.
The average Minneapolis teacher made $71,535 last year, and the average St. Paul teacher earned $85,457.
You can describe this situation a lot of ways, but not as any lack of investment, or defunding, or working with less, or decades of neglect.
It remains to be seen whether parents will see school closures as the result of a strike differently from school closures as a result of COVID. I wouldn't expect the answer to that question to come from polling or focus groups, but by enrollment numbers in the fall. Some families may express their opinions simply by taking their business elsewhere.
Get stories like these delivered straight to your inbox. Sign up for The 74 Newsletter