Analysis: Safely Reopening Schools Is a National Crisis. 5 Ideas for Helping to Keep Students' Learning & Social-Emotional Health on Track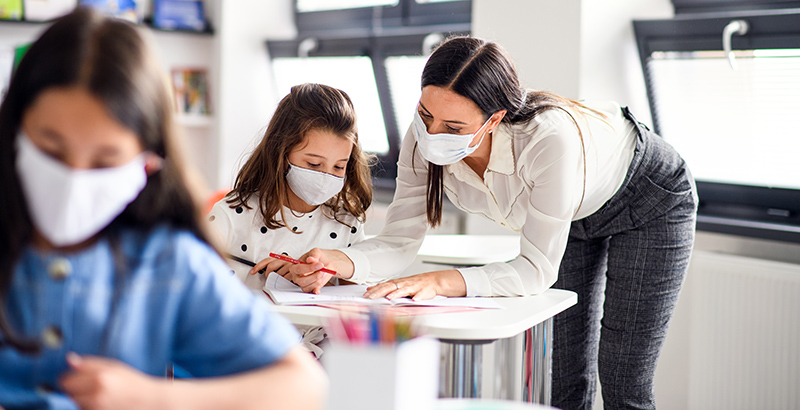 As the country that put a man on the moon and invented the Internet, the United States embodies resourcefulness, creativity and ingenuity. Yet right now, we are treating safely reopening schools as a political problem, rather than a national crisis. We should be putting every resource behind mitigating health risks for educators and students and maximizing the educational opportunities for children across the country.
We also know that without targeted intervention, the pandemic will exacerbate the deep inequities that already plague education. America is the richest country in the world and attracts the greatest talent across the globe. Yet, as it faces one of its biggest challenges in history, it is struggling to find the most basic ways to keep children learning and safe to enable parents to work.
We have been in education policy long enough to know that there are no silver bullets for any problem our schools confront. That is especially true now, when educators are faced with heart-wrenching decisions, and so much depends on the local context. With that in mind, here are five ideas that could be embraced at the federal, state or local level to reach more vulnerable students and minimize learning losses:
1 Leverage community-based organizations

In districts that will be providing online or hybrid instruction, some families will need a safe, supportive and stimulating environment for their children while their parents are at work. Boys and Girls Clubs, YMCAs and local nonprofits are well positioned to create these kinds of programs. The federal government, state and/or philanthropists should provide grants to community-based organizations, targeted at supporting the neediest and most vulnerable students, to augment online teaching and to provide
activities to keep children engaged and learning. School officials should help identify organizations in their area where such programs might be established and should aggressively send that information to families who are eligible. These organizations can provide high-dose tutoring by creating innovative partnerships with schools of education, former teachers and existing tutoring organizations (see below).
2 Get outside

The risk of COVID transmission is dramatically lower outdoors, and schools should be thinking about how to create as many outdoor learning spaces as possible, using athletic fields, playgrounds and parking lots. New York City has already announced it is moving in this direction. In many suburban and rural communities, green space around schools is abundant; in urban areas, partnerships with cities could open space in community centers and parks. Football fields alone could hold 18 classes of students, spaced every 10 yards apart. Strategically placed large tarps could provide shelter and shade, and partnerships with organizations like YouthBuild, Habitat for Humanity or even the Army Corps of Engineers could quickly construct tents or other structures. On days when heavy rain or other weather is expected, school could be virtual. Many children enjoy being outdoors, and research has demonstrated many benefits from getting students into fresh air. In some places in the country, this approach could work for a few months. In others, it could last all year.
3 Use space creatively

As professionals continue to work from home, one easy way to help families would be for businesses to donate empty office space to be used as classrooms. A conference room that normally seats 15 people could easily support a small group of students, providing adequate space for social distancing and whiteboards for instruction. In addition, many office spaces have better ventilation systems than schools, helping to mitigate risk.
4 Accelerate the graduation of aspiring teachers

As medical schools have done, schools of education could help fill the need for additional tutors and smaller class sizes by accelerating the graduation of education students who have completed most of their coursework. Deans for Impact suggests that schools of education and states could also modify their requirements to enable its students to student-teach in smaller groups than normal (through schools, pods or other nonprofits), under the supervision of a master teacher who could communicate with the new educators via phone, video-conferencing or in person where possible. If none of these options are feasible, schools of education could simply encourage their students to take one year off to serve their country before returning to complete their degree.
5 Support tutoring at scale

There is significant evidence that high dosage tutoring can accelerate learning among at-risk students. In areas where schools are not reopening in person, there is an opportunity to creatively expand the amount of support students are getting through creating pipelines of tutors. The Tennessee Tutoring Corps, for example, provides college undergraduates with training and a stipend to tutor students through the Boys and Girls Clubs. Programs like Reading Partners and Match/SAGA have existing curriculums for tutors to use. Teach for America and other teacher training programs could be engaged to train recent college graduates and other professionals willing and able to tutor small groups of students. These organizations could train participants in the basics of student motivation, instruction and classroom management through a short training program for new teachers and ongoing professional development.
The challenges we face are massive, but we should not be paralyzed by them. With flexibility and innovation, the U.S. can help keep students' learning and their social-emotional development on track while assisting parents and guardians with maintaining employment. By working together and leveraging all the assets in our communities, we can ensure that vulnerable young people won't suffer disproportionately as a result of the pandemic.
Catherine Brown is an education policy consultant. Joy Silvern is an independent education policy consultant currently working with Deans for Impact and New Leaders.
Get stories like these delivered straight to your inbox. Sign up for The 74 Newsletter