Analysis: NEA's Membership May Drop, but Its Budget Continues to Grow. So Do Affiliates' Dues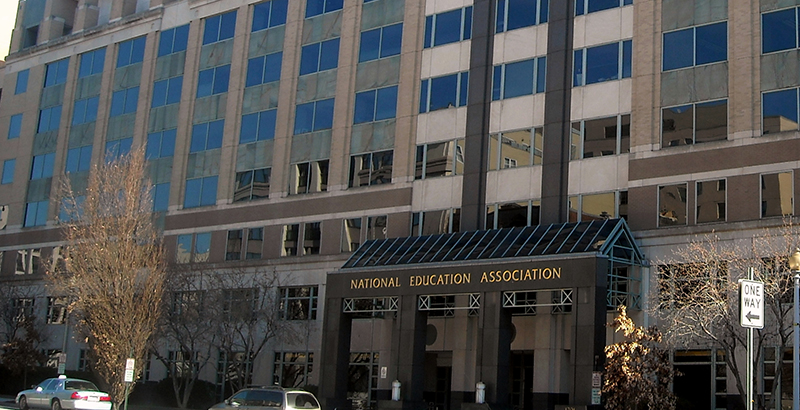 Mike Antonucci's Union Report appears most Wednesdays; see the full archive.
The National Education Association may have suffered a loss of members in 2019, but that doesn't mean the national union will have to do much belt-tightening this year and next. NEA's 2020-21 budget calls for $357.8 million in tax-exempt revenue, an increase of $7.4 million over last year.
Although the union projects a slight drop in membership when compared with the last budget, the additional millions come courtesy of a $4 annual dues increase for teachers (to $200) and $2 for support employees (to $121.50).
NEA plans to hold the line on all expenses and deliver the additional revenue back to state affiliates in the form of UniServ grants, which are used to help fund union staff salaries and benefits at the state and local levels. Next year, NEA will send in excess of $141 million to its affiliates.
Some affiliates are more dependent than others on this national funding for their operations. A glance at internal budget documents from a handful of state unions shows how they view the upcoming year.
The California Teachers Association budgeted for a loss of about 11,500 members in 2020-21, when compared with September 2019. Its total budget will be $207.4 million, funded by $737 in state dues, an increase of $17 per member. So despite the projected loss of members, it will receive an additional $5 million in dues income. The union allocated $5.4 million for its advocacy fund, $4 million for its independent expenditures committee, $9.7 million for its ballot initiative fund and $4 million for its media fund. Coupled with the sums already existing in all those accounts, it is more than ready to wage a political battle for tax fairness with millions in untaxed funds.
The Massachusetts Teachers Association budgeted for a membership loss of 2,600 in 2019-20, but things may not have been quite so bad in reality. The union budgeted $46.9 million this year and will likely increase that amount for next year.
The Nevada State Education Association is struggling after its largest local affiliate, the Clark County Education Association, seceded and went independent. Additionally, it came to an agreement with the Teamsters to surrender representation of many of its education support workers in the Clark County school district. NEA loaned the state affiliate $1.8 million to alleviate the loss of dues revenue, but even so, the union's external auditor reported that financial worries "cast substantial doubt upon the Association's ability to continue as a growing concern within one year from issuance of these consolidated financial statements. Therefore, the Association may be unable to realize its assets and discharge its liabilities in the normal course of operations." The state affiliate drafted a $3.8 million budget for 2020-21, expecting a 2 percent growth in membership. But that may be difficult to achieve; its education support employees union, now its largest affiliate, had fewer than 3,500 members at the time of the Teamsters deal. Its attempt to create a local teachers union to rival the Clark County Education Association has mostly fallen flat. The National Education Association of Southern Nevada had only 644 members at the end of October 2019.
I have no details about the 2020-21 New Jersey Education Association budget, except that it will total $154 million, about $10 million more than three years ago.
The Oklahoma Education Association crafted a $6.4 million budget for 2020-21, based on no change in membership. This would be an achievement in itself, considering it has lost members every year since 2008. The union receives an estimated 19 percent of its budget from NEA, so additional support from that quarter will be welcomed.
The Oregon Education Association was riding high, with membership growth for five years in a row, until the U.S. Supreme Court's Janus ruling broke the string. The union built a 2020-21 budget based on an expectation of 42,500 members, which would continue the slide. As with NEA national, fewer members doesn't necessarily mean less revenue. The Oregon union expects to receive about $23.2 million in 2020-21, about $1.8 million more than this year.
The Tennessee Education Association budgeted for $9.6 million from about 27,000 active members this year, but it fell considerably short of that goal. The union has lost members every year since 2010, when it had more than 47,000 active members.
None of these budget projections account for a devastating loss of teachers due to COVID-19, though some see a drop in education support employees. Overall, it looks as if NEA affiliates will experience further membership losses, but dues increases will at least mitigate, if not completely overcome, any harm to union budgets.
Get stories like these delivered straight to your inbox. Sign up for The 74 Newsletter