Analysis: NEA Continued to Lose Working Members in 2020 Even as Schools Hired Thousands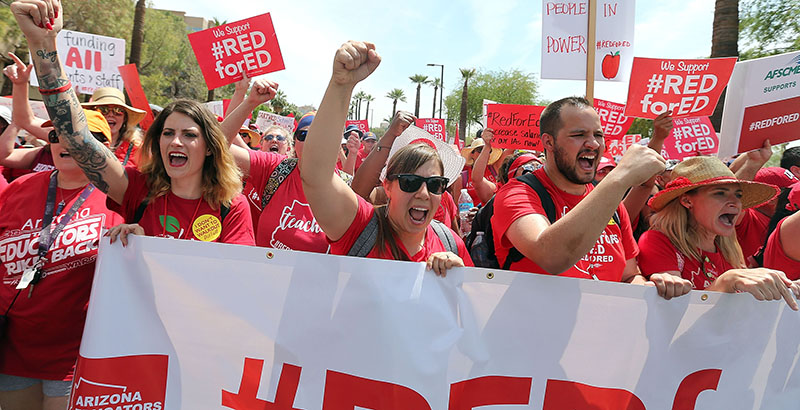 Mike Antonucci's Union Report appears most Wednesdays; see the full archive.
The National Education Association finished the 2020 school year with 2,553 fewer working members in the nation's public schools, according to the union's latest internal financial reports.
This decline followed a loss of almost 33,000 working members in 2019. NEA reported 2,586,207 active members, with an additional 378,151 retired and student members. Success in recruiting retirees brought the union's total membership to 2,969,041, which was an increase of 455 members from 2019.
Adding retirees and slowing losses may ease the sting somewhat, but the 2018 #RedforEd protests were supposed to signal a revitalization for teachers unions, and the numbers so far don't support the notion.
In fact, the slight decline may understate the problems facing the union. According to NEA's own research, U.S. public schools added more than 17,000 teachers in 2019-20. All other things being equal, NEA should have had at least a 0.5 percent increase in active membership to maintain its share of the teacher workforce.
The state-by-state breakdown shows 29 affiliates lost members in 2020, with another five virtually unchanged.
I culled the figures from the NEA Secretary-Treasurer/Independent Auditors 2021 Financial Reports and constructed a table, which provides both the active and total membership for each state affiliate. Along with the numbers are the one-year and five-year changes in those figures.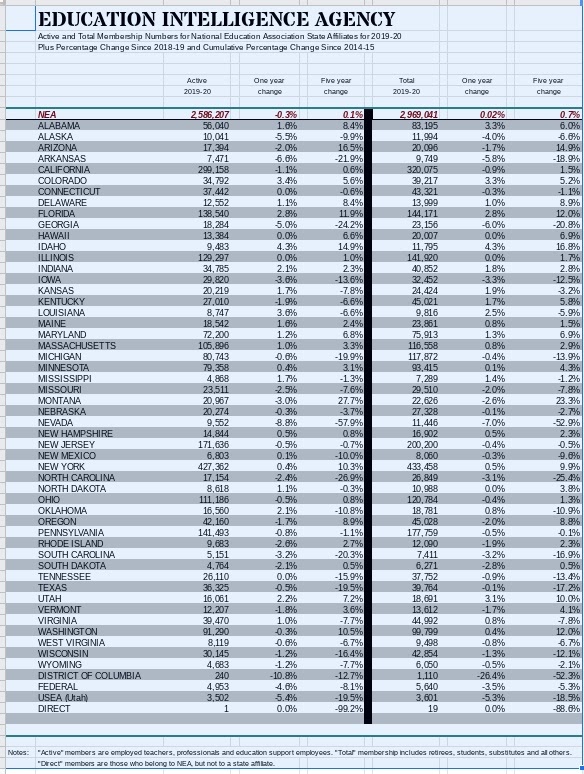 The Nevada State Education Association had the worst year of the group, losing 923 active members, most likely due to the deal it struck with Teamsters Local 14, giving up representation of a faction of education support workers in Clark County.
Other NEA state affiliates that saw declines in active membership of 5 percent or more were those in Alaska, Arkansas, Georgia, the District of Columbia and the support employees union in Utah.
No affiliate had an increase of 5 percent or more, but those with relatively good membership years included Colorado, Idaho and Louisiana.
The five-year trend shows five affiliates with active member losses totaling 20 percent or more. These were Arkansas, Georgia, Nevada, North Carolina and South Carolina. The Michigan Education Association, Texas State Teachers Association and Utah School Employees Association all fell just shy of that mark.
I have been collecting NEA membership numbers going back to 1993-94, and while some state affiliates have experienced exorbitant growth during that time, it is striking to see that 20 NEA state affiliates actually had fewer members in 2020 than they had in 1993.
Those are the affiliates in Arizona, Arkansas, Georgia, Indiana, Iowa, Kansas, Louisiana, Maine, Michigan, Mississippi, Nevada, North Carolina, Oklahoma, South Carolina, Tennessee, Texas, Virginia, West Virginia, Wisconsin and Wyoming.
This was during a period when the U.S. added more than 700,000 teachers to the workforce.
Post-COVID public school hiring is still a work in progress, but I expect the influx of federal K-12 revenues will stave off further membership losses. However, if those revenues are not sustained or replaced, the new members of today will be the laid-off members of tomorrow.
Support The 74's year-end campaign. Make a tax-exempt donation now.