Analysis: NEA Board, PAC Council Endorse Biden for President. Representative Assembly Will Weigh In by Mail in July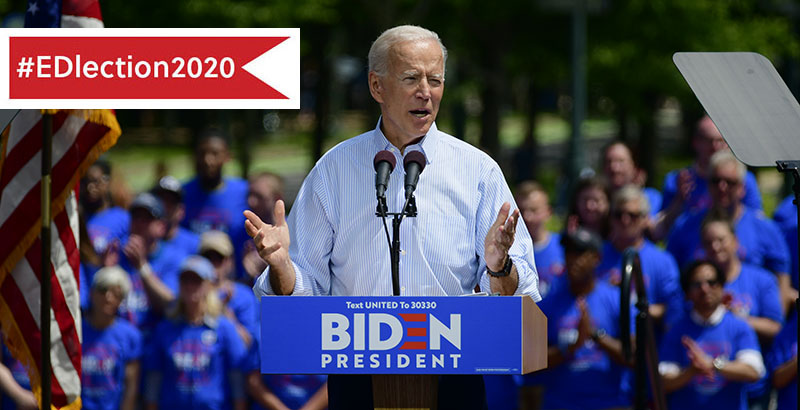 Mike Antonucci's Union Report appears most Wednesdays; see the full archive.
Less than two months after recommending Joe Biden for the Democratic presidential nomination, the National Education Association board of directors and PAC Council endorsed Biden for president in November's general election.
The votes, taken in virtual meetings over last weekend, were described as "overwhelming" by several participants. Fifty-eight percent of the union's 6,000-delegate Representative Assembly will have to concur through a mail-in vote after NEA's July 2-3 virtual convention.
Biden won't technically be the nominee until after the Democratic National Convention, which was postponed until Aug. 17 due to the COVID-19 outbreak. However, all of Biden's opponents have dropped out of the race and endorsed him, so the NEA vote is a formality.
Biden's campaign has been dogged in recent weeks by allegations from former staffer Tara Reade that he sexually assaulted her in 1993. "It is not true," he said in an interview on MSNBC's Morning Joe. "I'm saying unequivocally, it never, never happened."
NEA has made no public statement regarding Reade's allegations. Randi Weingarten, president of the American Federation of Teachers, told the Washington Post, "Democrats . . . always want to make sure that a woman is respected. But you also want to make sure that people have due process."
NEA's silence and AFT's measured response stand in stark contrast to their reaction in 2018, when Christine Blasey Ford came forward with similar accusations about U.S. Supreme Court nominee Brett Kavanaugh.
NEA issued four press releases about Blasey Ford's allegations, calling them "100 percent credible." NEA President Lily Eskelsen García said, "We must tell survivors of sexual assault that they will be believed and supported — not smeared. And we must tell those who would engage in sexual assault that it is never acceptable and that there are consequences. This is not about politics. This is about doing what's right. Our students are watching."
When Kavanaugh was confirmed, NEA accused Senate Republicans of sending the message that "It is acceptable to disregard the stories of sexual assault survivors."
Weingarten stated, "The allegations of sexual misconduct and alcohol abuse — coupled with Judge Kavanaugh's own testimony on these issues — cast serious doubts on his ability to consider fairly cases that will affect the lives of millions of Americans."
Biden has been criticized before for inappropriate behavior with women. Politico asked Weingarten about it last November. "It's a different era, and part of the issue with Biden is that it's both what people love about him, because it augurs an era of decency, but it's also [that] he grew up in a different era," she said. "And he's not as attentive to the cues of this era. It will get socialized in the process one way or the other."
Partisanship in the face of such accusations is the rule, but Eskelsen García has been the exception in the past. Back in 1998, she was a member of the NEA Executive Committee and running for a U.S. House seat in Utah's 2nd District. The Monica Lewinsky scandal was very much a campaign issue, and Eskelsen García separated herself from virtually all other Democratic candidates that year by calling on President Bill Clinton to resign.
The Washington Post on Aug. 31, 1998, reported: "A few days ago, Eskelsen responded to a question about Clinton from a Salt Lake Tribune reporter by saying that 'the president should resign. How can this man ever be believed again? This goes beyond party politics.'"
I don't know if the allegations of Reade, Blasey Ford or E. Jean Carroll, who has accused President Donald Trump of rape, are true. Neither does Eskelsen García, Weingarten or anyone else who was not present at the time of the alleged incidents. I do know that if you want to claim the moral high ground on sexual misconduct, you have to remain there, even if it involves one of your guys. If "our students are watching," they are watching all the time.
Support The 74's year-end campaign. Make a tax-exempt donation now.