Analysis: National Education Association Abruptly Endorses Joe Biden, Angering Sanders Supporters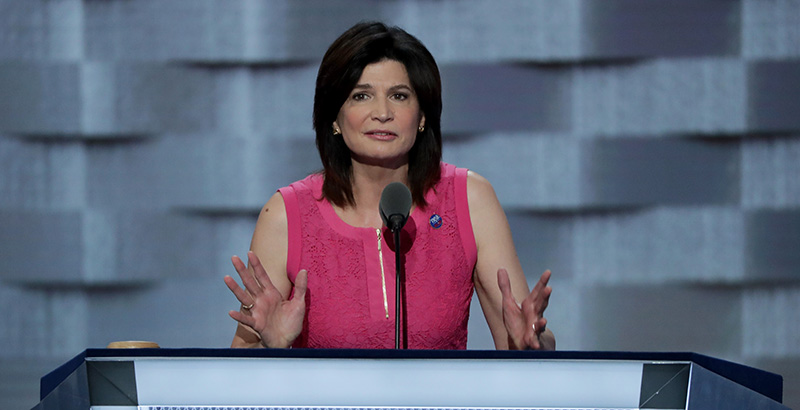 Mike Antonucci's Union Report appears most Wednesdays; see the full archive.
The National Education Association finally threw its weight into the Democratic presidential primaries, announcing Saturday night that it recommended Joe Biden for the nomination.
A Biden endorsement is hardly a surprise; he is an establishment candidate, and NEA is a major player in the Democratic Party establishment. Biden's string of primary wins and the departure of all but one of his major rivals made this move inevitable, but the timing was sudden and raised a lot of questions.
I am told that on March 12, NEA President Lily Eskelsen-García called for an unscheduled virtual meeting of the union's PAC Council and board of directors for Saturday, March 14. Its purpose was to recommend Joe Biden.
The union has touted its "unprecedented engagement" with members to determine which candidate to choose. But it isn't well understood, even inside NEA, that regardless of the process used to interview and evaluate candidates, it is the NEA president alone who decides which one to bring forward for an endorsement vote. The union's representative bodies aren't presented with a choice of candidates, only an up-or-down vote on the president's choice.
The first concurrence must come from the council, consisting of state affiliate officers, members of the national board and executive committee and special-interest caucuses. Each state's votes are weighted by the amount it contributes to the PAC.
If the council approves, then the recommendation goes to the NEA Board of Directors, consisting of 170 representatives from state affiliates.
The short notice for the virtual meeting during the height of a global pandemic didn't sit well with some NEA representatives, particularly supporters of Bernie Sanders. One took to Facebook to express her dismay: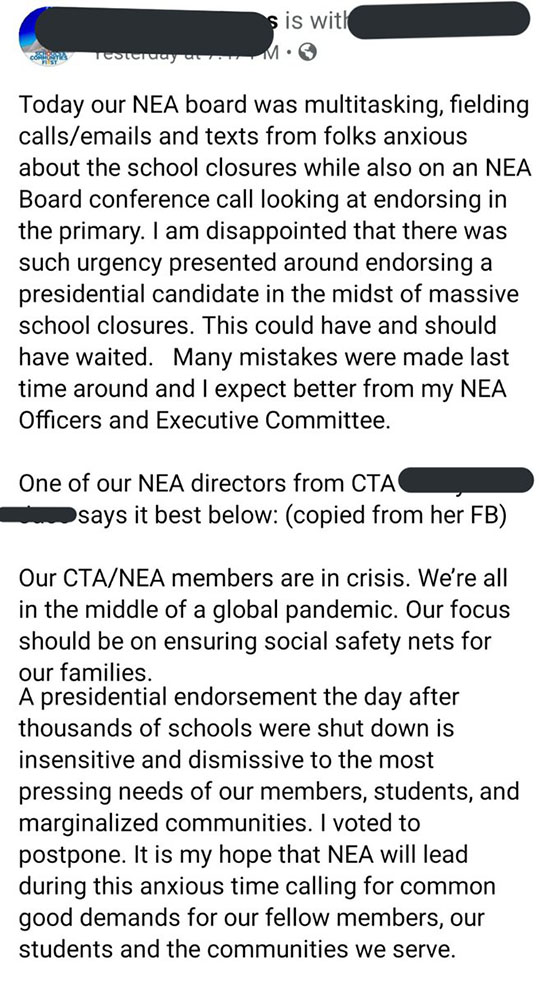 There was resistance during the virtual meeting as well. One prominent Sanders supporter within NEA tweeted this comment:
I was in contact w a couple of NEA Board members while the meeting was going on. It was a coordinated, rushed push from the top. The Board vote was close, only a few votes shorts of no endorsement. Many Board members expressing frustration w timing & process. Ugh…?‍♀️

— TrekkerTeach (@trekkerteach12) March 15, 2020
Many wondered why the action had to be taken not only prior to Tuesday's primaries in Arizona, Florida, Illinois and Ohio, but before Sunday night's nationally televised head-to-head debate between Biden and Sanders.
NEA's officers told the board that polling showed strong member support for Biden. I haven't yet learned the results of that polling, only that some 22,000 members were asked to participate and about 1,700 responses informed the survey.
Once the endorsement was announced, Sanders supporters swamped the Twitter feeds of NEA and its officers.
⁉️ Are you an #NEAforBernie rank & file member ⁉️ ??‍♀️ Disappointed with yet ANOTHER #EarlyEndorsement for the neoliberal candidate, @JoeBiden? ? ? VOTE with your NEA PAC?by PULLING it and sending it to Bernie Sanders instead! ?? ?? ?? Send a STRONG message to NEA! #Bernie2020 pic.twitter.com/SrhaIfEA5u

— Susan DuFresne (@GetUpStandUp2) March 15, 2020
NEA won't be happy about any loss of PAC money, but it's a drop in the bucket. The main purpose of the endorsement is to free up at least $25 million for the union's super PAC to spend on Biden's behalf. Since this money comes from member dues, there is no way to withhold it.
Sanders supporters within NEA see this move as a repeat of 2015, when NEA endorsed Hillary Clinton months before any primary or caucus and was coordinating that endorsement with the Clinton campaign four days after she announced her candidacy.
Sanders supporters made a similar effort then to delay an endorsement, but it failed. NEA told its activists that Clinton won 82 percent support in the PAC Council. That was substantial, but only because 29 percent of council voters abstained. The board of directors then seemingly bowed to the inevitable, endorsing Clinton 118-40, with 8 abstentions.
NEA did not announce the vote totals this time around, though I have hopes of obtaining them soon.
So after every effort to avoid a repeat of the infighting that plagued the union in 2015, NEA finds itself in much the same situation. The union angered and alienated its Sanders factions, including the nation's second-largest local affiliate, United Teachers Los Angeles.

Now there is a Change.org petition demanding that NEA switch its endorsement to Sanders. It has almost 1,500 signatures as I write this.
NEA (and the American Federation of Teachers) could have avoided all this angst if it had just commissioned a large-scale survey of its membership and released the results. As with most things NEA does, its endorsement process is very big on inputs — town halls, videotaped interviews, questionnaires — and not so big on outcomes, the vote itself. That's a closed and rushed process, and it's no wonder many members are irate about it.
Get stories like these delivered straight to your inbox. Sign up for The 74 Newsletter