Analysis: Just Like School Reopening Policies, Education Staffing Is All Over the Place. Here's What Some of the Job Numbers Show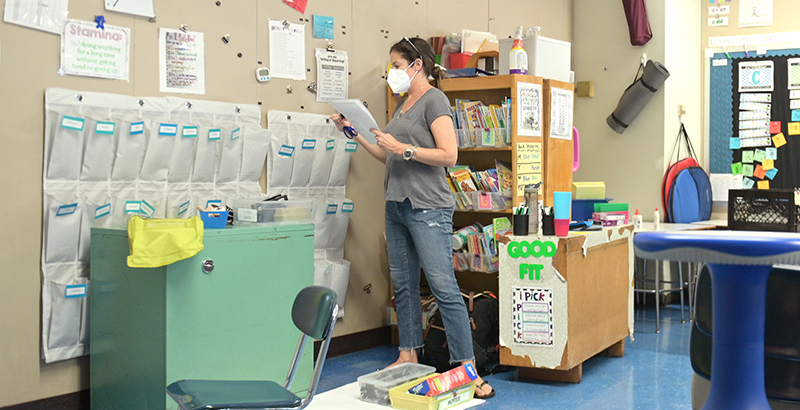 Some schools are reopening for in-person instruction. Others are offering hybrid plans, where instruction will be in person for a few days and remote for a few days. Many others are remote only. Almost all have accommodations for students and employees at greater risk of serious health problems if they contract the COVID-19 virus.
All involved are making enormous efforts to safely conduct classes and to provide quality — if not ideal — instruction regardless of the circumstances. When everything about school is different, composing the proper mix of teachers, support staff, administrators and service personnel is as challenging a task as any faced by school districts and policymakers.
In California, lawmakers cut that Gordian knot by simply banning layoffs for public school teachers, bus drivers, custodians and food service personnel. While keeping those employees off the unemployment rolls, it also ensured that some workers would have too much to do, and others not enough.
School districts have detailed staffing plans, but individual employees have plans of their own. Some, fearful for their health, will quit or retire. Others may leave in-person jobs and seek work in remote-only districts. Conversely, there may be something of an influx into education jobs by people who have lost their livelihood due to COVID-19 shutdowns and layoffs in the private sector.
This extremely fluid state of affairs is in addition to the usual staffing uncertainties of enrollment and budgets. I went to the statistics to see how the country is handling the problem so far.
The August jobs report from the U.S. Bureau of Labor Statistics shows just under 7.6 million workers employed in "local government education," a category that includes the vast majority of public school employees. That's 440,600 (5.5 percent) fewer employees than in August 2019. It's also the lowest total number of school employees recorded in August since 2001.
That's a devastating picture, but the statistics also show that a recovery is already underway. In April and May, public schools lost more than 733,000 jobs and have been steadily adding them back since. Last month, the school workforce grew by 31,700, which is the largest August increase since 2007.
The layoff picture is also encouraging. We have data only through June from the Job Openings and Labor Turnover Survey, but they show 31,000 layoffs and discharges that month (down from 50,000 in June 2019). Another 27,000 education employees quit, which is down from 96,000 in June 2019.
All told, about 69,000 public school employees separated from their jobs in June, as opposed to 168,000 in June 2019. This was, by far, the lowest separation rate in the entire U.S. economy, public and private.
The status of the education labor force depends entirely on one's perspective. Judged historically, school employees have taken an enormous hit during the COVID-19 crisis. But when compared with the rest of the American workforce, a job in the public education system is still one of the most stable and secure professions available.
Support The 74's year-end campaign. Make a tax-exempt donation now.