Analysis: Is Summer Canceled? From Virtual Camp to Family Mental Health Supports to Outdoor Adventures (Really!), 5 Ways to Reinvent School Vacation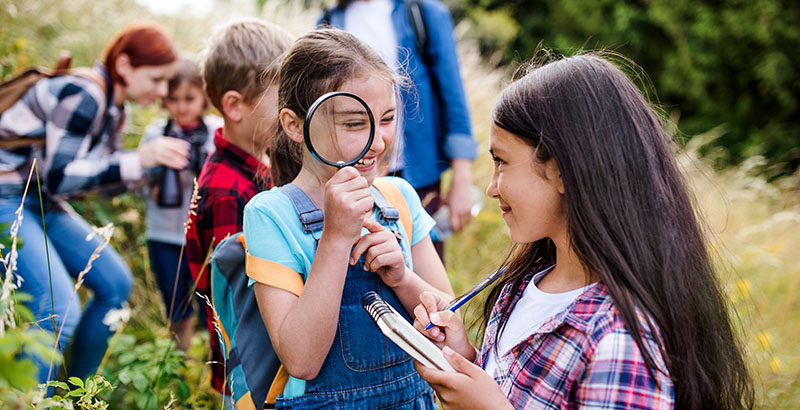 It's the question that many hoped they'd never have to ask: Is summer canceled?
The answer poses grave risks and real opportunities. Summer calendars could remain blank, leaving kids little to look forward to and parents in a bind. But this summer also serves as a blank slate: a chance to imagine new ways to deliver care and enrichment to kids and families.
In the era of COVID-19, all families must navigate a frustrating set of trade-offs, figuring out child care, protecting their health and keeping their kids connected and entertained. That burden — like most things during the pandemic — is even greater for low-income families. Summer options have never come equally: In one analysis of Colorado's Blueprint4SummerCO platform, for example, researchers at the Center on Reinventing Public Education found fewer enrichment opportunities available in neighborhoods where lower-income, black and Hispanic children lived.
Costs are also a challenge: In the same study, the average hourly cost for summer programming listed on the site was equivalent to the region's minimum wage, resulting in hard trade-offs for caretakers. With an economic downturn looming, these access and affordability challenges are only more acute.
Summer camps, a traditional escape for children from many income levels, are also facing trade-offs. Some cities and programs have delayed or canceled their offerings. Others are hoping business as usual will resume but are probably underestimating the likelihood that families with resources and flexibility may keep their kids home even after businesses reopen.
In the end, it's not just caretakers and programs that will suffer the fallout from these uncertainties. It's kids, too. Camps provide some of the experiences many kids love most. They are, by nature, community-anchored, supportive, social and enriching. Or put more simply, fun.
How might this summer seed a host of new ideas for delivering fun, care and enrichment for families and kids, as well as revenue for the programs that offer them? Here are five ways:
1 Design for families with online — and offline — options
Even as social distancing mandates ease up, most predictions suggest that many families and camps will proceed with caution. New designs should include at least some virtual options.
"Virtual" and "camp" will sound like oxymorons to summer camp purists and families wary of more screen time. But programs could have the latitude and expertise to outperform some of the underwhelming distance learning experiences schools have been offering. Online can still mean hands-on. For example, during the pandemic, the Denver-based Art Garage has created a YouTube channel, Art Garage TV, where young people can take virtual classes using kits they pick up at Art Garage. Online camps can also be deeply social experiences. For example, Connected Camps, an effort that long predated COVID-19, offers online camps on Minecraft, e-sports and digital maker spaces where students form meaningful connections. And even "online" models can support offline play. Providers like Tinkergarten at Home offer DIY activities that families can use to shape outdoor activities.
As social distancing begins to lift, there's also room for in-person camps — just at a smaller scale. For example, one of Denver's largest and most popular summer camp providers, Avid4Adventure, offers adventures in the Colorado outdoors for youth across the metro area. This spring, it created a fully virtual model that will continue into the summer, but it is also offering two smaller-group, in-person options. One allows friends and families to organize into groups of up to five children with access to an Avid instructor who will take them to outdoor recreation sites across town. Alternatively, it's offering home camps for up to four kids where an instructor comes directly to a family's home for organized activities in their neighborhood.
2 Preserve connection and care
The prospect of a summer with even more unstructured time alone poses a real threat to kids' immediate and long-term social and emotional well-being. Whatever mix of online and offline options families explore, it's critical to keep children connected to peers and caring adults. For localities, this means prioritizing more flexible, affordable summer programming for low-income families, particularly those with parents who are essential workers.
Summer camps and programs can do their part to put connection first. For example, Live Oak Wilderness Camp in New Orleans is already trying its best to link campers stuck at home. It recently launched "virtual cabins" to offer a chance for peers to connect, and it is considering ways to take these connections on the road if camp can't open this summer — for example, by driving a van to kids' houses around the city, so they can come out to paint portions of a mural on the van that they designed with their cabin and receive letters from their friends.
3 Use new infrastructure to keep programs sustainable and kids safe
These emerging blended and small-group solutions can provide both online and offline options for families, but only if there's sustainable infrastructure to support them. For states and localities, that means making sure efforts to ensure access to at-home Wi-Fi continue past the end of the school year. For programs, that means finding new ways to collect revenue. Many ad hoc virtual offerings cropping up right now are free or low-cost. Many out-of-school providers lack the technical expertise and capacity to build virtual models and could benefit from platforms or technology-enabled content or solutions to plug into. At least one tool is stepping in to fill that need: OutSchool, a marketplace of online, small-group enrichment courses, has added an "organization" area, allowing summer programs to deliver their offerings online while collecting revenue in a streamlined manner. OutSchool takes a cut but offers a safe and secure platform.
4 Offer families curated resources on programs' interim solutions and offerings
As summer approaches, parents are being inundated with information from organizations they have been affiliated with about how they are adapting programming in response to COVID-19. The options are overwhelming. With realities shifting each week, better information can alleviate some of the stress associated with sifting through emails and social media, and offer a place where families can easily find learning opportunities and resources aligned with their children's ages, interests and family needs (e.g., free/low-cost, child care, scholarships, location, virtual).
One national example of this, Wide Open School, was created in response to COVID-19 as a resource for families and educators seeking online learning resources and experiences. Its user-friendly interface includes supports for home-based learning, mental health and curation of online classes and content.
Community-based resources can also help. For example, Denver-based RESCHOOL has repurposed the Blueprint4SummerCO website to reflect the shifts local learning providers are making in light of COVID-19. Before the pandemic, B4SCO focused exclusively on summer learning and primarily on in-person camps and classes in the Denver metro area. Now it's a real-time snapshot of emerging opportunities throughout the region. For learning providers, it offers a place to market their programs to families for free, which is important at this time when these organizations are in survival mode to try to make it to and through summer.
5 Invest in families and community-driven learning programs
Until now, it wasn't possible to fully understand how a dramatic shift from in-person to home-based learning would affect children and the learning systems that surround them. Engaging learning that sparks curiosity and embeds opportunities for social interaction is needed now more than ever.
Combine these factors with the very real possibility that we will not be returning to schooling as we knew it pre-COVID anytime soon (if ever), it's likely that people will continue to want and need out-of-school and summer learning providers to be a blended and vital part of our education system going forward.
Funders and system leaders are embracing the opportunity to invest in more expansive offerings. The U.S. Department of Education recently launched a competitive grant program to "spark student-centered, agile learning opportunities" from states in response to the pandemic. Localities are also stepping up. In Colorado, the Denver-based Gates Family Foundation is launching a fund in partnership with other local foundations and organizations to surface and test promising learning concepts from out-of-school providers, schools, districts and other community-based teams that respond to the needs of families and students navigating learning during the COVID-19 pandemic. The effort will prioritize ideas that would start this summer and inform longer-term approaches for the 2020-21 academic year. The initiative will also provide families facing economic hardships with "learning dollars" that can be used to purchase summer experiences like virtual or in-person camps, as well as materials to use at home, like books and maker kits.
Building resiliency during the summer and beyond
Summer learning solutions created in light of COVID-19 will not make up for the economic losses many providers and families are experiencing, and they may pale in comparison to the elaborate, more populated and enriching camp experiences of the past. But they could provide a critical step forward in designing more resilient education systems that offer learning across a variety of community contexts.
Now, more than ever, families need life hacks to figure out how to proceed with child care, social engagement and learning. This new reality isn't likely to end come fall, when the regular school year resumes. Let's seize this moment and try to reimagine summer as a critical chance to put equitable access and family agency front and center. Investing now could curb the impossible trade-off families are having to make and preserve the very programs that kids love.
Julia Freeland Fisher is the director of education research at the Christensen Institute. Her work aims to educate policymakers and community leaders on the power of disruptive innovation in the K-12 and higher education spheres. Amy Anderson is the former associate commissioner of the Colorado Department of Education and the executive director of ReSchool Colorado, an initiative laying the groundwork for a modernized education system.
Support The 74's year-end campaign. Make a tax-exempt donation now.