Analysis: In Denying Expansion For Newark's Top Charter Schools, New Jersey Officials Are Ignoring the Data on Student Performance — and Family Support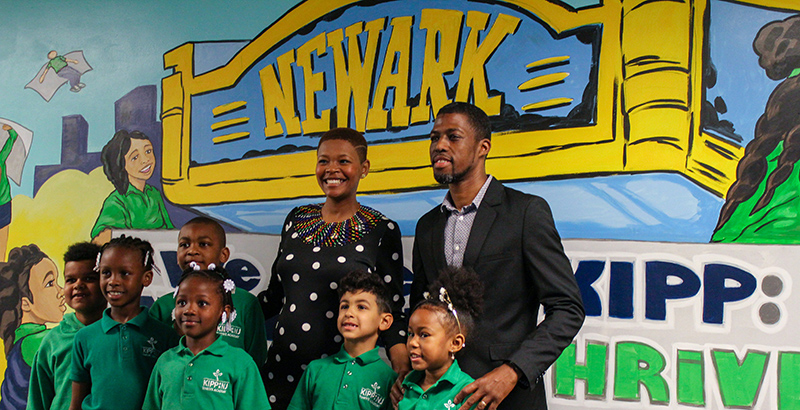 The state of New Jersey recently moved to reject the requests from Newark's largest charter school networks for enrollment expansions. In decision letters obtained by Chalkbeat Newark, Education Commissioner Angelica Allen-McMillan is documented saying that KIPP, Great Oaks Legacy, North Star Academy, and Robert Treat Academy charter networks can maintain operations but cannot add additional seats. This development potentially signals a reversal in attitudes among state officials, who in the past have been agreeable to expansion plans proposed by Newark's most successful charters.
Tensions have been mounting for some time between charter school supporters and traditional public school advocates in a city long heralded for its efforts in expanding public school choice. As in many other districts, those opposing charter expansion argue that charters stand as a threat to traditional schooling, fearing a diversion of funds and students away from traditional classrooms. Critics assert that the success of charters has largely been the result of "cream skimming," which simultaneously hinders the performance of traditional public schools while exacerbating racial and income segregation within a school district.
Yet, a review of available research on charter schools — both in Newark and nationally — suggests that those opposing charter expansion in Newark are likely undermining efforts with a demonstrated track record of lifting students' academic achievement. Empirical findings also infer that the expansion of charters does not harm public school students. Given all this, New Jersey officials would be wise to help, not hinder, policies and systems that have a positive effect on Newark's children — and that remain widely popular with parents in the community.
Let's look more closely at the available literature. One of the most important questions regarding charters' success is, of course: Do charter schools produce academic gains for their students? In the city of Newark, the answer appears to be "yes." In a 2020 report, Manhattan Institute Senior Fellow Marcus Winters used experimental methods to show enrollment in the Newark charter school system causally led to positive growth in student achievement. The effects were greatest in the city's largest charter school networks such as KIPP — one of the networks whose enrollment expansion plans have been rejected.
Newark is hardly the only city where charters have been successful. Experimental studies have also shown charters having a positive effect on student performance in cities such as Boston and Denver. Stanford University's Center for Research on Educational Options published a study on 41 urban areas that demonstrated charter schools were on average outperforming nearby traditional public schools in math and reading growth. A meta-analysis on charters' effect on student achievement suggests that while there is substantial variation between charters' effect on learning, on average middle school charters are producing higher achievement gains in both math and reading.
Still, in Newark and elsewhere, charter critics cite statistics showing that traditional public schools enroll a higher proportion of ELL and special education students. To these critics, continuing to divert funds away from schools who share a disproportionate amount of responsibility to underprivileged students is an unjust allocation of resources. Compounded with allegations of "cream skimming," charters are criticized by their opponents for not properly engaging with the communities in which they operate.
But there's little evidence showing that charter schools worsen conditions for students who remain in traditional public schools. Examining test scores in major metropolitan areas suggests that the expansion of charter schools does not negatively affect the student achievement of those within the public school sector. In fact, a recent study by the Fordham Institute finds that increases in charters' share of the market are associated with increases in district spending in traditional public schools. Fordham has also produced research indicating that the competition charters bring to a district may have a positive effect on student achievement.
Researchers have also investigated district-wide contentions of cream skimming in other cities, and cannot conclude that charters by-and-large engage in this practice. Much of the gap in ELL and special education enrollment in charters can be explained by a lack of applying to charters, rather than efforts to push out students.
While some public school advocates maintain that charters fail to fulfill their duties as public schools, it's also key to note that most Newark families disagree. Polling of the Newark community show that a strong majority are in favor of school choice initiatives, and want charter schools to be a part of the education landscape. Both within New Jersey and nationally, some of the most ardent supporters of charters and school choice have been in the black community.
Of course, charters everywhere are not performing optimally. Within Newark's own charter system, as New Jersey's Education Commissioner flagged in this recent development, two charters had cited concerns regarding teacher performance that caused them to be placed on probation. Additionally, a number of studies reveal charter schools having either null or negative effects on their student population, or a significant degree of variability among charters.
Nevertheless, much like a failing traditional public school does not discredit public schooling, the same applies to charter schools. Charters are valuable, particularly in urban areas such as Newark, ultimately because they provide choice to parents who without charters would not have the resources to exercise freedom afforded to those in upper income backgrounds. And in Newark, the choices parents retain are strong due to the success of the charter school movement in the city. Newark's charter school initiatives have been instrumental in helping students from disadvantaged backgrounds "beat the odds" and reformers in the city should work to continue the progress emerging from these schools.
Although these charters have yet to hit their current enrollment caps, the commissioner's decision creates uncertainty about schools' future growth. Demand for charters in New York City, for example, has far exceeded supply due to the charter cap from the state government. In Harlem in the South Bronx, there are approximately three applicants per available charter school seat.
Education officials within New Jersey should not view charters as threats towards the traditional public schools' market share. Rather, they should welcome and advance policies that broaden and elevate options for the students of Newark.
Brandon McCoy is a project manager focused on K-12 education policy at the Manhattan Institute. Follow him on Twitter @McCoyBrandonA.
Support The 74's year-end campaign. Make a tax-exempt donation now.