Analysis: From School Cafeteria 'Salad Girl' to U.S. Secretary of Education? The Rise of Former NEA President Lily Eskelsen García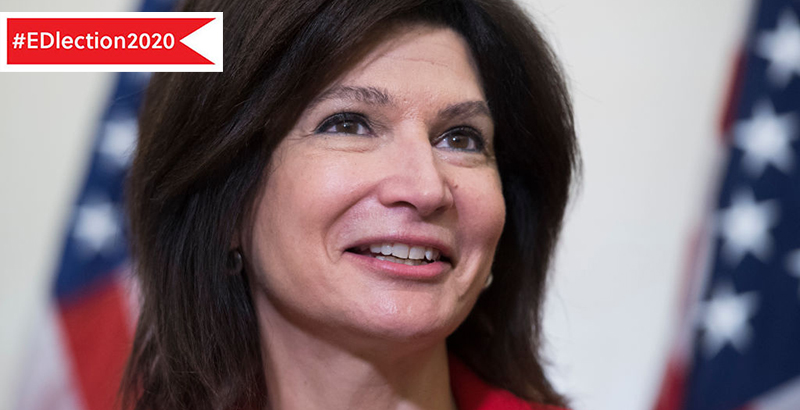 Mike Antonucci's Union Report appears most Wednesdays; see the full archive.
Updated
There is no official word, but the signs are pointing to Lily Eskelsen García, former president of the National Education Association, as a strong contender as President-elect Joe Biden's choice for U.S. secretary of education.
"The former president of the nation's largest teachers union is working to lock up support from Republican senators and Hispanic leaders in her bid to be picked as education secretary, according to officials familiar with the talks," reported Politico on Dec. 4.
Putting a longtime teachers union officer in the secretary's chair would be certain to meet with resistance from Senate Republicans, but Biden's choice needs to swing no more than two GOP votes to be confirmed. This explains why Eskelsen García has reached out to Sen. Lamar Alexander, Republican of Tennessee, a former education secretary himself and the recipient of NEA's Friend of Education award in 2016.
With Biden pledging to put a teacher in the position, Eskelsen García left another clue: She just changed her Twitter handle from @Lily_NEA to @LilytheTeacher.
She is a natural as a public figure. As the Deseret News put it in a 2014 profile, "Eskelsen has it all — intelligence, looks, charisma, passion and wit, and she can sing, play the guitar and write, too, all of which she brings to bear on her mission for education."
Better yet, she embodies the all-American rags-to-riches story. She worked her way up from a Colorado Springs school cafeteria "salad girl" ("I could not be trusted with hot food," she says) to become president of the nation's largest labor union and now, perhaps, beyond. It's an irresistible story.
But Eskelsen García's ladder to success had many rungs, and one in particular was an unusual combination of circumstances, timing, political calculation and good fortune.
Some years after her short stint as salad girl, Eskelsen García got her degree in elementary education and began teaching middle school in Utah's Granite School District. She didn't become formally active in her union, the Granite Education Association, until 1985, when she volunteered to serve on the bargaining committee.
In 1989, she was named Utah Teacher of the Year. That same year, teachers were at odds with the Republican governor and legislature over tax cuts. Teachers in the Davis School District staged a one-day wildcat walkout that caught on elsewhere, including in Granite. The Utah Education Association then organized a one-day walkout across the state.
It was in this environment that Eskelsen García had her coming-out as a union activist. The state union saw the advantage of having the state teacher of the year as its public face. She addressed a large rally with equal amounts of music and snark for lawmakers, and a star was born. She was soon making multiple media appearances on the state union's behalf.
Less than two months later, she filed to run for vice president against the incumbent, Beth Beck. This was a highly ambitious move for Eskelsen García, who had never held elected union office at any level.
By February 1990, there was strong rank-and-file pressure within the union to hold a statewide strike for higher wages. Then-President Jim Campbell was influential at the statehouse, but he didn't seem to have the stomach for drastic action.
"There has been so much focus on striking that even I am tired of it, so I know legislators are sick to death of it," Campbell told the Desert News in a story published Feb. 14, 1990. "You can only get someone in a corner and keep them there so long. The governor and legislators have been working with us, but they are not going to keep living with this threat."
Campbell didn't reflect the sentiments of his members. Two days later, they overwhelmingly voted to authorize a strike. Campbell presented a compromise deal he had reached with the governor to the union's board of directors the next day, but it was rejected.
For two weeks, it was touch-and-go on whether a new deal could be reached or a statewide strike would be launched. Just before the legislature adjourned, lawmakers passed a package of bills that increased the average teacher salary by 4.3 percent. The union board accepted the deal, and a strike was averted.
But the writing was on the wall for Campbell. In April 1990, he announced his resignation due to health and family considerations. A week later, he suffered a heart attack and had to be hospitalized. Beck, as vice president, assumed office for the remaining three months of Campbell's term. But there was a problem.
The deadline had passed for filing as a candidate for union office, and Campbell had been set to run unopposed. There was no provision in the bylaws for what to do next. The union decided to hold an immediate all-member write-in election beginning May 1 and ending May 22.
Any bio you can read today about Eskelsen García includes the fact she won the presidency as a write-in candidate. None of them mentions that all candidates in the presidential election were write-ins. Beck announced her candidacy April 12, Eskelsen García two days later, but technically any member with three years or more as a member was eligible.
One might think it would be a cakewalk to victory for such a popular teacher and activist. But it's an unspoken rule among NEA and its affiliates that one must first serve as vice president before becoming president. Campbell was vice president to Betty Condie, and she was vice president to her predecessor. In the natural order of things, Beck should simply step up.
Eskelsen García was trying to go from nothing to the presidency of the state union in less than a year. This was unprecedented, anywhere. But if she was ideally suited to make union history, she also got some serendipitous help.
On May 9, 1990, in the midst of the election, the union released a statement revealing it had hired an accounting firm to audit the accounts controlled by Campbell.
"There are problems with the immediate past president's account," read the statement. "The audit is now in progress. Any differences between UEA and the immediate past president will be submitted to arbitration."
Whether this unusual public announcement had any effect on the election outcome will never be known, but days after the results were tabulated, the union announced it had resolved its issues with Campbell. It didn't sound like it ended amicably.
The union stated that the audit "brought forth proof of double vouchering, inappropriate use of the UEA credit card and removal of UEA property for personal use." Campbell, it said, agreed to pay restitution and that settled the matter.
Campbell had a different take. "UEA owed me much more than I owed UEA," he told the Provo Daily Herald. He said he planned to reconcile his union accounts but was delayed by his hospitalization. The union issued its press statement before he had a chance to complete the paperwork.
By then, the election was over. Eskelsen García won the presidency over three other announced candidates, including Beck. She had also outpolled Beck for vice president. There are no surviving records on the internet of the victory margin or the turnout.
Eskelsen García's election didn't exactly signal a new era for Utah teachers. In 1991, the state provided only about half the national average pay raise for teachers. Members will "feel very let down," she admitted.
However, her star was on the rise. She took a leave of absence from teaching while serving as the state union's president until 1996, when she was elected to the NEA Executive Committee. She returned to teaching part time until 2002, although she interrupted it with a failed campaign for Congress in 1998. But that's another tale for another day. She has been a full-time union officer for the last 18 years.
Having stunned Utah and the union world with its neophyte president, the state union quickly returned to traditional form. The board of directors appointed Phyllis Sorensen as Eskelsen García's vice president in July 1990, and Sorensen succeeded Eskelsen García as president in 1996. Sorensen was succeeded by her vice president in 2002, who was succeeded by her vice president in 2006.
The union has held no further all-write-in elections. To my knowledge, no state union president since has been voted in by write-in ballots, nor has any been elected without first holding a lower elected union office.
Eskelsen García's skills and personality have brought her to the brink of attaining the highest education policy office in the land, but she also benefited from a confluence of events in 1989-90 that accelerated her rise through the ranks.

Get stories like these delivered straight to your inbox. Sign up for The 74 Newsletter