Analysis: Expert Review Panel Says Connecticut's Strategy for Tracking and Reporting How COVID Funds Are Spent Is One to Watch. Here's Why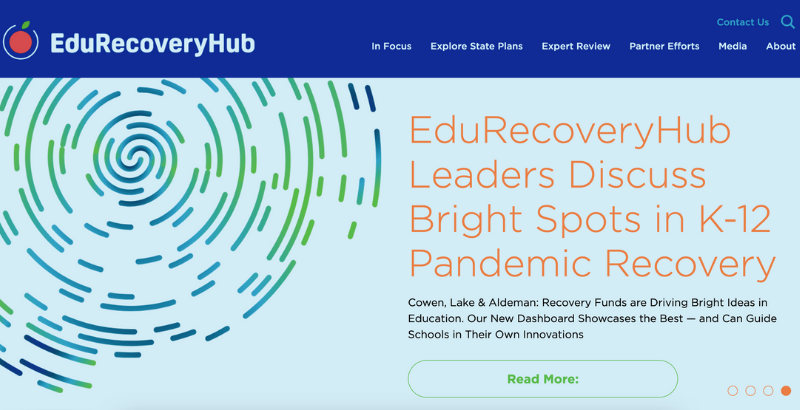 No paywall. No pop-up ads.
This is one of a series of essays reflecting on state and district school recovery practices featured by EduRecoveryHub.org – an online platform spotlighting innovative and promising actions to recover lost learning and improve student outcomes using federal COVID-19 relief dollars. EduRecoveryHub is a project by Collaborative for Student Success, in partnership with the researchers at the Center on Reinventing Public Education and the Edunomics Lab at Georgetown University. To learn more about promising state and district recovery strategies, including analysis from a panel of national experts in education, parent and student advocacy, and civil rights, visit EduRecoveryHub.org.
Connecticut received $110 million in federal COVID relief funding for education, a relatively small amount compared with other states. But its proposed COVID-19 Education Research Collaborative stands out for its potential to track how well programs funded by federal dollars are working. This investment puts a critical flag in the ground that signals to communities that the state is committed to studying and evaluating its K-12 recovery investments and publicly reporting findings so that educators, leaders, parents and communities gain a better understanding of how recovery funds were put to use in their schools.
The collaborative smartly brings together bright minds from universities in the state, including the University of Connecticut and Yale, as research partners to evaluate the use of federal recovery funds for education. This statewide research partnership is one of only a few of its kind emerging as states allocate and use pandemic relief funds. By expanding the research and evaluation capacities of the state's education department, the collaborative will provide state leaders, policymakers and community members with timely and nuanced reporting on the influence federal funds are having on students' progress.
Recently, the collaborative released an evaluation of the state's expansion of summer learning opportunities in 2021 that includes lessons learned to help local leaders make decisions to improve summer 2022 planning. Additionally, this spring, the partnership is slated to release a comprehensive analysis of the influence that remote learning had on students' access to services and key outcomes, like graduation and postsecondary opportunities like college or trade skill programs.
The Connecticut collaborative stands out because it provides an important structure for data and research on the state's K-12 recovery investments, while creating a method for observing and evaluating local strategies used by schools emerging from the pandemic.
For this reason, it has been designated as an emerging practice to watch on EduRecoveryHub.org, a partnership among the Center on Reinventing Public Education, the Collaborative for Student Success and Edunomics Lab at Georgetown University. To find emerging practices, we scoured state and district sites, analyzed 51 state plans and reviewed planning documents from 100 large, urban school districts.
With an unprecedented $180 billion in federal relief flowing into schools, districts and states around the country have a similar opportunity to stand out by being thoughtful about how they're planning to direct historic amounts of K-12 funding and how they will measure the impact of those investments.
Although it has been heartening to see that some districts are anchoring their spending on evidence-based practices, community feedback, and student and family needs, many still have no clear plans for how their federal funds should be spent, let alone knowing whether those investments are working. Granted, it's still early, but this is why we're showcasing what Connecticut is doing.
Nine EduRecoveryHub's 14 expert reviewers have given more thumbs-ups to Connecticut's investment plan than to any of the other 31 practices highlighted on the site. This includes praise from leading organizations like the Education Trust, the National Parents Union and the Data Quality Campaign, which described Connecticut's effort to improve research and evaluation as "critical" and "extremely encouraging."
As John White, former state chief in Louisiana, said, "The impulse to evaluate has been badly missing from the stimulus discussion," making Connecticut a unique example of how statewide evaluation can be locally driven.
Far too many states or districts may see this type of research as scary or overwhelming. But according to Denise Forte, interim CEO at the Education Trust, "Connecticut's approach … is critical to ensure that funds are used in evidence-based and effective ways," and other states can follow suit.
Our research surfaced a few additional examples of states or districts using data in transparent and outcome-driven ways:
Boston and Chicago schools are targeting their federal funding based on planning tools that drive aid to where the need is greatest.

The state of Texas requires school districts to provide individualized, accelerated learning plans for students who do not perform proficiently in reading and math, also ensuring they're paired with a highly effective teacher and have access to additional instructional hours and opportunities.

The Alabama Department of Education is giving districts "assessment awards" that provide dedicated resources for improving early reading and math assessment systems.
We know there are more promising practices being employed in schools today, and we invite all to share examples of focused and comprehensive actions being taken with federal recovery funding at EduRecoveryHub.

It will be critical for the future of public education and this generation of K-12 students to monitor and evaluate investments made in schools with this unprecedented influx of cash and resources. State and district transparency about the goals and focus of these investments will be vital to ensuring that families and lawmakers can trust that the dollars aren't wasted. Even more important, the education sector needs innovative, successful programs that emerge from this moment to be sustained.
Christine Pitts is a resident policy fellow at the Center on Reinventing Public Education. Bree Dusseault is principal at the Center on Reinventing Public Education, supporting its analysis of district and charter responses to COVID-19. She previously served as executive director of Green Dot Public Schools Washington, executive director of pK-12 schools for Seattle Public Schools, a researcher at CRPE, and as a principal and teacher.
Get stories like these delivered straight to your inbox. Sign up for The 74 Newsletter